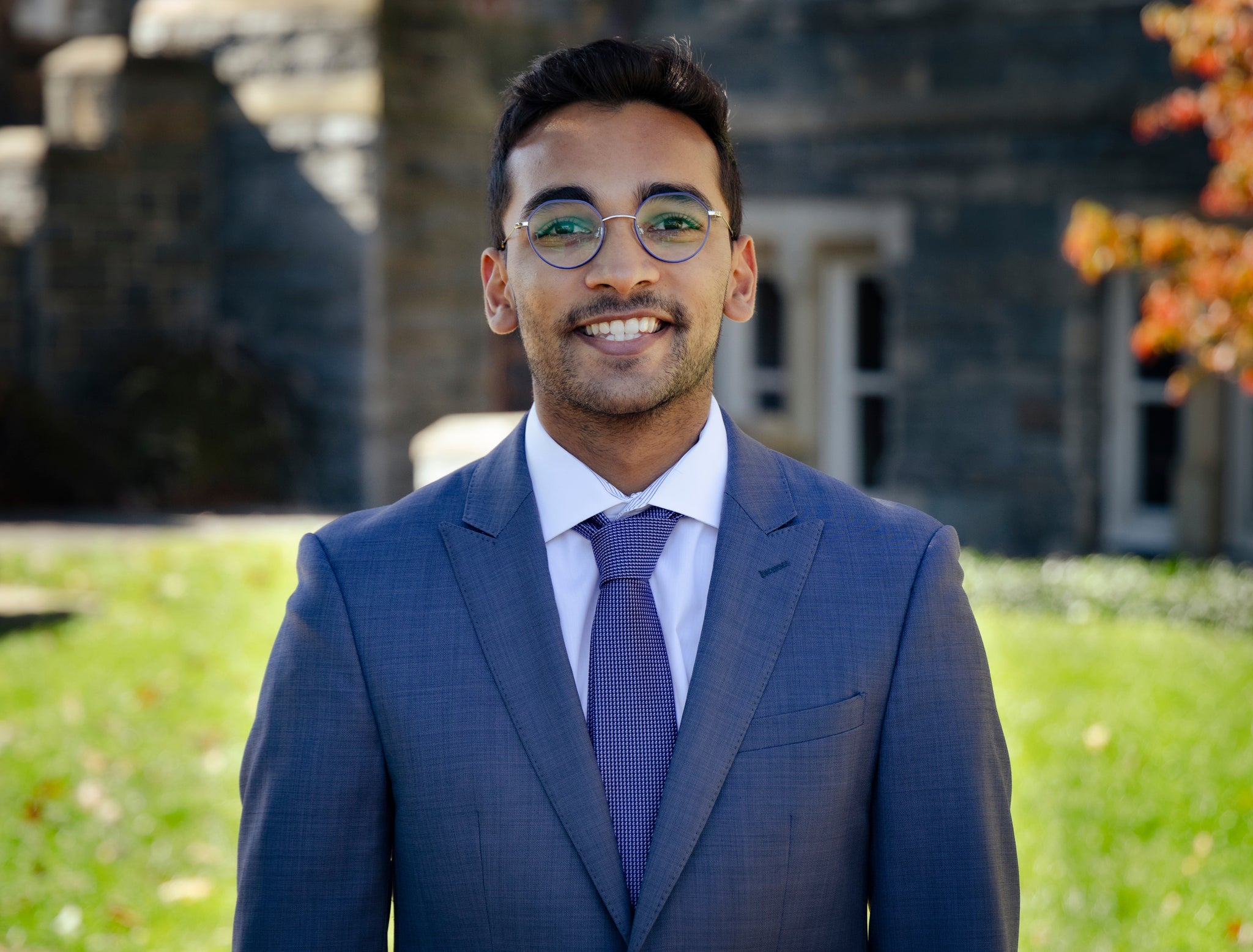 Even though Arjun Ravi (C'22) is majoring in economics and mathematics, he does not approach his research on algorithms solely from behind a desk or through the lens of statistical software. He's also studied it in a squad car. 
As an intern with the Metropolitan Police Department (MPD) in Washington, DC, Ravi participated in 40 hours of all-night ride-alongs with police as part of the Summer Crime Prevention Initiative, an annual effort in which MPD focuses its resources on areas in DC with a high density of violent crime. 
"​​This was the first time I heard of a student doing an all-night internship riding in a police squad car," says Mitch Kaneda, senior associate dean and director of the School of Foreign Service (SFS) undergraduate program. "Arjun puts actions into words. He does not just talk about police; he has experienced policing."
Though Ravi developed amicable relationships with the officers, he was disturbed by some of the practices he witnessed that technology, algorithms and data aided — such as running license plates without cause in one of DC's poorest neighborhoods.
Watching these kinds of practices firsthand sparked Ravi's desire to better understand the relationship between the mechanics of algorithms, the policies that govern them and the people who they harm.
"From automated license plate readers to data-driven patrol routes to gunshot detection, technology is ubiquitous in policing. Yet, these technologies operate with limited accuracy and minimal oversight," says Ravi. "This reinforces historical racial inequities, threatening the constituents of an institution designed to protect them."
'A Dystopian Surveillance State'
During his four years at Georgetown, Ravi has worked with leading quantitative researchers of criminal justice and engaged with community groups and grassroots organizers in addition to his on-the-ground experience riding along with MPD.
During the same summer that Ravi rode in squad cars, he also served as a research assistant to Megan Stevenson, a law professor who was then at George Mason and conducts quantitative research on criminal justice and algorithmic risk assessments. In the fall of his senior year, Ravi worked remotely with the New York-based Surveillance Technology Oversight Project, a nonprofit that advocates for privacy, through which he researched surveillance, gun detection and facial recognition technologies.