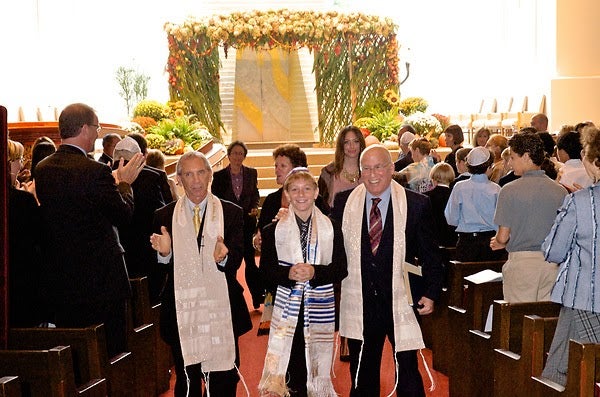 Filler continued his weekly practice of attending Shabbat, and recently attended the Shabbaton: Jewish Life Retreat at the Calcagnini Contemplative Center — Georgetown's retreat center in the Blue Ridge Mountains of Virginia. The first Catholic university to hire a full-time rabbi, Georgetown offers lots of opportunities to participate in Jewish life through services, retreats, co-curricular groups, academic engagement and more. 
Filler was also eager to learn about other faith traditions at Georgetown. He attended services in the Georgetown Masjid and Copley Crypt, and looks back fondly on the mini Catholic mass his first-year residential minister would say in his New South apartment before serving brownies on Thursday nights.
"I think there's a lot you can learn not just about other faiths, but also about your own faith and the value of faith to you by interacting with people from other religions and learning about other religions."
In doing so, he found connections between the Jesuit values and his own faith — particularly the Jewish concept of b'tselem elohim — that all people were made "in the image of God."
"We cannot have any sort of hate in our hearts because all humans are made in the image of God," says Ari. "I think there's definitely a meaningful overlap there with the concept of cura personalis — care for the whole person, care for every person — which seems to be inherently because we're all children of God in some sense."
Jesuit Values By Another Name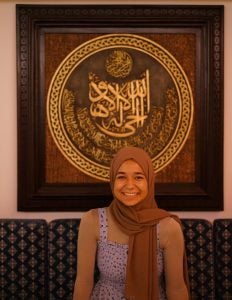 Doha Maaty (NHS'23) moved from Egypt to Montana when she was five years old. She grew up practicing Islam with her family, but did not know many other Muslim Americans her age. When choosing a college, Maaty was looking for bigger Muslim and Arab communities to feel a part of.
"The journey that I was on was one that I think a lot of Muslim Americans face because we tend to not see a lot of representation in our broader communities," says Maaty. "By going to college, it's something that helped push me, and I'm sure others as well, to find my own path and my own representation and spark for my religion."
Before she made her final decision, she was surprised to find a handwritten note from Georgetown's Muslim chaplain, Yahya Hendi, expressing his excitement about her acceptance and welcoming her to the Georgetown community.
"I didn't realize that that was something that people had on campus — an Imam, like an actual Muslim leader to be there, especially at a Jesuit institution."
In fact, Georgetown was the first American university to hire a full-time Muslim chaplain in 1999. Encouraged by Imam Hendi's note and excited about the prospect of studying in Washington, DC, Maaty chose Georgetown. 
In one of her first acts as a global health major, Maaty enrolled in CURA: A Healthcare Pre-Orientation Program, which leverages Georgetown's Jesuit values to help explain the obligations of a career in health care. While she was expecting more of a focus on medicine than Jesuit identity in the program, she was surprised by how much the Jesuit values intersected with many in her own faith.
"The Greater Glory of God is also something that can be seen throughout Islam and the history and practices — even as simple as just being able to be there for something bigger than yourself," says Maaty. "Women and men for others — being there and listening and taking care of people, serving them, visiting the sick, being kind, and so many other beliefs and practices — those are such big points in Islam that represent a lot of how we carry ourselves as Muslims."