I'm from a low-income community in Los Angeles. First-generation. Most of my family is back in El Salvador, so it's only us out here. 
Growing up, my dad was a truck driver. My mom was a housecleaner and street vendor. On Saturdays, I'd help her dice onions, cabbage and carrots for pupusas that she'd sell outside our apartment. I was the kid with the fanny pack giving people change and counting the money, so it makes sense that I'm in finance now. 
Where I grew up, we only had two career options: playing ball or rapping. We didn't know of other careers. And either way, whatever path you choose, it felt like you were stuck in a cycle at ground zero. I wanted to be the first person in my family to break that cycle.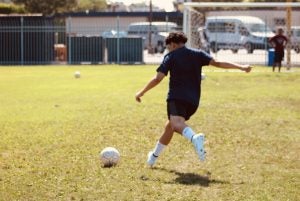 Sports saved my life. When I stepped onto that court or field, I wasn't thinking about the adversity or problems back home. It was my only motivating factor to get good grades.
I remember an administrator at my middle school once said to my mom, 'I doubt Andy will survive a semester in high school.' When I got to high school, I started realizing my potential, and I got so mad. I couldn't believe people thought of me this way. I was not a fool, and I was not going to carry that perception with me.
Marquez focused on his academics at a Cristo Rey Jesuit high school in Los Angeles and graduated as salutatorian, with scholarships from the John Gogian Family Foundation, All Ways Up Foundation, Minds Matter of Los Angeles and more. He began applying to colleges and universities that could offer sizeable scholarships to make college affordable. 
I was accepted at Georgetown, and the Georgetown Scholars Program (GSP) reached out. They saw my hard work and wanted me to join GSP. Right away, they made me feel like I was seen, that I was wanted and that I deserved a spot there.
Georgetown offered extra assistance to help me make my decision about which college to go to. I got into every college I applied to except one. I knew that if I was going to get through college, especially with parents who did not speak English and did not understand the process, I would need a village to help me through. And Georgetown won me over.