Media Resources
Our media relations team is ready to connect reporters with faculty experts, provide additional background information to support media reporting on Georgetown and assist news crews with filming on campus and covering open-press events. For general inquiries, email media@georgetown.edu or reach an on-call media representative at (202) 687-4328.
On-Campus Media Policy
During the COVID-19 pandemic Georgetown is imposing restrictions on campus to reduce density. As a result, we are encouraging the use of Skype, Zoom or other remote video capture, for interviews with Georgetown experts. Additionally, the University has a self-service VideoLink studio on-campus available for use by faculty members. For use of University b-roll and photography, please contact the Office of Strategic Communications at (202) 687-4328 or media@georgetown.edu.
On-campus interviews and b-roll may be allowed for members of the University Community, following public health protocols and in coordination with the Office of Strategic Communications. All approved press will be required to follow Georgetown's COVID-19 Filming and Photography Policy. Outdoor filming is encouraged.
Georgetown's campus is private property and written permission from the Office of Strategic Communications is required before external filming or photography can take place on-campus.
9
Schools
With locations in Washington, DC and Doha, Qatar
19K
Students
Across undergraduate, graduate and professional programs
246+
Majors and minors
From Global Health to Theology, Business, Music and more
Media Contacts
Members of the media can direct inquiries to the Office of Strategic Communications or one of the staff members below. A media representative from the Office of Strategic Communications is on-call 24/7/365 and can be reached at media@georgetown.edu or (202) 687-4328.
Georgetown University Office of Strategic Communications
Meghan Dubyak, associate vice president for strategic communications (official spokesperson)
Ruth McBain, media relations manager (official spokesperson)
Courtney Thompson, strategic communications officer
McDonough School of Business
Teresa Mannix, assistant dean for communications
Georgetown College
Lynn Delles, director of communications
School of Foreign Service
Ara Friedman, director of communications
McCourt School of Public Policy
Ruth McBain, (university) media relations manager
School of Continuing Studies
Audrey Lee, manager of communications
Athletics
Barbara Barnes, director, sports information
Georgetown University Law Center
mediarelations@law.georgetown.edu
Georgetown University Medical Center | School of Medicine | School of Nursing & Health Studies
Karen Teber, director of media relations
Georgetown University in Qatar
Moamer Qazafi, director of communications
Tel: +974 4457-8392
Waleed Khan, marketing and media manager
Tel: +974 4457-8522
The Marineau Media Center
The Marineau Media Center
VideoLink and Comrex

Our on-campus studio is available for live or pre-taped TV and radio interviews and is equipped with the VideoLink ReadyCam™ system and the Comrex BRIC-Link II.

Book a Studio Interview

Complete our booking form or call (202) 687-4328 to arrange an interview with a faculty expert in the studio.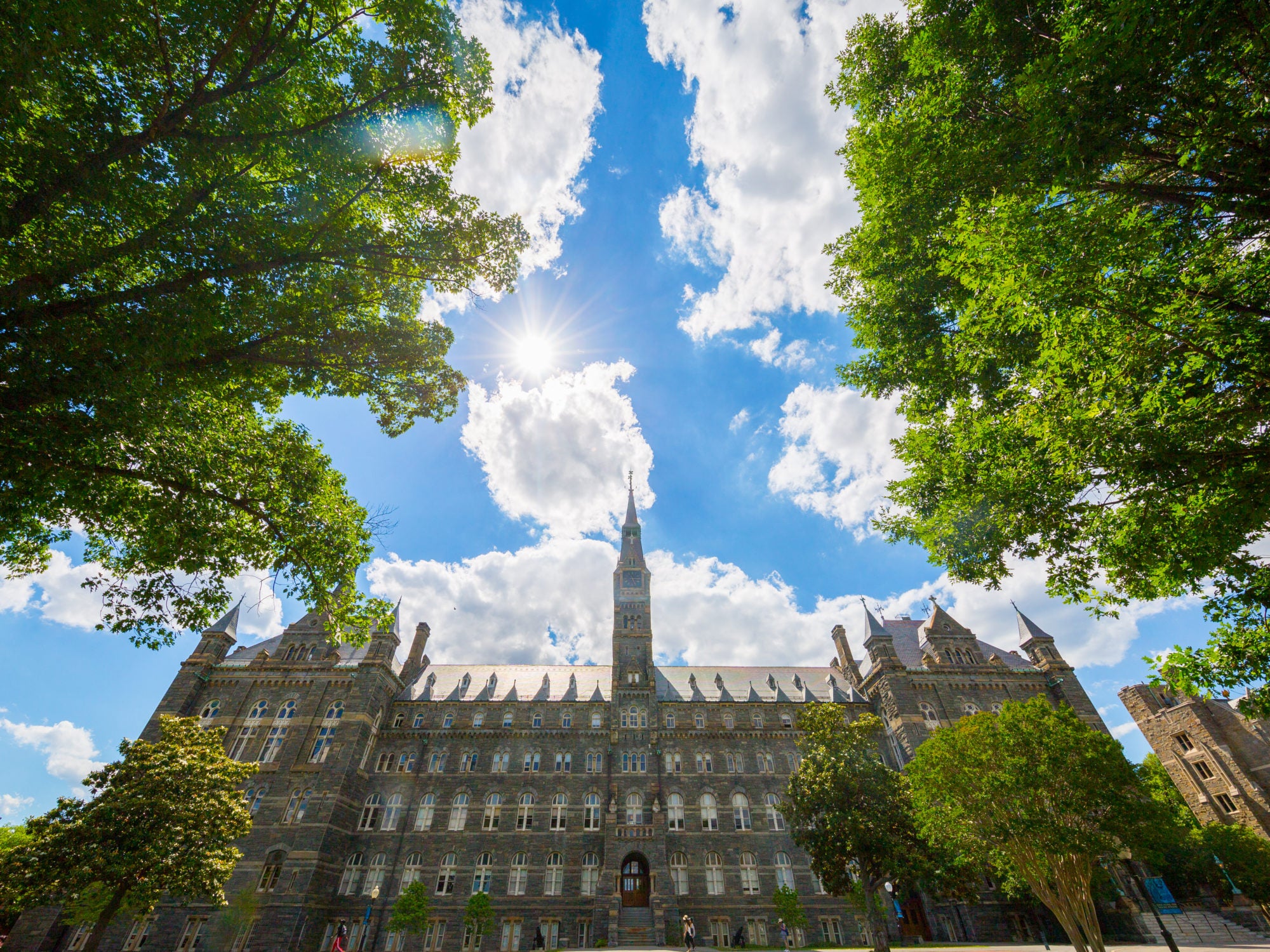 Photo Gallery
Looking for images of Georgetown's historic campus, major events, classrooms or research outposts? Our photo database is searchable to help you find the perfect shot.
Follow us on Instagram to see more from the Georgetown community.