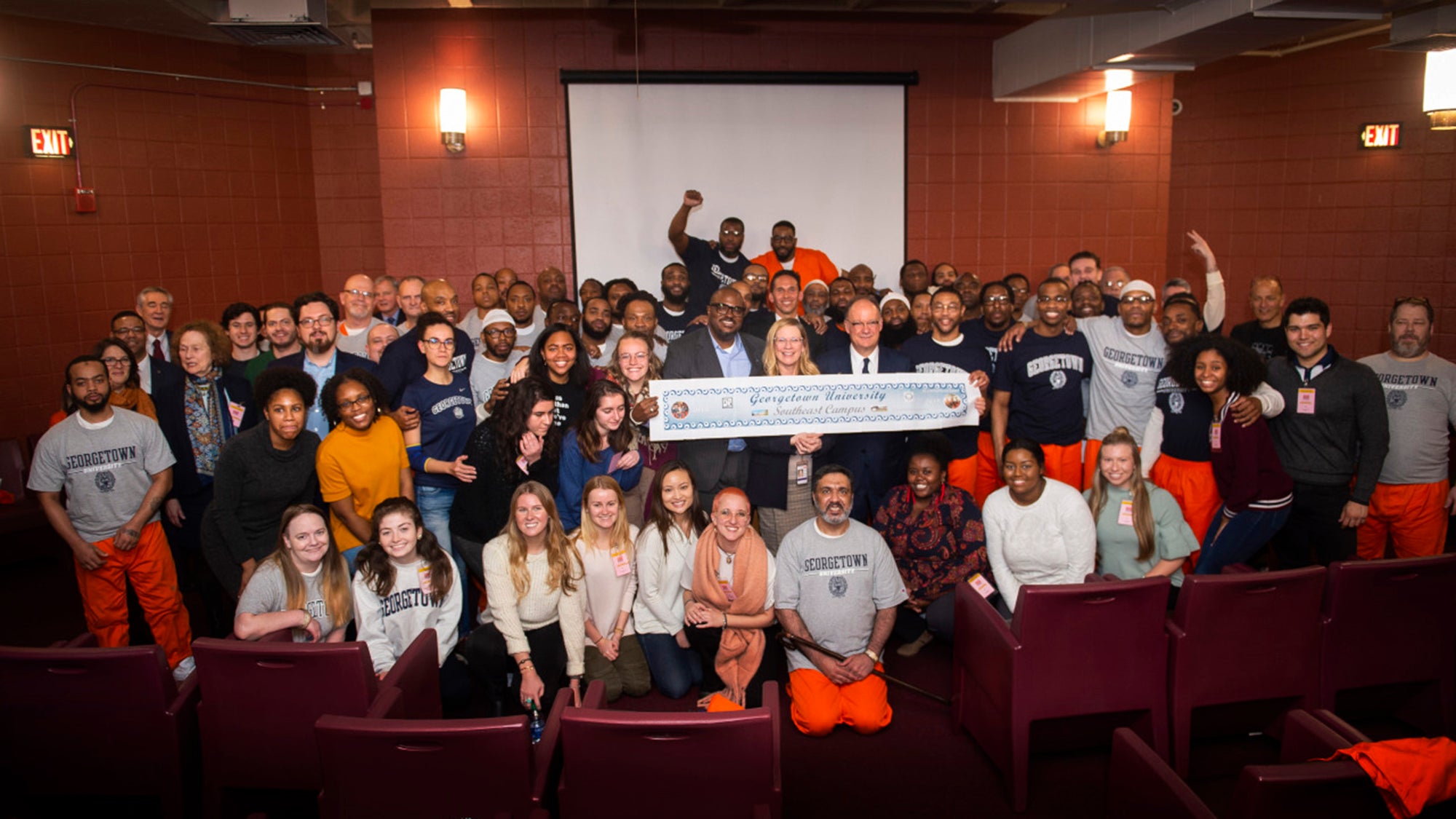 Category:

Student Experience
Title:

Prison Scholars Program Receives $1 Million Mellon Foundation Grant
Date Published:
December 19, 2019
The university's Prison Scholars Program at the DC Jail, the only co-educational prison program in the country, has received a $1 million grant from The Andrew W. Mellon Foundation to expand the program to Maryland and offer bachelor's degrees.
Part of the much-lauded Prisons and Justice Initiative (PJI), the program is one of only a handful of university programs that provide prisoners with the possibility of earning a bachelor's degree, including Bard, Cornell and Wesleyan.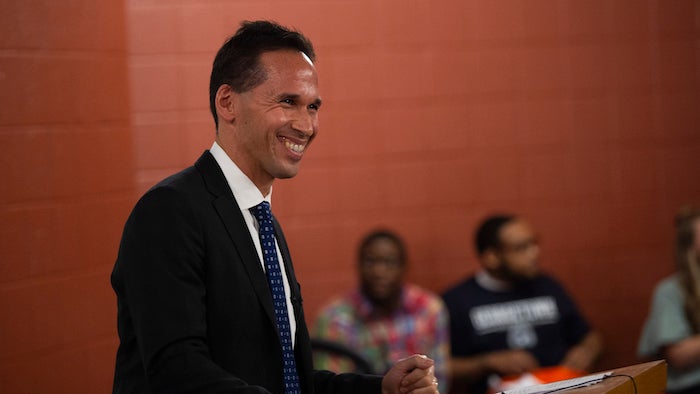 "The Scholars Program has provided access to higher education to incarcerated men and women at the DC Jail," said PJI director Marc Howard. "Support from the Mellon Foundation will allow us to expand this work by reaching even more incarcerated individuals and making families stronger and communities safer."
The Prison Scholars Program began in the spring of 2018 with non-credit courses and added non-credit courses in the fall of that year. Of the 50 students receiving certificates at the event, half were in the credit-bearing program.
From Addict to Scholar
The program had its emotional end-of-semester celebration Dec. 17 with the scholars, along with PJI staff, Georgetown leaders, faculty and students and DC Department of Corrections officials.
"My Georgetown experience, it's been amazing," said a prison scholar named Anna. "It's given me a chance to reevaluate my life and where I'm headed. Because when I came in here, I was a heroin addict and now I'm considered a scholar. This is something that I will never forget."
Georgetown offered three credit-bearing courses at the DC Jail this semester, along with seven non-credit bearing classes. The non-credit-bearing course ranged from the History of School Busing to Contemporary Christian Theologies to Tenacity and Mindfulness.
Howard notes that the class he taught was the first time students inside a prison (or jail) and students at a university took a course together and everyone received credit.
"There have been many courses in which the 'outside' students get credit, but not courses for which both get the credit they deserve," he said.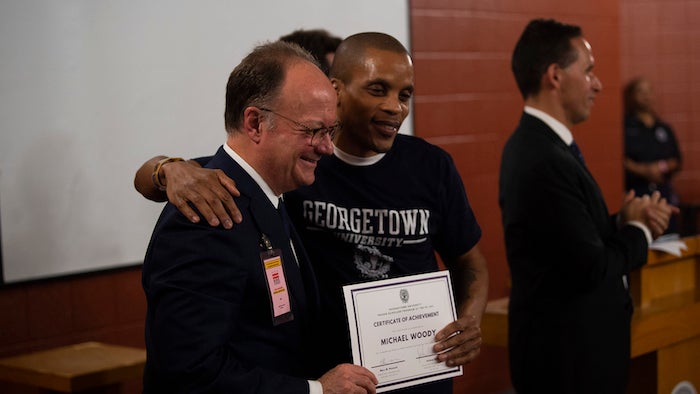 Michael Woody, another prison scholar, said having Georgetown students come to the DC Jail for Howard's Prisons and Punishment credit-bearing course was "a very humanizing experience that also brought a diversity of perspective."
"Bringing these higher education opportunities inside not only liberates one entity, but of equal importance is its transformative powers, which in turn is causing a mental shift that I believe leads to a cultural shift," Woody said.
Educating the Next Generation
With three semesters a year – spring, summer and fall – this was the sixth end-of-semester celebration since the program began nearly two years ago.
The courses are held in the DC Correctional Treatment Facility, which houses male and female DC residents awaiting trial, serving short sentences or preparing to return to their communities after a longer period of incarceration.
Howard said the Mellon grant will help to deepen and strengthen the DC program, expand it to Maryland and allow the university to develop bachelor's degrees awarded by the university's Georgetown College with coursework in the liberal arts and business.
"With the support of the Andrew W. Mellon Foundation, Georgetown is going to educate the next generation of formerly-incarcerated leaders who will help to reverse the policies that trapped them," said Joshua Miller, PJI's director of education and co-principal investigator of the grant with Howard.
Confronting Reality
Howard's course confronts the current reality of having 2.3 million Americans in jails and prisons, and addresses such questions as why the United States has an incarceration rate seven times higher than other democracies.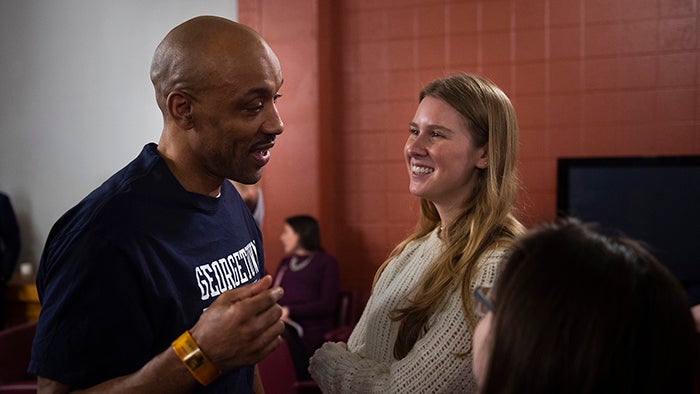 Both Haley Wierzbicki (C'21) of Clayton, North Carolina, and Frances Trousdale (C'22) of New York City, who spoke at the event, said taking the class alongside the prison scholars had led them to consider careers in criminal justice.
"I came to Georgetown with absolutely no idea what I wanted to do, let alone what I wanted to pursue after college," Wierzbicki said. "I'm not saying I have it all totally figured out, but my exposure to the Prisons and Justice Initiative and eventually this class has really made me realize that this is the work that I want to do."
A Catapult
Scholar Roy Middleton learned the day of the event that he would be released after 24 years in prison.
"To learn and study, to be encouraged and challenged by my professors, and then to see a pay off in real-time, has been a catapult for me," Middleton said. "I pray that we can continue this growth and continue building, because this is what changes prison conditions."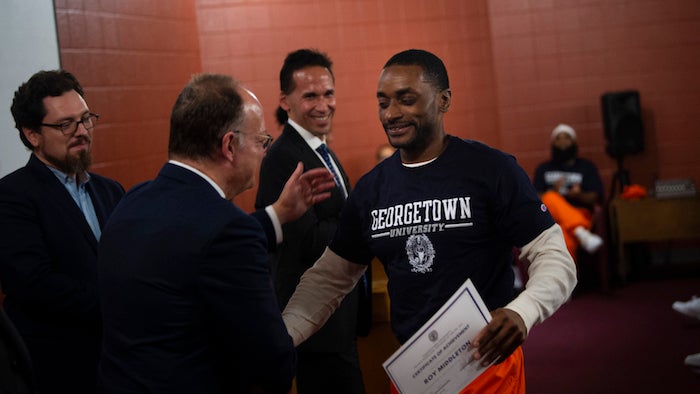 He was cheered by the audience, as was former prison scholar Zachary Johnson, who was released Sept. 30 and is now finishing the semester on the Hilltop.
"Zach is the embodiment of the power of education," Howard said.
Seeing a Horizon
President John J. DeGioia, whose office provided the seed funding for PJI, gave the keynote speech at the event.
After thanking the Prisons and Justice Initiative and the DC Department of Corrections for working together to create the Prison Scholars Program, he noted the recent words of Pope Francis at an international meeting on prison ministry.
"You cannot talk about paying a debt to society from a jail cell without windows … No one can change their life if they don't see a horizon," DeGioia quoted.
"My hope is that your time together over this past semester has shown you a new horizon, has provided you with windows into new knowledge and has enabled you to gain a deeper sense of your own authentic self," DeGioia told the prison scholars.
Secret Recipe
Department of Corrections Director Quincy Booth also spoke at the event and praised the partnership between Georgetown and his agency.
"We're seeing the dream when we look to our left and to our right," he said. "Because we're seeing the transition when they go back to their respective housing units and they start having conversations around what they learned, and that to me is what education is about."
"I've had the opportunity to sit in some of the classes and sometimes people will say, 'Well, is it the same thing that's happening on the outside?' I would actually say it's a secret recipe – it's better."
The other credit-bearing courses this semester for the prison scholars were Personal Finance with Michael G. Ryan (C'74), a professor of the practice at Georgetown College and chief financial officer of Equity Group Holdings; and The Philosophy of Law with Judith Lichtenberg, a Georgetown College philosophy professor.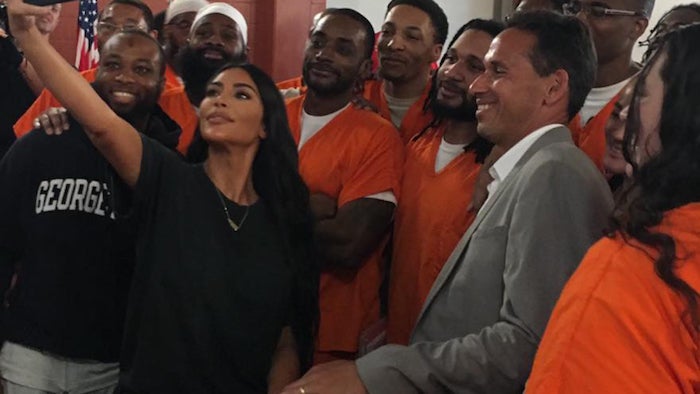 Kardashian Support
The program also includes a writing workshop and a weekly lecture series, with speakers that have included media personality Kim Kardashian West; Georgetown sociology professor Michael Eric Dyson; Mélisande Colomb, a Descendant of the more than 270 enslaved individuals sold by Maryland Jesuits in 1838; and Georgetown assistant professor of government Jamil Scott.
This past summer, Kardashian West shared her journey to becoming a criminal justice advocate and heard directly from the scholars about their experiences and the ways in which education has positively impacted their respective journeys.
She was so moved by what she experienced that she later tweeted, "All prisons need this program." Her upcoming documentary, Kim Kardashian West: The Justice Project, will include footage from the visit.
"Kim has quickly become one of the foremost voices tirelessly advocating for criminal justice reform, and we are grateful for her time spent with our scholars," Howard said.
Comprehensive Programs
The Prisons and Justice Initiative also includes: