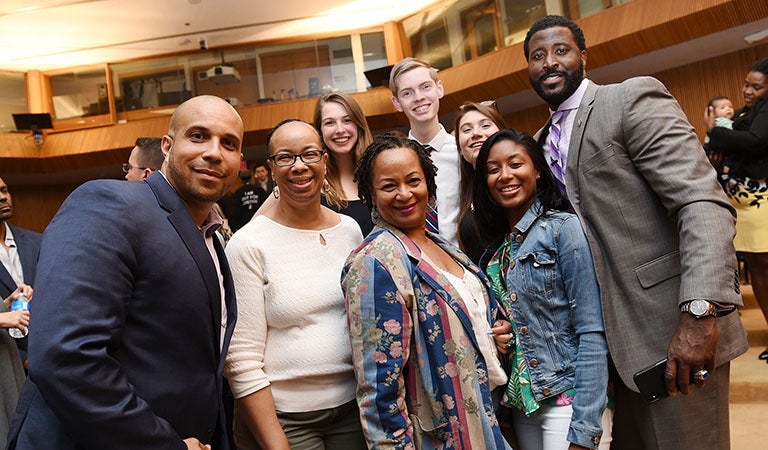 Category:

Discovery & Impact
Title:

Prison Reform Course Helps Four Convicted of Murder Prove Innocence
Date Published:
May 10, 2018
A group of undergraduates in a unique "Prison Reform Project" course have conducted investigations into four murder cases that may one day lead to the release of individuals thought to be wrongfully convicted.
Marc Howard, director of the university's Prisons and Justice Initiative, taught the course with his childhood friend Marty Tankleff, who was wrongfully convicted of murdering his parents and served almost 18 years in several maximum security prisons in New York.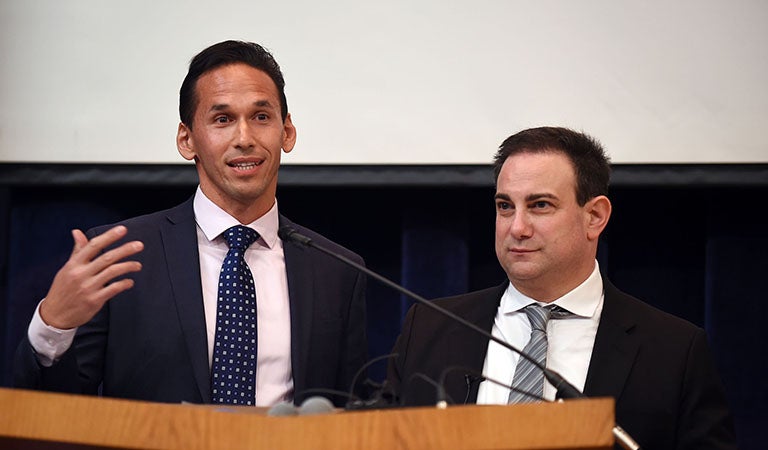 Marc Howard, left, director of the Prisons and Justice Initiative at Georgetown, helped his childhood friendMarty Tankleffget out of prison. They now teach Georgetown's Prison Reform Project course together.
Howard helped in Tankleff's 2007 exoneration and release from prison. Tankleff later earned his law degree and recently received a $10 million settlement.
'Sophisticated Legal Work'
The students worked on the cases of four incarcerated individuals – Valentino Dixon, Kenneth Bond-El, John Moss III and Timothy Wright Jr. – about whom the students created four documentaries, as well as websites and social media campaigns.
The documentaries were shown at a recent event attended by family members of the incarcerated, individuals who have been exonerated and members of the Georgetown community.
"What they've done is absolutely extraordinary," said Howard of the 16 students in the course. "First off, remember, these are undergraduates. The media that covers us keeps calling them law students. But no, they don't have their B.A. yet. So they're not lawyers, but they handled sophisticated legal work and investigative matters as well as anybody could."
The students not only filmed their own documentaries – they became subjects of a forthcoming Strong Island Films six-episode documentary series on the course.
'Forever Grateful'
Some of the students had already met Tankleff when he came to speak at Howard's Prison and Punishment course in the fall.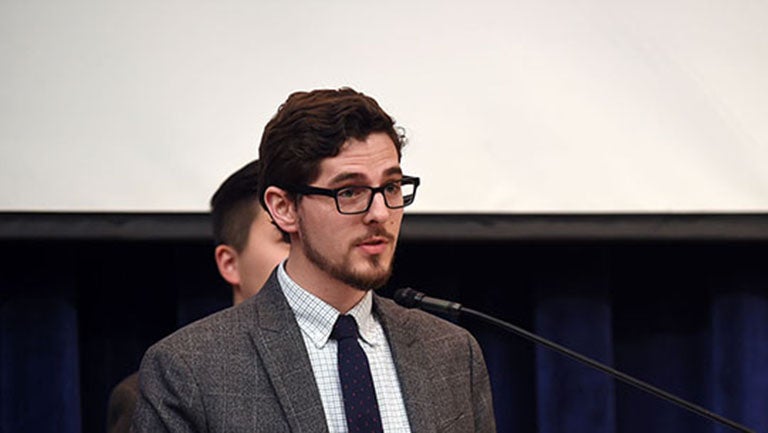 "Their passion talking together, especially on the issue of wrongful convictions, which is what got Marc interested in criminal justice reform in the first place, was just so incredible that I just wanted to be part of that magic that was going to be happening with the two of them teaching a class," says Andrew Schneider (C'19), a government major from San Francisco, California, who worked on Wright's case.
Jessica Scoratow (C'18) a government major from Pittsburgh, Pennsylvania, said she will be "forever grateful" to Howard, Tankleff and Moss "for the opportunity to become so intimately involved in what is truly one of the greatest failures of the American system– wrongful incarceration."
"I am committed to devoting my career to ending this type of tragedy, and I owe this devotion and inspiration to Marc, Marty, John, and everyone else who helped to facilitate this groundbreaking course," she said.
Societal Epidemic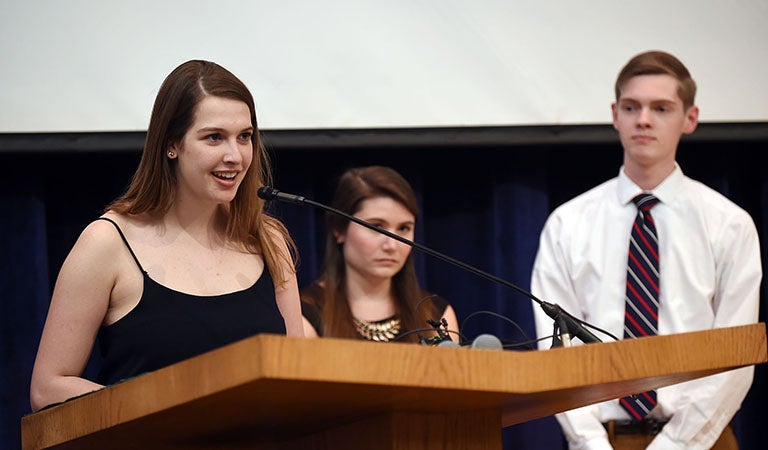 With funds donated by the Innocence Project founding board member and Lava Records CEO Jason Flom, the students traveled to meet with the prisoners, examined court transcripts and crime scenes, and met with law enforcement officials, defense lawyers, prosecutors, experts, witnesses and family members.
"Wrongful convictions are an epidemic in our society," Tankleff said at the "Making an Exoneree" event on campus April 30. "Just last year there were 139 exonerations. In 2016 there were 171 … that translates to one innocent person being released every two-and-a-half days."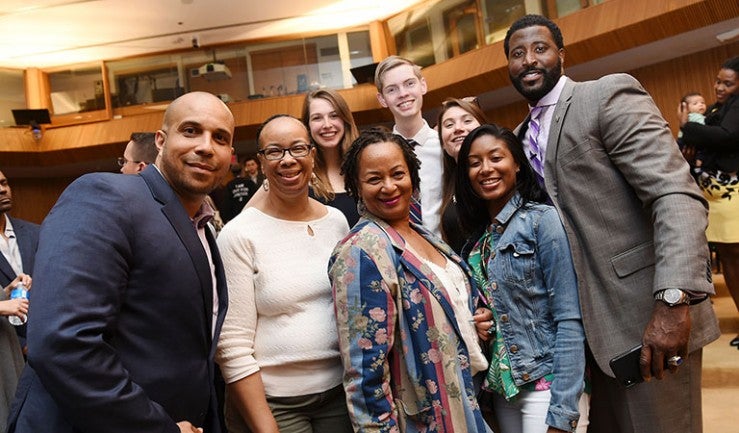 The students spent days, nights and weekends working on the complicated cases and took crash courses in video-editing.
"We didn't have easy cases," Howard said. "This wasn't a situation where, 'Oh there's some DNA sitting here,' just walk it down to the lab and you'll get the person out of prison. We took some of the most difficult and challenging cases, where leads had vanished, where legal appeals seemed like they were at a dead end, where hope was just about gone."
Case Being Reviewed
Dixon, 47, has served 26 of his 33 years to life sentence in prison. Because of the students' work, a motion was filed last week in Dixon's case that will allow for a new review of the case by the District Attorney's Office in New York.
Isobella Goonetillake (C'18), a justice and peace studies major from London, said she and her student team presented evidence to the D.A. in person.
"Once we organized that interview, he looked at the file and said he would actually give the file a proper read-through," said Goonetillake, who will begin law school in the fall.
"It's not that common that you get a chance as a student to make an impact outside of the university bubble. This was arare opportunity."
Powerful and Moving
Kenneth Bond-El, 39, who has served for nearly two dozen years in Maryland's Jessup Correctional Institution in Maryland, is hopeful the students' work will help him get his freedom one day.
"What this documentary has meant to me – it has given me the number one thing that you could give to a person in my situation – hope," Bond-El said in a phone call during the event.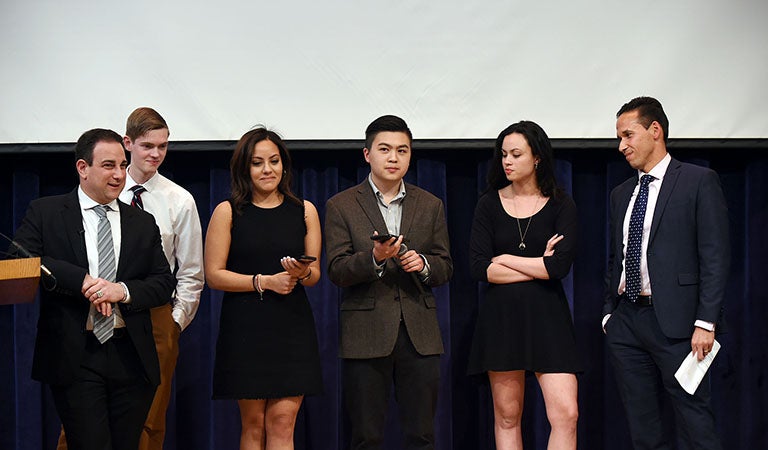 "It was incredibly powerful and moving," said Nada Eldaief (SFS'18) of the work she did in the course. "I remember the first time I met Kenneth when we went inside Jessup Correctional Institution and talked to him face-to-face. He was so kind, so thoughtful, extremely intelligent … and so it was very emotional speaking to him and knowing that he's been behind bars for 23 years for something he had nothing to do with."
Hard to Get Out
Eldaief's team was able to talk with the sole eyewitness who shed doubt on the conviction and with eyewitness ID and ballistics experts claiming the evidence in the case wasn't enough to convict Bond-El.
Wright, 30, has been in prison the shortest amount of time – 10 years – while Moss, 54, has been incarcerated for nearly four decades.
The younger man believes he was framed for a murder committed by the son of a deputy sheriff's son but as Tankleff says, "when you're wrongfully convicted it is really, really hard to get out."
'Extraordinary Night'
Moss' friends in the audience Monday night included Georgetown justice and peace major Brian Ferguson (C'18), whose wrongful murder conviction landed him in the same West Virginia institution – Mount Olive Correctional Complex – for 11 years.
"Thirty-eight years in prison, that fact amazes and saddens me every time I think about it," Ferguson said in the documentary. "John is one of the most genuine and thoughtful people I know … John's been a brother and a counsel to me since the day I met him. I truly believe that he, before almost anyone, deserves the chance to reclaim his life and make something remarkably positive out of it."
Moss and Jimmie Gardner both went to prison based on the testimony of Fred Zain, a West Virginia forensic lab technician later convicted of falsifying blood evidence in over 134 cases.
Next Steps
"This has been an extraordinary night for me," said Gardner, who was in the audience with Ferguson at the event, "one of the greatest nights for me since I returned home April 1, 2016.These guys are shedding light on West Virginia and all the other cases in the United States that need to be highlighted."
The professors hope to teach the course again next year, as well as subsequent years.
"This is not the end of our project, this is not the end of our story," Howard said.