A Fashion Model Turned Lawyer: Asmara Montgomery (L'25)
Originally from Atlanta, Georgia, Asmara Montgomery is a first-year student in Georgetown Law's RISE program, which serves incoming J.D. students from backgrounds historically underrepresented in law school and the legal profession. Last week, RISE Scholars completed a weeklong orientation of introductory classes, lectures and mentoring.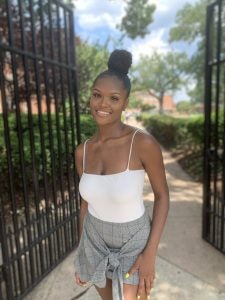 I graduated from Howard University in 2021. I took a gap year before I came to Georgetown, and I am actually a signed model. I modeled full-time, and I walked in New York Fashion Week twice. I actually was modeling since I was a baby — my mom and dad put me into Macy's catalog.
It kind of makes sense that I would want to do something about fashion law or entertainment law, but that's never been where my interests lie. Due to a life-altering accident, I'm actually interested in personal injury law.
I got in a car accident with my mom and sister when I was 11. The car accident resulted in my mom sustaining a traumatic brain injury. Imagine being 11 years old, your sister's nine years old, and I'm calling my mother's name and she's not answering me. To this day, 11 years later, she still has long-term effects from the accident because she wasn't able to have what she needed then.
I realized I didn't have the access that I needed to really understand who to go to. Not just me, my family didn't either. They didn't know to get the most rigorous care at first. They didn't know how to pursue the lawsuits. I want to be that person for somebody else, to prevent another family from going through what I went through, and at least give them resources to be able to combat it. Because a lot of times, people from adverse communities struggle getting what they deserve because of access.