At the beginning of July, Elena Sapelyuk (SFS'23) launched a summer camp in Montenegro.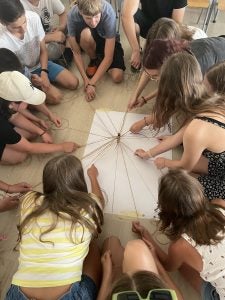 It was no ordinary summer camp. Sapelyuk had spent the past year designing a camp that taught displaced Ukrainian youth creative writing and peace-building skills.
She partnered with a local community partner and the Peace Engineers, a Ukrainian company that offers conflict resolution training, and cobbled together funding from Georgetown, including a $10,000 Davis Award for Peace and a summer scholarship she won from the Center for Social Justice, her Paul F. Pelosi F. Scholarship, and GoFundMe donations, to design a free camp for Ukrainian teenagers, many of whom had recently fled their home country. 
"These kids went through really significant trauma in having to leave their country," she says. "So first of all, it was really about creating a space that was stable and supportive. But it was also about seeing their potential to be people who come back to Ukraine. Because the war will end one day, and to do good, these skill sets are going to be really important." 
On day one of camp, Sapelyuk, a Russian-Ukrainian American who emigrated to the U.S. when she was six, was curious to see how teenagers would take to a summer camp about peace. It would take the next five weeks for her to find out.  
As Sapelyuk began her camp, Hoyas around the world also dug into projects, research, internships, volunteer and work experiences, from studying glacial melt on Mt. Everest to assisting migrants and refugees at Union Station in Washington, DC.
Follow along on their summer adventures with these mini profiles.  
Reporting From Mt. Everest Base Camp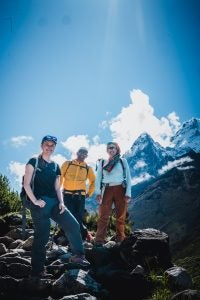 As Sarah Watson (SFS'23) walked across the Khumbu Glacier in Nepal, she could hear the ice crack beneath her hiking boots. She was trekking toward Mt. Everest's base camp, 17,598 feet high, for a story she was writing for the Nepali Times. Alongside the glacial path, she watched ice melt and slide into a newly formed glacial lake.
"You hear about glacial melt all the time, but you usually think of the Arctic Poles. To see that melting in front of you, it makes it a reality. This is ground zero for climate change," she said of Nepal. "It's beautiful and a little terrifying." 
Watson, the former editor of Georgetown's student newspaper The Voice, was interning for the Nepali Times and researching the impact of Himalayan glacial melt and climate change on South Asia's geopolitics and communities as part of Georgetown's Kalorama Summer Research Fellowship, which funds undergraduates' independent summer research.
Over two months in Nepal, she hiked to Everest base camp with a group of mushroom scientists who were documenting the Everest region's biodiversity. She climbed for 16 hours on Lobuche, a 20,000-foot peak, with an ice ax and crampons. And she interviewed climate change experts, government leaders and athletes to document their stories. 
By the end of her internship, she knew she wanted to pivot her senior thesis from just "doom and gloom" on glacial melt to proposing solutions to mitigate climate disasters.