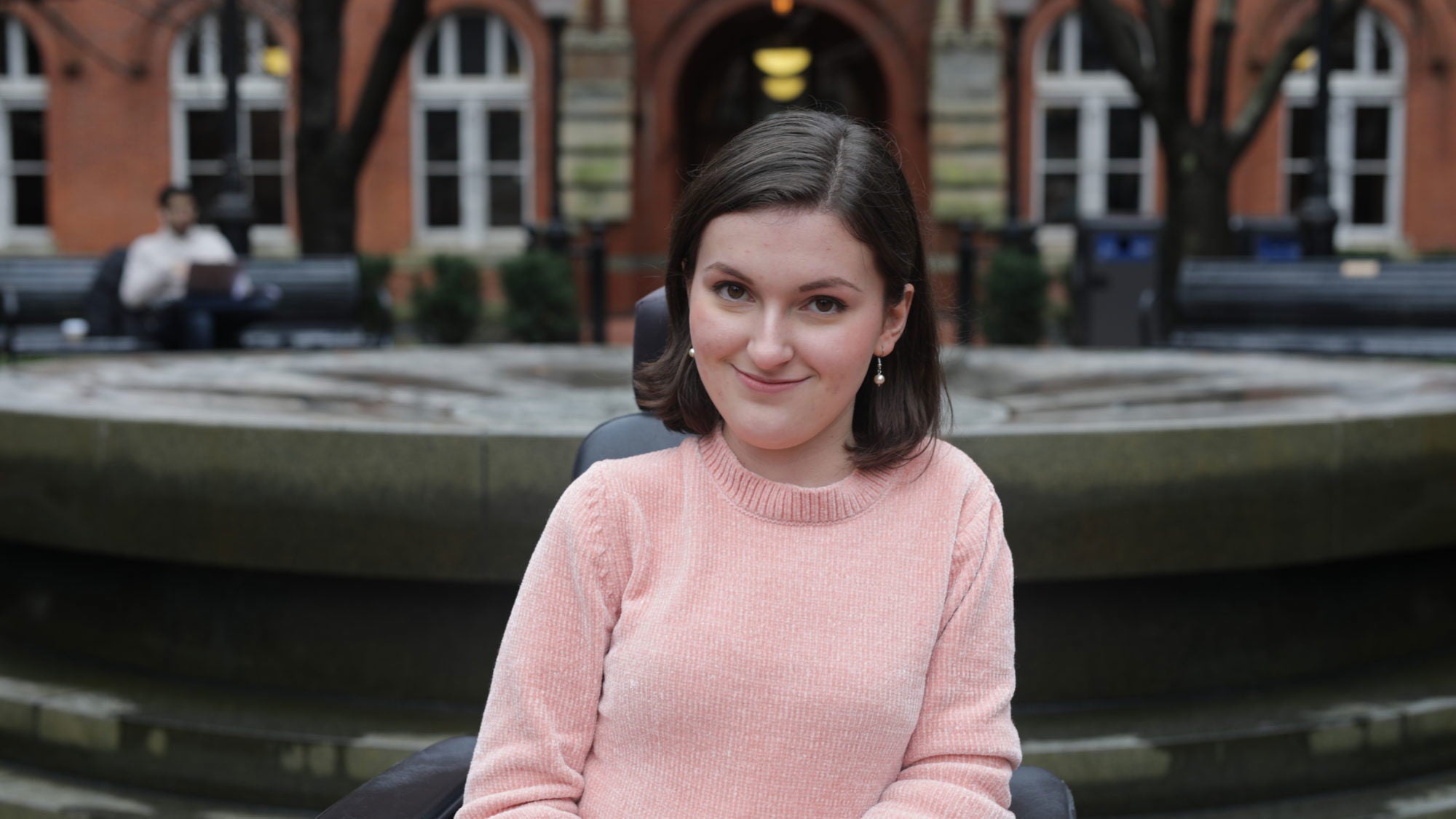 Category:

Student Experience
Title:

Georgetown Senior Researches Global Disabilities Rights Policies, Wins Marshall Scholarship
Date Published:
December 7, 2020
Georgetown senior Anna Landre (SFS'21), who researches and studies some of the most pressing problems facing disabled communities, is among the three Georgetown students and an alumnus to receive a prestigious 2021 Marshall Scholarship. The university had the greatest number of Marshall recipients from any one institution this year. Landre will use her scholarship to pursue two master's degrees – one in international development and humanitarian emergencies and the other in international social and public policy– at the London School of Economics and Political Science in the United Kingdom next fall.
Hometown: Howell, New Jersey
Major: Regional and Comparative Studies
Research: Throughout her time at Georgetown, Landre has been conducting research at the intersection of disability studies and global development. As a disability rights advocate and wheelchair user, the senior's work has personal implications.
"Disability continues to be forgotten in most policy contexts, perceived as rare and apolitical," she explains. "With my lived experience as a wheelchair user and my academic background studying Latin America, Africa, disability and international development, I aim to pursue a career crafting and implementing disability policy across the globe. I believe the key to achieving increased equity is transnational disability community-building and comparative policy research."
Since April, Landre has presented her findings on how the COVID-19 pandemic has changed the lives of those with disabilities and pre-existing conditions in publications and interviews for The Partnership for Inclusive Disaster Strategies and the American Civil Liberties Union.
Over the longer term, the Marshall Scholar has focused on the regional contexts of accessibility and disability rights in Latin America. Since 2018, she has been collecting data and other types of evidence for a paper she will co-author with Rev. Matthew Carnes, S.J., director of the Center for Latin American Studies. The paper explores disability rights policies in Latin America.
This project will build on her honors thesis research, which took her to Brazil to examine why some of the country's cities fail to comply with national accessibility laws.
"I was able to have some fantastic conversations with [disability rights activists] where we learned about the state of disability rights in each others' countries," she says. "This experience is part of what continues to inspire me to pursue disability advocacy across national borders."
Why Georgetown?: Georgetown's first-rate academics, combined with its values and culture, drew Landre to the university.
"I think there's so much potential to combine Georgetown's growing expertise in disability studies, our established position in the world of foreign service and our Jesuit values," she says.
Most influential professors: The senior took full advantage of her time at Georgetown to connect with world-class faculty across the university and has focused her major on Latin American studies and African studies with minors in disability studies and international development studies.
Across all these fields, she found support from her professors.
"I've received so much support and encouragement from Georgetown's Disability Studies Program, especially from professors Libbie Rifkin, Sylvia Onder and Lydia Brown," Landre says.
She also notes Carnes and Diana Kapiszewski, Provost's Distinguished Associate Professor of Government, as key mentors.
A Professor's View: Landre made an impression when she initially approached Carnes for advice about how to conduct accessibility research in Latin America.
"Anna came into my office full of ideas and a genuine desire to take up original research on social policy – a task that few first-year students understand, let alone aspire to," he recalls.
The two devised a research strategy for Landre to collect existing accessibility data in the region and presented a joint paper on their findings at the American Political Science Association (APSA).
"This is the first time I have ever undertaken such a project with such a young undergraduate, and it is a testament to how much potential and creativity I see in Anna," Carnes continues. "Indeed, when my colleagues at APSA met Anna, they assumed that she was an advanced Ph.D. candidate."
Carnes has no doubt his student will leave a positive mark as she embarks onto the next stage of her career. "She is incredibly smart, remarkably well-prepared and highly motivated," he says. "She will make a huge impact in the future in the fields of accessibility and inclusion."
Campus and community activities: Landre has been a leading advocate for students and people with disabilities, on campus, in her local DC community and in the national media.
She currently serves as a commissioner for the Advisory Neighborhood Commission, a position she has held since February 2019.
The local government entity advocates for the needs of constituents to the DC government. In her role, Landre has worked with Georgetown's Business Improvement District to make local stores and restaurants more accessible and advised the Department of Transportation on making DC's transport system easier to use for residents with disabilities.
She was also elected to be the DC Chapter Leader for ADAPT (American Disabled for Attendant Programs Today), where she organizes nonviolent civil disobedience actions to assert the civil and human rights of disabled people in the United States.
Career goals: Landre knows that graduate study will enable her to pursue her ultimate goal: to develop policies that fill in the gaps limiting opportunities for people with disabilities in employment, education and public spaces, all over the world.
She hopes that the experience she will gain through the Marshall scholarship will enable her to work for the United Nations' Office of the High Commissioner on Human Rights in Geneva, where she wants to monitor implementation of the Convention on the Rights of Persons with Disabilities.
In the long term, Landre wants to establish an alliance or nonprofit organization to coordinate the actions of disability rights advocates from across the globe.
"I hope that establishing these connections will help disability activists learn from one another, build community across borders and pursue a more inclusive and just world," she says.
For more information about the Marshall Scholarship and other fellowship opportunities, please visit the Georgetown Office of Fellowships, Awards and Resources.