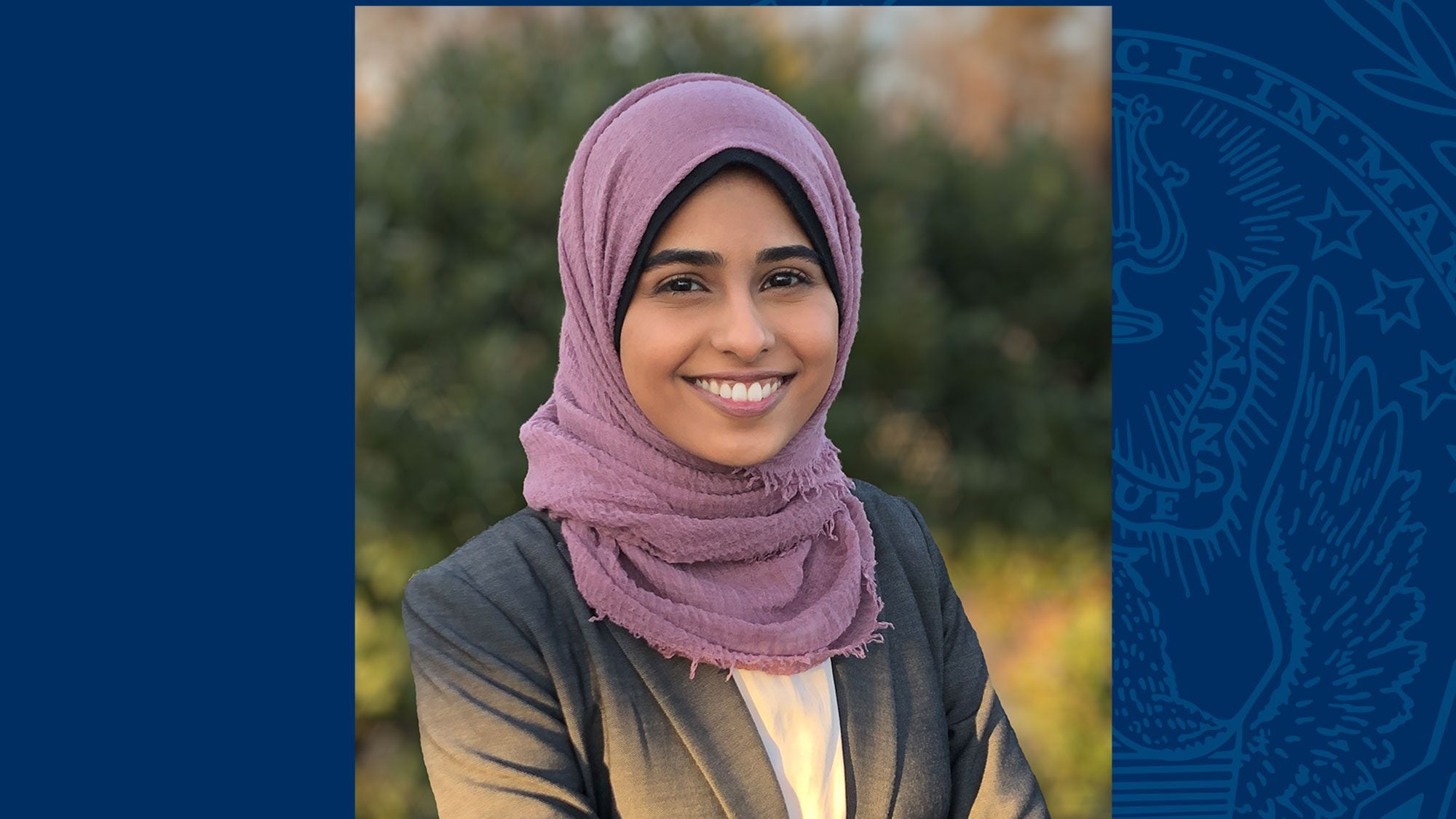 Category:

Discovery & Impact
Title:

Georgetown Senior Wins Marshall Scholarship to Research Global Economic Shocks 
Date Published:
December 7, 2020
Senior Yumna Naqvi (SFS'21), who wants to take data-driven approaches to lessen the impact of  global economic shocks – such as the COVID-19 pandemic, is among the three Georgetown students and an alumnus to receive a prestigious 2021 Marshall Scholarship. The university had the greatest number of Marshall recipients from any one institution this year. Naqvi plans to use her scholarship to pursue master's degrees in mathematical economics at the London School of Economics and Political Science and social data science at the University of Oxford in the United Kingdom.
Home State: New Jersey
Major: International Political Economy
Research: Naqvi examines the economic impacts of massive unexpected events – such as the current pandemic – and hopes her data-driven research and policy interventions will better protect already vulnerable communities.
"COVID-19-related income losses reduce purchasing ability for food, particularly for those below the poverty line, who spend proportionally more on food than other segments," Naqvi explains. "Income losses for women further increase instances of sexual exploitation, while refugees face exclusion from governments' pandemic relief."
The Marshall Scholar hopes to develop interventions and strategic proposals that help shape how governments and international institutions respond.
"I seek to ensure vulnerable communities are not left as an after-thought," she says.
Internships: Her internships at the Brookings Institution and World Bank have provided the Georgetown student with in-depth research opportunities.
Naqvi spent the spring semester studying the effects of the COVID-19 pandemic by analyzing pandemic unemployment and demographic differences in low-wage careers for the Brookings' Workforce for the Future team.
This past summer, she interned with the World Bank Group, where she studied food insecurity, contributing to briefs and delivering internal presentations on pandemic trends to World Bank  leaders and senior economists.
She says the data collected on currency depreciation and food prices, as well as international policy initiatives, were illuminating.
"My work at Brookings and the World Bank has deepened my devotion to studying economic shocks," she says, "and has nuanced my understanding of possible interventions."
A Professor's View: Naqvi also has conducted scholarly work that explored globalization, poverty and the politics of the informal sectors for government professor Nita Rudra.
"Her ability to manage research projects in diverse intellectual environments, while doing well in her coursework underscored her impressive portfolio of skills," Rudra says. "Yumna demonstrates a passion for challenging research puzzles and thinking of clever research designs."
James Vreeland, a former SFS professor now at Princeton University, taught Naqvi in his research seminar for first-year SFS students.
"Given my experience of teaching generations of the world's best students, I have complete confidence that Yumna is destined not just for success but for greatness," says Vreeland who has remained a mentor to the Marshall Scholar.
Campus and Community Activities: Naqvi is active in a number of other campus activities.
The senior has served as a teaching assistant for an international trade class, a residential assistant for students living on campus and helped to coordinate interfaith events for campus ministry.
As director of university affairs for the Georgetown University Student Association (GUSA), Naqvi advocates for policies related to campus infrastructure and student life in the wake of the COVID-19 pandemic.
She also has served as opinion editor, editorial board chair, director of engagement and columnist for The Hoya, the university's student-run newspaper, during her academic career at Georgetown.
"It is important to me to push for necessary change, whether that be through writing about unjust campus policy in the newspaper or meeting directly with the administration through GUSA," she says.
Career goals: After completing her studies at the London School of Economics and Oxford, Naqvi wants to pursue her Ph.D. in applied economics, "developing policy responses to directly assist vulnerable populations."
"I aim to push the frontier of data analysis and social economics to form conscientious and rigorous solutions," Naqvi says. "Good intentions are not enough. I'm seeking tangible, yet responsible change."
For more information about the Marshall Scholarship and other fellowship opportunities, please visit the Georgetown Office of Fellowships, Awards, and Resources.