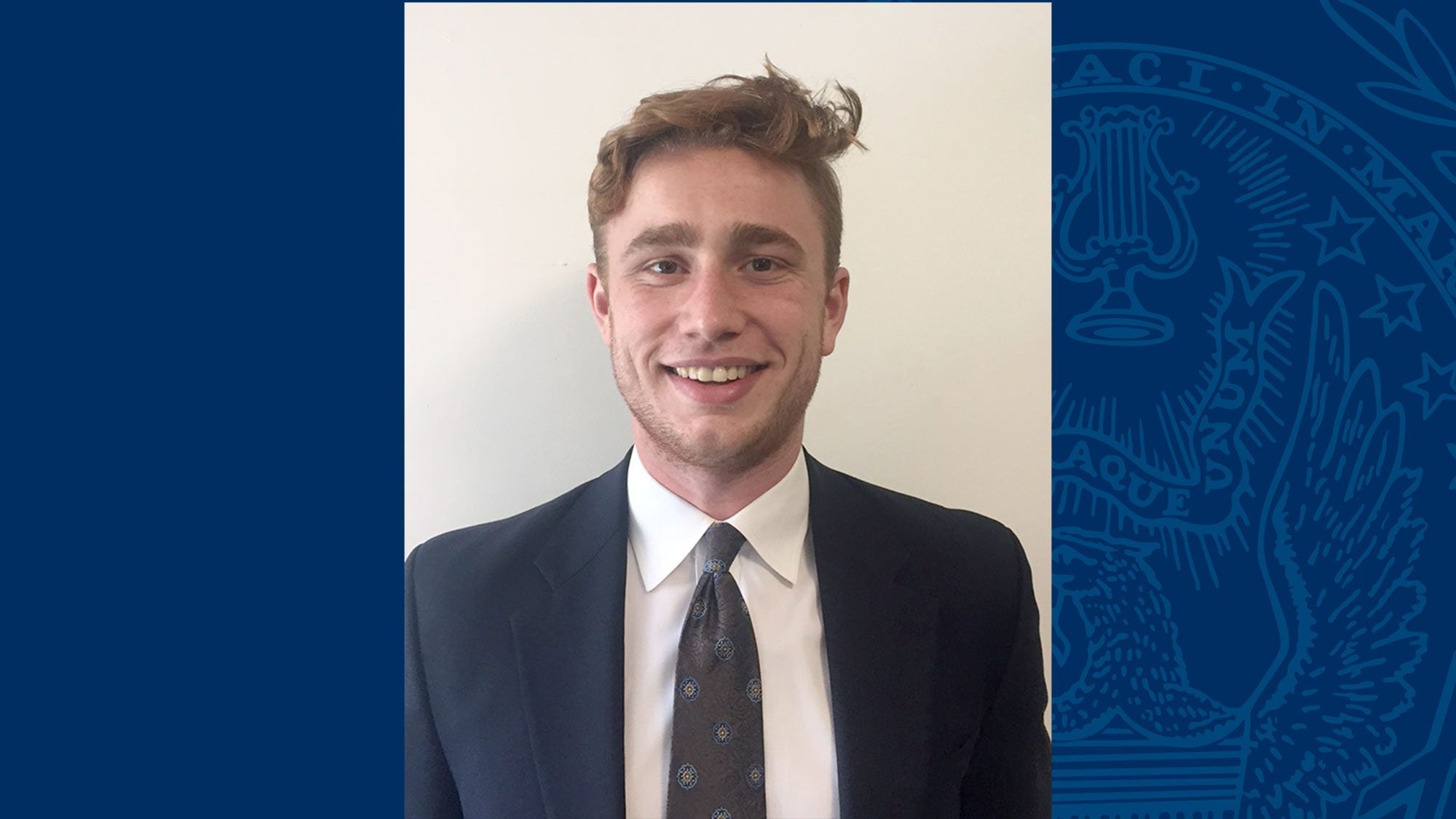 Category:

Student Experience
Title:

Georgetown Alumnus Wins Marshall Scholarship, Hopes to Promote Equitable Housing Policy
Date Published:
December 7, 2020
Georgetown alumnus Isaiah Fleming-Klink (SFS'19), who wants to help promote equitable housing policy, is among the three Georgetown students and an alumnus to receive a prestigious 2021 Marshall Scholarship. The university had the greatest number of Marshall recipients from any one institution this year. Fleming-Klink will pursue master's degrees in social research at the University of York and in planning, growth and regeneration at the University of Cambridge in the United Kingdom.
Hometown: Richmond, Virginia
Major: Culture and Politics
Current Work: Fleming-Klink works as a Strategic Planning Analyst at the New York City Housing Authority (NYCHA), where he helps craft and implement the authority's transformation plan. He also coordinates NYCHA's effort to bring affordable broadband services to its roughly 400,000 public housing residents.
Before NYCHA, the School of Foreign Service (SFS) alumnus worked on a range of housing finance and tenant protection policies for a year in the Office of the Deputy Mayor for Housing and Economic Development, Vicki Been, as a New York City Urban Fellow.
"I believe that housing is a human right, and establishing and provisioning it as such is crucial to reckoning with and atoning for deep socioeconomic inequities and racial injustices in the U.S.," says the Marshall Scholar.
Research at Georgetown: Fleming-Klink began dedicating his time analyzing housing policy and defending tenant's rights as an SFS student.
He worked alongside Georgetown professors Brian McCabe and Eva Rosen on a project to shed light on eviction processes and the people impacted in Washington, DC.
Fleming-Klink spent hundreds of hours in the District of Columbia Court's Landlord and Tenant Branch, interviewing tenants, observing proceedings, and poring over thousands of eviction records.
"I couldn't fathom what I was hearing and seeing," the alumnus recalls. "Multigenerational families locked out of apartments unannounced and landlords demanding increased rents for units without water and heat."
With co-authors Rosen and McCabe, the Georgetown alumnus used the data he helped amass to write a paper, currently under review for publication in the American Journal of Sociology. The paper, "Gimme the Eviction: The Punishing Disadvantages of Hidden Procedures in Landlord-Tenant Court," also was presented at the Association for Public Policy Analysis and Management 2020 Fall Research Conference.
A Professor View: McCabe and Rosen say the Marshall Scholar is a curious and committed researcher and citizen.
"I had been struck by his drive for learning and a thirst for knowledge," says Brian McCabe, associate professor of sociology. "Isaiah's senior thesis on eviction courts in Washington, DC, is singularly the most remarkable piece of undergraduate research that I have seen at Georgetown University."
Rosen, an assistant professor in the McCourt School of Public Policy, similarly shared high praise for her former research assistant.
"In class, he helped to elevate the conversation to a deeper level with discerning questions and insightful comments," she says. "He is a student of exceptional intellect and shows great promise for any future endeavor that he may undertake."
Campus and community activities: Fleming-Klink has received numerous awards and scholarships while at Georgetown, including the Lena Landegger Community Service Award, Penner Family Grant, SFS Improving the Human Condition Grant and the John and Jean Paluszek John Carroll Scholarship.
The Marshall Scholar also served as a research assistant for Rosen's DC landlord project, which explores landlord participation in the Housing Choice Voucher Program, also known as Section 8, and their behavior and practices more broadly in the private affordable rental market.
Off campus, the graduate volunteered at the Petey Greene Community Center in DC's Congress Heights neighborhood, where he assisted eligible individuals in completing applications for the Supplemental Nutrition Assistance Program (SNAP).
Career goals: After his two years of study in the United Kingdom, Fleming-Klink hopes to bring his newly-developed skills back to New York, where he wants to use his expertise in urban policy design, implementation and evaluation to better serve the city and its residents.
Ultimately, he wants to influence nationwide housing and land use policy, potentially through a role at the U.S. Department of Housing and Urban Development.
"My education in the School of Foreign Service was most fundamentally shaped by my culture and politics major, which gave me the space to explore complex policy questions from a variety of departmental, methodological and pedagogical lenses," says Fleming-Klink. "The school's generous grants and awards also were immensely important and allowed me to engage deeply with my research and methods."
For more information about the Marshall Scholarship and other fellowship opportunities, please visit the Georgetown Office of Fellowships, Awards and Resources.