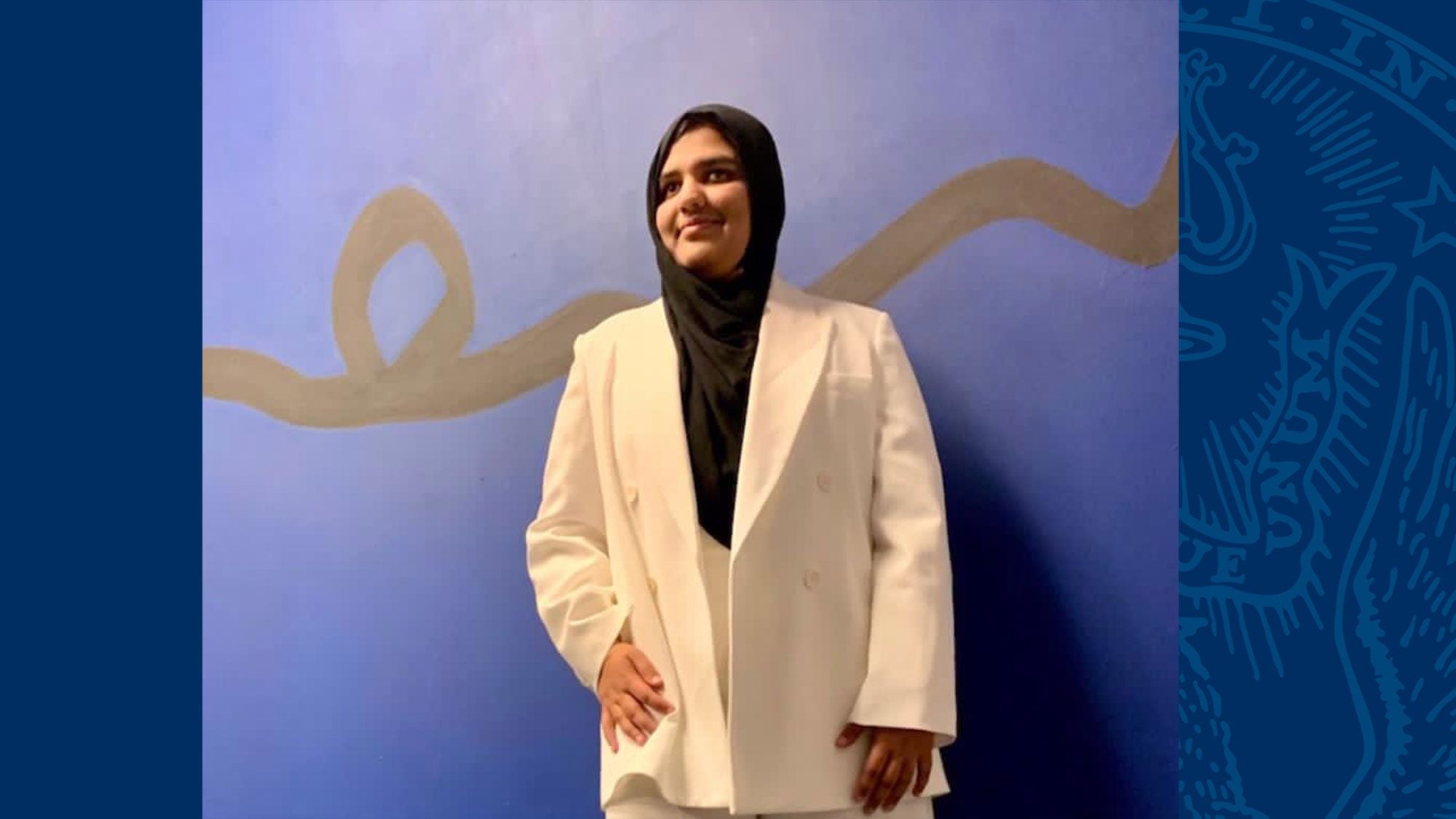 Category:

Discovery & Impact
Title:

Blind Disability Rights Activist From Pakistan Wins Rhodes Scholarship
Date Published:
November 21, 2020
Georgetown student and activist Khansa Maria (SFS'21), the only recipient to receive the prestigious 2021 Rhodes Scholarship in Pakistan, says she wants to prove that individuals with disabilities deserve to be more than merely "special people" who are objectified for the inspiration of others. Maria joins the 27 Rhodes scholars produced by the university, including President Bill Clinton (SFS'68). She will use her scholarship to pursue a master's degree in evidence-based social intervention and policy evaluation at the University of Oxford in the United Kingdom.
Hometown: Lahore, Pakistan
Major: Culture and Politics; Minor in History; Certificate in Media and Politics
Research: The Georgetown Qatar student has focused on disability rights through an Undergraduate Research Experience Program grant from the Qatar National Research Fund that has allowed her to examine employment challenges facing people with disabilities in Qatar.
As a blind woman, Maria understands the obstacles people with disabilities encounter.
"What I've learned along the way is that no matter the challenges you face, you must never let the expectations of others define what you want to pursue for your future or what your goals are," she says. "Go for it with all you've got because you can make opportunities regardless of the obstacles."
The Rhodes Scholar also has explored the trajectory of the disability rights movement within South Asia through the lens of literature for her honors major thesis.
A Professor's View: Ian Almond, professor of world literature at Georgetown Qatar, served as Maria's honors thesis faculty mentor.
"Despite her young age, Khansa already has an enviable and seldom-seen grasp of many basic theoretical paradigms – post-feminism, deconstruction, trauma theory, new historicism, etc. – and seems at home in discussing their many complexities," Almond says. "She has an incredible hunger for anything new – and it is heartening to see this in a student."
Georgetown Qatar Dean Ahmad Dallal says Maria exemplifies the best parts of Georgetown.
"For an undergraduate applying to graduate school, there are few distinctions that can surpass a Rhodes Scholarship in prestige," he says. "We are immensely proud of our student Khansa for this outstanding achievement, and we look forward to following her academic journey beyond Georgetown as she builds on the important policy research that began right here at Qatar Foundation. Khansa personifies the values of a Georgetown education – critical thinking and responsible and ethical action."
Activism: The Georgetown student founded Hope for Tomorrow in 2016 to combat stigmas surrounding disability and equip disabled individuals with practical skills to carve out a better future for themselves. Along with educational social media campaigns, Hope for Tomorrow has offered courses on professional development.
"I call myself a disability rights activist, but I know that this is not enough. It takes all of us working together to make the changes that we want to see," says the Rhodes Scholar. "I hope this next step brings me closer to working towards making that change. My Georgetown journey taught me that fighting for my rights and against internalized structural ableism never gets easier and yet it is up to us to fight against all odds."
Why Georgetown? Maria says she chose Georgetown Qatar for its small class size, globally recognized international affairs curriculum, strong emphasis on student research and financial support.
"I chose to major in culture and politics, which gave me a critical lens to view disability policy creation and evaluation," says Maria, who will graduate in May. "The cultural perception of disabled individuals is integral to shaping the mindsets of policymakers, implementers and enforcers. I began to recognize from my classes the inextricable link between the culture that shapes us, and the policies that we hope will shape our future."
Campus Activities and Awards: Maria not only has excelled academically at Georgetown, she has thrived with the campus community. Her activities include:
vice president of the Student Government Association, where she worked to influence policymaking and encourage accessibility and inclusion.
co-president of the Georgetown Debating Union, where she led the debate team to victory at the Qatar National Debating Championship.
member of the Georgetown TEDx Club, which promotes innovative ideas within the community through the global TEDx platform.
Maria has received numerous debate awards during her time at Georgetown and received a 2020 Lena Landegger Community Service Award for her contributions to the community.
Career goals: Maria wants to chart a path to making policies for inclusive development and capacity building for people with disabilities.
"I hope to return to Pakistan and assist in drafting legislation guaranteeing equal educational opportunities to people with disabilities so they may acquire the skills necessary to become part of the workforce with legal protection," she explains.
Khansa Maria's Undergraduate Research Experience Program grant was funded by the Qatar National Research Fund (UREP24-215-5-041).
For more information about the Rhodes Scholarship and other fellowship opportunities, please visit the Georgetown Office of Fellowships, Awards, and Resources.