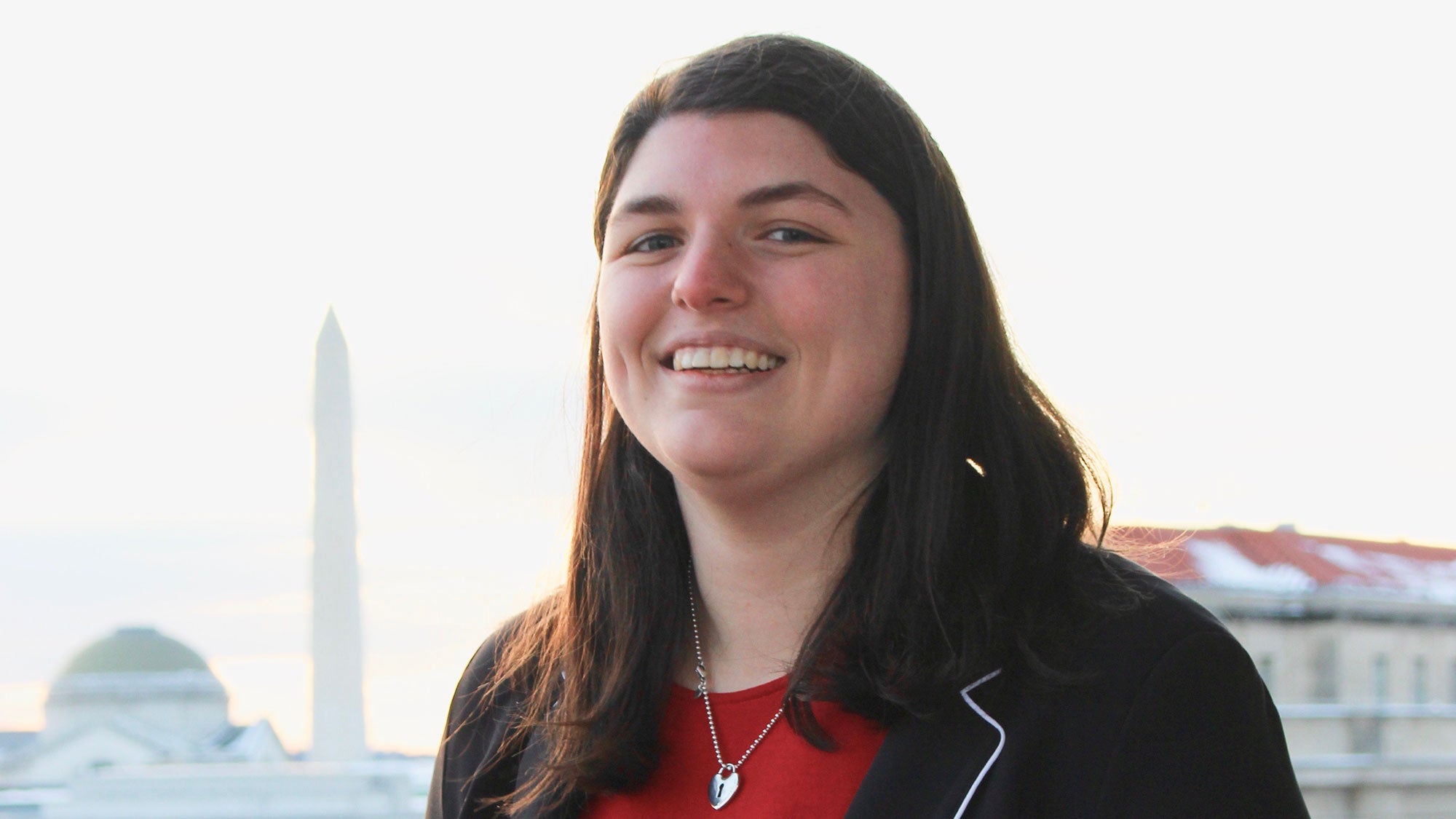 Category:

Student Experience
Title:

Rhodes Scholarship Winner Pursues Equity for People With Disabilities
Date Published:
November 23, 2019
Sara Rotenberg (NHS'20), a senior global health major committed to creating an equitable world for people with disabilities, has been named a 2020 Rhodes Scholarship recipient from Canada. The Georgetown senior joins the 26 Rhodes scholars produced by the university, including President Bill Clinton (SFS'68), and is the first to earn this achievement from the School of Nursing & Health Studies (NHS). She will use the Rhodes to pursue an M.Phil. in evidence-based social intervention and policy evaluation at the University of Oxford.
Hometown: Toronto
Major/Degrees: Global Health

On Achievement: "This is an extraordinary accomplishment and our entire Georgetown community joins me in offering our sincere congratulations to Sara," says Georgetown President John J. DeGioia. "Her dedication to her studies as well as her advocacy for the equity of people with disabilities embodies the very best of our values as a University, and we look forward to all she will accomplish as she pursues graduate work at the University of Oxford."
Research: Rotenberg studies disability inclusion policies with a focus on global development.
"There are several questions that challenge me to continue working on disability in development," she says. "What are the impacts of disability-inclusive policies? How can we use data from successful examples of disability-focused development projects to make disability a consideration in all international development projects?"
Conducting research through the Global Health and India Initiative, the Georgetown senior is completing her 12-credit research practicum, as a part of the Department of International Health's curriculum at the World Health Organization's Regional Office for South-East Asia (SEARO) in New Delhi.
She spent this past summer working on two projects in India – examining the inaccessibility of transit systems and developing a transportable, collapsible stool for people with disabilities and mobility challenges.
Rotenberg also contributed to a report for the World Bank on irrigation governance reform in that country as part of the Georgetown India Initiative.
Why Georgetown? 
"I grew up in Toronto, Canada, and I discovered Georgetown as I was thinking about returning back to North America after studying at Yale-NUS College in Singapore," she says. "Georgetown's global focus, emphasis on practical training and world-class faculty made it the ideal place to transfer to in order to pursue my passion for global health."
Internships: Rotenberg worked with the Coalition for Epidemic Preparedness Innovations (CEPI) to develop an equitable access policy, ensuring that CEPI's investments in epidemic vaccines could be distributed to the people who need it first without a prohibitive cost. As part of her internship at the Embassy of Canada to the United States, she attended the World Bank's spring meetings.
"Georgetown has provided me with numerous opportunities both inside and outside the classroom," she said. "Being in Washington, DC, I have had many practical experiences to explore my passion for global health."
Influential professor: As a global health fellow, she has worked with John F. May in the Department of International Health on "finding synergies between rights-based population policies to improve the chances of capturing a demographic dividend in sub-Saharan Africa."
Through the support of the Provost's Office, she and May had the opportunity to attend the Population Association of America annual conference in Austin, Texas, to present a paper they are now preparing for publication.
"Georgetown has provided me with unparalleled opportunities and is a university that truly supports its students," Rotenberg says. " I have been challenged to engage with the issues of our time and have been pushed to learn how to think. This combined with supportive professors who have engaged with my ideas and encouraged me to pursue my passions demonstrates how Georgetown has been a driving force behind my success."
Campus and community activities: Rotenberg works with the Advisory Board for Student Organizations at the Center for Social Justice Research, Teaching and Service to "help distribute funding and mentor student leaders on how to manage their organization, develop programming, and leadership skills."
She also contributed to the relaunch and acted as programming chair of the campus Transfer Council "to build community and ease the transition for transfer students on-campus."
Career goals:
"Ultimately, I hope to work on disability inclusion and equity in international development," she says. "My time working on gender, equity and human rights at SEARO has reaffirmed this, as the limited data on disability demonstrates the need for more research to create proactive, effective policy in this area."
"I hope to both contribute to greater equity and inclusion for people with disabilities by working on disability policy and access issues in low- and middle-income countries and by continuing to create assistive technology."
How curriculum influences your career: 
"A highlight of the global health major has been the expertise of the professors,"Rotenberg notes. "Many come from extensive careers at international organizations or in fieldwork and research, which they are then able to bring into the classroom. I have found this to be a really enriching experience, and it has introduced me to new organizations or possible careers in global health."
A Professor's View: Myriam Vuckovic, associate professor of international health, recently nominated Rotenberg to receive an NHS Outstanding Student Award at Georgetown University Medical Center's convocation.
"Sara truly stands out among her peers, not just in terms of her excellent GPA, but even more so regarding her leadership skills and motivation to engage with the global challenges of our times," Vuckovic says, "She is greatly dedicated to global public health and social justice, finding in Georgetown the ideal environment to combine her deep interest in disability and inclusion, with her passion for global health.
For more information about the Rhodes Scholarship and other fellowship opportunities, please visit the Georgetown Office of Fellowships, Awards, and Resources or email gufa@georgetown.edu.