One of the reasons I came to Georgetown is its emphasis on Jesuit values. Back home in Lima, Peru, I was born and raised in a Catholic family and it was my upbringing rooted in the notion of doing things without expecting anything in return that led me to Georgetown. 
When I lead tours for prospective students with the Blue & Gray Tour Guide Society, I always emphasize the role our Jesuit values play in being a Hoya. From living out a community in diversity in Chaplains' Tea to delving deep into interreligious understanding and care for the whole person in my classes and extracurriculars, Georgetown has always been a place where I can explore and live out these values every day.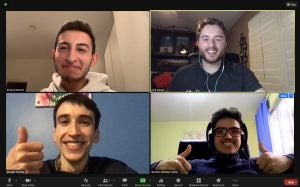 My first time experiencing these values at Georgetown was during my freshman year in 2020 during the pandemic. I remember joining a Catholic Faith Community (CFC) with the idea of starting to connect with other freshmen and having a sense of belonging in the virtual world. During our meetings, we would go over our highs and lows of the week and dive deeper into our discussions of faith via scripture and reflection. Zooming in from Ireland, Peru and DC, my CFC experience allowed me to see that Georgetown was, indeed, a community in diversity, a community that every day is eager to contemplate its spiritual life through an active immersion in prayer, worship and retreats no matter the circumstances.
Once I had the chance to arrive on campus, I didn't hesitate to reach out to the Jesuit community because I wanted to learn more about the religious order that conducted the school's founding. In fact, it was Fr. Matthew Carnes, S.J., who connected me with Fr. Gregory Schenden, S.J., who was the first Jesuit priest I met at Georgetown. My relationship with Fr. Schenden was further strengthened through our very own geek love for Star Wars, a passion I discovered after attending a retreat during my sophomore year. 
During the summer of 2022, once the university started to reestablish international travel, I was able to sign up for the Magis Immersion Spain: In the Footsteps of St. Ignatius. The trip was a good experience to grasp vividly all the different concepts I learned in the classroom, in particular taking us on a pilgrimage through key locations in the life of St. Ignatius (Loyola, Montserrat, Manresa, and Barcelona), especially those related to his conversion. In fact, the experience encouraged me to develop deeper relationships with my faith and fellow pilgrims, making me realize that by understanding who I was and what my gifts were, I could devote myself to sharing that cura personalis, or care for the whole person, with others.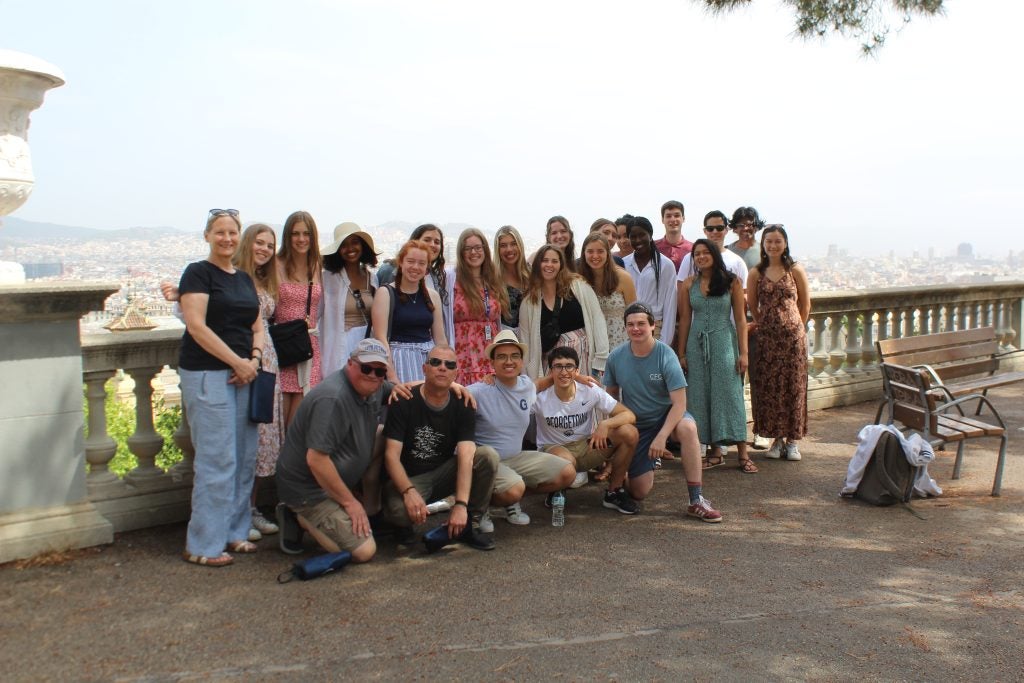 After the pilgrimage, the beginning of my junior year had a more spiritually grounded significance. I was invited to attend the Catholic Student Leaders Retreat, in which for two days I was happy to be surrounded by people who were very interested in giving back to our Hoya community. Our retreat leader, Chaplain Michelle Siemietkowski, talked to us about the importance of our role not only in the Campus Ministry community but more importantly in those spaces where we are already familiar such as family and friends. Talking with Chaplain Michelle always enlightens my day, and her life advice has been very important to me during my time at Georgetown.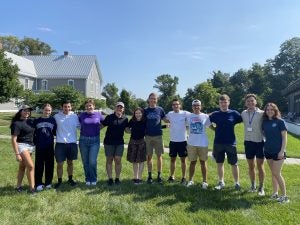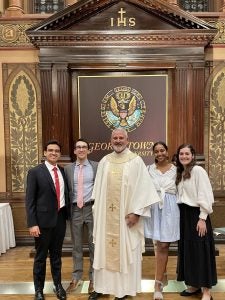 Last year, I was one of the Jesuit Heritage Month coordinators. Helping to showcase all the different events that are planned for the month, I remember our JHM Opening Mass in Gaston Hall, Pizza with the Padres, Spike a Jesuit, and, of course, my very own reel "Baking with the Jesuits." Having had the pleasure of connecting with Fr. Jerry Hayes, S.J., was a great example of understanding how the Jesuit community plays an important role in the Georgetown experience. Whether I'm working out at Yates early in the morning with Fr. Carnes, Collins and DuPont, or maybe just enjoying a nice walk by Dahlgren Quad with Fr. Salas, the Jesuits are always happy to meet with students and help them find discernment in their day-to-day, educating the whole person.
This past spring, I had the opportunity to visit Italy with Fr. Mark Bosco, S.J., as part of his Theology of Pilgrimage: Rome MAGIS course. For seven weeks, we were able to understand the history behind pilgrimage across religions, and I remember the interreligious panel by Imam Yahya Hendi, Rabbi Daniel Schaefer and Brahmachari Sharan. Once in Rome, let me state that there is no better tour guide than Father Bosco himself. From Saint Peter's Square in the Vatican City to the Borghese Gallery, the course is the perfect immersion into language, culture and faith. One of my favorite memories is resonating with my friend's emotions about his faith after visiting the Basilica of Saint Paul Outside the Walls. While each of us was able to journal, discern and later on develop our own final projects for the course, the amount of support and understanding that was rooted among pilgrims was something unexplainable. No matter our religious beliefs or political stances, we were able to understand and live actively the notion of being people for others.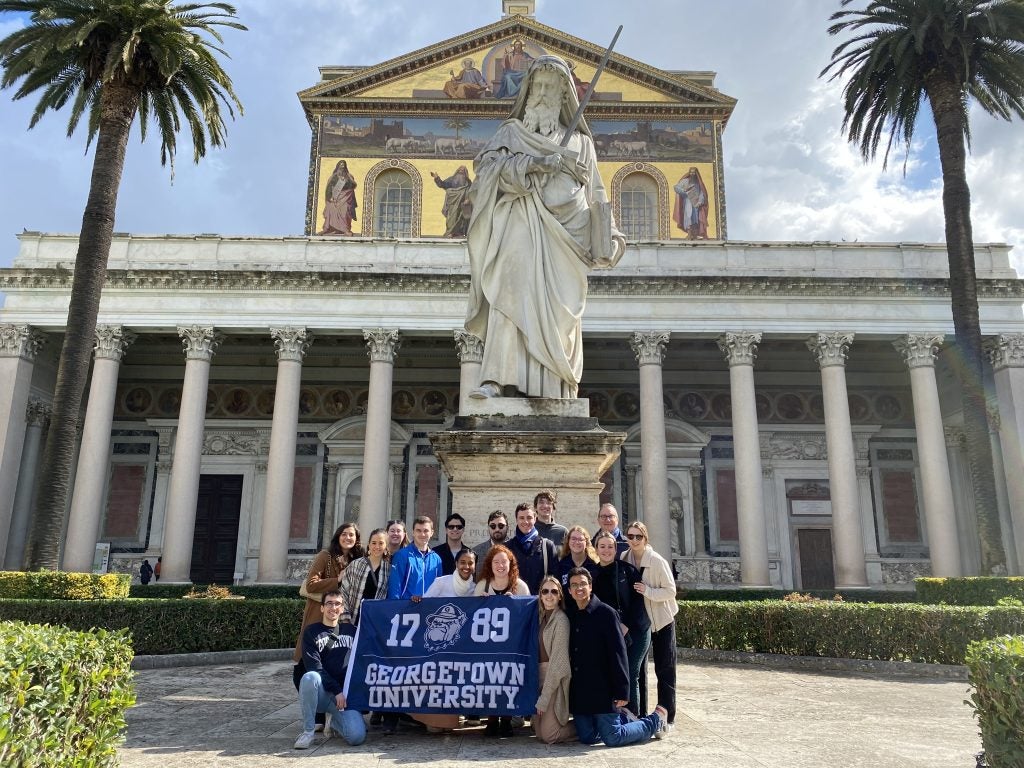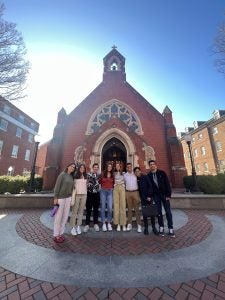 Nonetheless, I'm especially grateful for the opportunity to connect with my Latin American identity through the organization of Spanish Mass services. Since sophomore year, I've been helping organize our monthly Masses, inviting friends to join our lectors, choir or eucharistic minister positions. As a Spanish Mass coordinator, I've enjoyed connecting our Ministry with fellow Latino/Hispanic groups on campus such as Ballet Folklórico Mexicano de Georgetown (BFMG), MEChA and the Latin American Student Association (LASA). This month, for example, I participated in one of Georgetown's Dahlgren Dialogues on "Solidarity with the Church and Jesuits in Nicaragua: Responding to Repression and Denial of Religious Freedom," co-sponsored by the Office of Mission & Ministry and the Initiative on Catholic Social Thought and Public Life.
For me, Georgetown has been a place where my faith has been able to connect with my professional and personal goals. Whether through academic courses, on-campus activities or even connecting with our own Jesuit community, the Jesuit values are a pivotal part of the Georgetown experience. And it's because of the Catholic identity that we are able to celebrate what being a Hoya means to each of us.