Every once in a while, I get a little bored of dining hall food and feel the urge to try new cuisines and foods. And for me, there's no better way to satisfy this craving than by hitting up the Georgetown Farmers Market. Every Wednesday from 11 a.m. to 4 p.m. at Red Square, students can enjoy fresh, delicious food from local vendors! 
During my freshman year, I went about once a month, but this year, I have been going almost every other week. If you need a little inspiration on what to get at the farmers market, here are my top four foods to devour the next time you're at the Georgetown Farmers Market.
Pizza from Timber Pizza Co.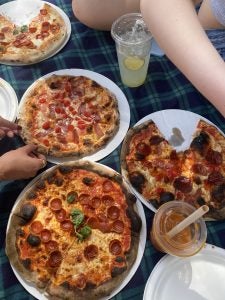 My go-to choice at the farmers market is the pizza — it's always fresh out of the oven, delicious and perfect for lunch on the lawn. It's especially fun to try slices of different pizzas with friends! My favorites are the Pretty Pepperoni and the Bentley (a soppressata pizza with Peruvian peppers). The pizza is thin, allowing for its crispy texture and each bite to be full of flavor until you reach the crunchy crust, the best part. One pizza that I really want to try is the Green Monster, made of basil pesto, fresh mozzarella, feta cheese, zucchini and kale– it's unlike the pizzas that I usually eat, but it sounds absolutely delicious. Also pictured in the photo is the freshly squeezed limeade from the next vendor (Taco Loco) and the Thai Tea from Georgetown Bubble. There are a variety of drinks available that can help quench your thirst during a hot summer day and be a tasty addition to your food!
Tacos from Taco Loco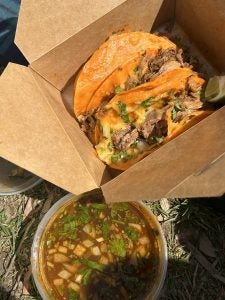 Taco Loco is also one of my favorite vendors, serving Mexican food that fills your mouth with diverse flavors, whether that be the savory and spicy taste of different sauces, tender meat or fresh guacamole and veggies. My can't-miss order is the quesabirria, corn tortillas with cheese, shredded beef, onion, and cilantro with a side of consome, a tomato broth — dipping the tacos in the soup added so much more flavor to each bite and made sure that the taco shells, which can be dry, were soaked in savory broth! Taco Loco also sells many different kinds of burritos, rice bowls, quesadillas and, as aforementioned, freshly squeezed lemonade, limeade and orangeade.
Rice Bowls from Bun'd Up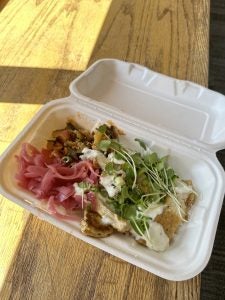 I tried Bun'd Up for the first time this semester and was excited to eat Asian food at the farmers market with the options of various bao buns and rice bowls. While I haven't tried the bao buns yet I really want to try the bulgogi bao buns which come with beef, gochujang chili sauce, kimchi cucumbers and scallions — it sounds delicious, and because I eat Korean food often at home, I'm curious to see how this food will taste in comparison. The last time around, I ate a rice bowl with fried tofu — you can instead get bulgogi, miso chicken,  pork belly or mushroom as your main ingredient — and all rice bowls come with toppings like cucumber kimchi and pickled onions which add sweet and salty flavors.  The cilantro lime sauce soaks into the juicy, well-cooked protein that makes every bite flavorsome and enjoyable.   
Crepes from Rita's Crepes & More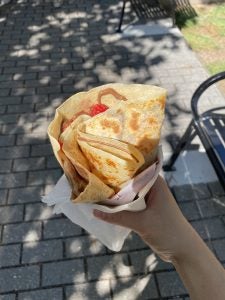 It's hard to go wrong with crepes, so when I tried Rita's Crepes & More for the first time, I thoroughly enjoyed it. I had the Nutella crepe with additional strawberries, and I loved how crispy the bread was and how the hot Nutella melted with the strawberries. It's basically chocolate-covered strawberries wrapped inside of a crepe. I do wish they had added more strawberries, which would have made each bite even more delightful. This vendor had a variety of options, from savory crepes like the pesto chicken with chicken breast, cheese, tomatoes, spinach, additional avocado and egg, as well as sweet crepes like the nutella crepe and nordic berry crepe with additions of strawberries, bananas and more. Make sure to hit up this spot if you ever need a filling lunch or a delectable, sweet treat after a meal! 
That's all of the recommendations I have! If you couldn't tell by my descriptions of these foods, I love eating good, fresh food, and this farmers market is a very accessible way for students to get some new, yummy options outside of school-provided food. Having a yummy meal on a Wednesday afternoon can definitely make your day and also the rest of your week a bit better!  I have not yet tried some vendors at the farmers market, such as the acai bowls at Hippie Sippin' and the Indian food at Yoga in a Bowl, but I will hopefully try them out very soon!