The Nov. 14 event came amid the persecution of the Catholic Church in Nicaragua. In the last few years, the government of Nicaraguan President Daniel Ortega and Vice President and First Lady Rosario Murillo has pushed thousands of Nicaraguans into exile, threatening those who have spoken against the regime while many other Nicaraguans have fled from the country's enduring poverty. 
Since August 2023, the Nicaraguan government has expelled Jesuits from the Universidad Centroamericana (UCA) in Managua, shut down the Catholic, Jesuit university, and seized properties and assets belonging to Jesuits and several other Catholic religious orders. Earlier this year, the regime also imprisoned a Catholic bishop, Rolando Alvarez, for his opposition to the government.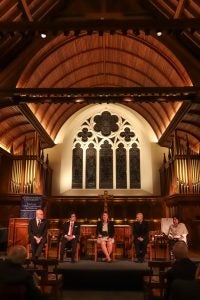 "These actions and others threaten basic rights, rights such as religious freedom, freedom of expression, as well as economic and political stability in Nicaragua and in the region broadly," Kim Daniels, director of the Initiative and member of the Vatican Dicastery for Communication, said at the event. "As we honor Jesuit Heritage Month here at Georgetown, it's especially important then as a Catholic and Jesuit university we be sure to express our solidarity with the students, faculty and staff of the UCA and with our fellow Catholics and all those suffering in Nicaragua at this distressing time." Daniels and others referenced the Association of Jesuit Colleges and Universities' #TodosSomosUCA campaign as one important way to stand in solidarity with students and others in need. 
Moderated by Daniels, the dialogue featured Rev. Matthew Carnes, S.J., associate professor and Latin America expert in the School of Foreign Service; Rep. Jim McGovern (D-Massachusetts); Rhina Guidos, a reporter at Global Sisters Report; and Renato Llontop Calosi (SFS'24), a senior at Georgetown.
The panelists discussed the challenges of the situation in Nicaragua, how it has affected the Catholic Church and the Society of Jesus, and how Catholics can use the principles of Catholic social teaching to advance justice, peace, religious freedom and solidarity.
"The bottom line is everybody deserves rights. Everybody deserves food. Everybody deserves shelter. Nobody's kids should starve. Nobody should be persecuted because of what they believe and what they stand for," McGovern said. "And I just think that message of empowerment is very threatening to people who are in power. This is a time for all of us to again reinforce the message of the Church and to be working with the Jesuits on the ground."
Carnes offered a vision of hope in his remarks while calling on the audience and activists to continue raising their voices on behalf of Nicaraguans.
"We really believe that we can — through sustained effort, day after day, year after year — hit those moments when things really do change. This is not something we're frozen in forever," Carnes said. "That vision is more important than our voice and our dollars. It's actually the thing that nobody can take away from us, and desperately people in Nicaragua want to know we have with them: our prayers, our solidarity and our sense of vision of who we can be."
The event was part of the Dahlgren Dialogues, a series of substantive conversations with experienced leaders in the context of prayerful reflection on current topics at the intersection of faith and public life. Co-sponsored with the Georgetown Office of Mission & Ministry, these are held in the Dahlgren Chapel of the Sacred Heart, the spiritual heart of Georgetown. These dialogues bring together respected policymakers, religious leaders, scholars and other experts on the most pressing moral and public issues of our time.