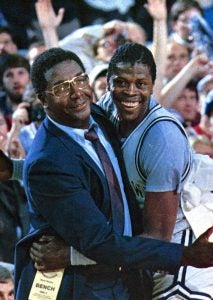 Thompson remained a part of the university community as coach emeritus, continuing to mentor and support Hoya athletes.
'Father Figure'
He coached Dikembe Mutombo (C'91), Patrick Ewing (C'85), Alonzo Mourning (C'92) and Allen Iverson – all of whom later joined Thompson as a Naismith Hall of Famer. Georgetown is one of only three schools to have seven people hold the distinction.
"Georgetown University, the sport of basketball and the world has lost someone who I consider to be a father figure, confidant and role model," said Ewing, current head coach of men's basketball at Georgetown. "He has done so much to impact my life and the people he has coached and mentored along the way."
Ewing  recalled how Thompson's reach went far beyond just those he knew personally.
"He changed the world and helped shape the way we see it," the current head coach added. "He was a great coach but an even better person, and his legacy is everlasting."
Speaking Out Against Racism
The 6-foot-10-inch coach, remembered for towering courtside with his trademark towel over his shoulder, often fought racism directed at him and his players. He was one of the first Black coaches to head a major collegiate basketball program. Even today, the number of Black coaches makes up less than 20% of the 75 programs in college basketball's six major conferences.
When the NCAA's Proposition 42 eliminated educational funds for low-income students, Thompson spoke out and took action, bringing the issue to national attention. The basketball legend walked off the court in 1989 before a game against Boston College in protest. The proposition was subsequently dropped.