Several former basketball players attended in support of the role that Georgetown and Thompson had in shaping their lives, including Patrick Ewing (C'85), Jeff Green (C'12), Roy Hibbert (C'08), Alonzo Mourning (C'92), Allen Iverson, Dikembe Mutombo (C'91), Otto Porter and Jerome Williams.
A New Milestone
The $62 million facility, supported through philanthropy, will include:
An academic center, auditorium and team meeting facilities
New practice courts, locker rooms, meeting rooms, lounge areas and coaches' offices
Weight-training and sports medicine rooms
The Georgetown University Leadership Academy for student-athletes
The Georgetown Athletics Hall of Fame and reception space
Alumni donors and other members of the Georgetown community join John Thompson Jr. and Georgetown President John J. DeGioia in breaking ground for the university's new intercollegiate athletic center, named for the legendary men's basketball coach.
"Today we reach a new milestone in the 144-year history of intercollegiate sports on the Hilltop," said Lee Reed, Georgetown director of athletics. "The John Thompson Athletic Center provides us with modern spaces necessary to fulfill our promise and our potential."
Thompson served as head coach of Georgetown's men's basketball team from 1972-1999.He also established himself as a champion for values beyond the basketball court.
During his tenure as head coach, his players had a 98 percent graduation rate and stressed to his players the importance of using their education after leaving Georgetown.
"Georgetown is not just about winning," Thompson said at the groundbreaking ceremony. "This school is defined by more than victories."
Monument to Future Generations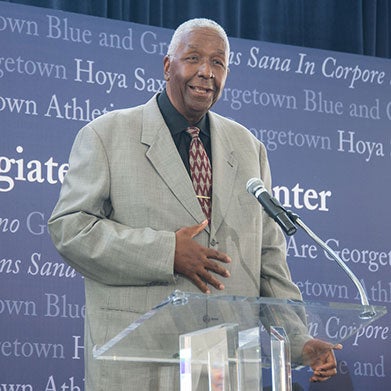 Thompson also expressed appreciation for those who contributed to his success at Georgetown.
"Without the help of a lot of people who are in here now… we would not have been able to succeed," Thompson said of the career that led the Hoyas to their first national NCAA basketball championship in 1984. "When we say that programs are built on human resources, I extend that past my players even to the woman at the gate … or the guy who's sweeping the floor or the deans and the teachers … all of those people contributed and were very, very helpful in helping me."
Emily Hall (C'15), a champion swimmer for Georgetown, spoke as president of the student-athlete advisory committee.
"On behalf of all of our student-athletes I would like to say thank you to everyone in this room for making this day possible," Hall said. "This building will be a monument to not only what past generations have achieved but also what we hope future generations will achieve and what we are doing today at Georgetown."
Hero to Scholar-Athletes
Also among those participating in the groundbreaking ceremony were board of directors chair Paul Tagliabue (C'62), current men's basketball head coach John Thompson III, William J. Doyle (C'72), chair of Georgetown's campaign, For Generations to Come, athletic supporters Ed (C'66) and Irene Shaw and Frank Rienzo, director of athletics emeritus.
Rev. Kevin O'Brien, S.J., vice president for mission and ministry, Rev. Edward Glynn, S.J., president emeritus of Gonzaga University, St. Peter's College and John Carroll University, and Rev. William McFadden, S.J., professor emeritus of theology, blessed the ground of the future Thompson Center.
"Coach Thompson is a legend not only for what he did for Georgetown basketball but for his impact on academic standards for athletes and our nation's standards and policies in other critical challenges," Tagliabue said. "John is a hero for what he did for his scholar-athletes."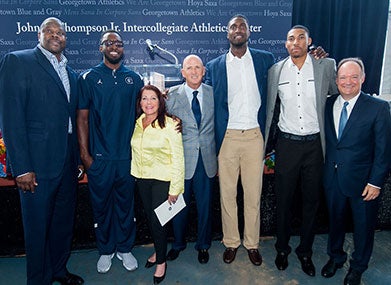 During the late 1980s, Thompson protested the NCAA's Proposition 42, which proposed tightening GPA and SAT requirements for scholarship eligibility for first-year students, saying it limited educational opportunities for students from underrepresented socioeconomic communities. The NCAA eventually dropped the proposal.
Star Contributors
Several former Georgetown men's basketball stars, friends and colleagues have pledged their support for the center in recognition of Thompson's impact on their lives.
Ewing and sports agent David Falk, with his wife Rhonda, partnered to make a $3.3 million gift and Green and Hibbert each donated $1 million.