Supporting Student Access
Georgetown's Division of Student Affairs provides programs and services that engage students in conversation, reflection and action to care for their health and wellness, assist with their career development and meet their personal and academic needs.
As the division's new leader, Daugherty brings a track record of leading initiatives that offered greater support for students in crisis and additional mental well-being resources, reduced food insecurity, improved access to medical care for student survivors of sexual violence and made education more affordable for undocumented students.
"In Elly Daugherty, Georgetown students will find an ally who listens, an ally who cares and an ally who leads," says Ricardo Ortiz, professor in the Department of English who co-chaired the national search. As part of the search, the committee invited students, faculty and staff to listening sessions where they could share their most important attributes for candidates.
"The Georgetown community in general can look forward to welcoming, and working with, a new member with an impressive record of professional accomplishment, integrity and collaboration," adds Ortiz.
Daugherty's dissertation research focused on the college experiences and outcomes of students from the South Side of Chicago. Through her work at a public university like UConn, Daugherty has contributed not just to improved university policies but state-wide legislation, too. After doubting her own ability to succeed in college, her work, scholarship and advocacy are still motivated by the curiosity and care she learned then.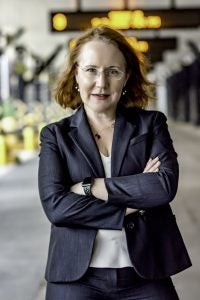 "When I got admitted to college, I thought they must have forgotten to look at my SAT scores," says Daugherty. "It was really transformative for me to think about what it means to learn — which is to question and not know all the answers. And that discovery for me was so profound and shaped my belief in what learning truly is."
Daugherty's appointment follows the departure of Todd Olson, who joined Mount Mercy University as president in July 2021. Jeanne F. Lord will continue to serve as interim vice president for student affairs until January 10, 2023.
Prioritizing Well-Being and Belonging
Throughout her career, and especially during the COVID-19 pandemic, Daugherty has focused on students' well-being in addition to their academic success. Amid growing trends of mental health challenges in higher education and across the globe, Daugherty joins Georgetown as additional resources have been deployed to care for students.
"I think a lot about mental health and the impact the pandemic has had upon students, but I don't think about it as a problem that can only be solved clinically," says Daugherty. "If we can build a culture that thinks very comprehensively about embracing failure and disappointment and risk-taking, then we can really tackle these feelings of anxiety, loneliness and stress in a holistic and responsible way."
Part of this culture of care is an emphasis on belonging and ensuring all students feel welcome and part of Georgetown's community.
"Georgetown's vision of community in diversity and cura personalis is reflected in Elly's leadership in fostering inclusion and belonging in the communities she has served in the past," says Rosemary Kilkenny, co-chair of the search committee and vice president, diversity, equity and inclusion and chief diversity officer. "I look forward to working with Elly and the exciting impact she will have here at Georgetown."
As Daugherty prepares to make the move to DC with her husband and teenage daughter and son, she is driven by the values that have long animated both her work and Georgetown's campuses.
"For me this work is about a firm, fierce sense of mission, and I feel so aligned with the Georgetown values and how they cherish students," says Daugherty. "We all care about seeing students as very complex, whole people — more than a mind. Georgetown was built that way."