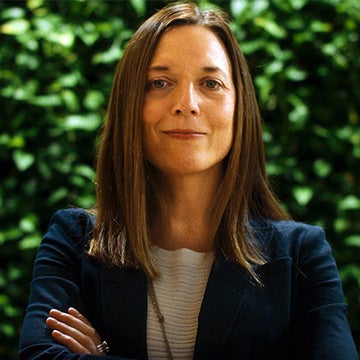 Chapple will oversee Georgetown's Office of Sustainability and lead the implementation of goals that reflect our Catholic, Jesuit heritage, leverage our core mission of creating knowledge in the service of justice and the common good and engage our student community.
A highly regarded multi-sectoral expert with master's degrees in business and public policy, Chapple most recently served as sustainability director and senior advisor on sustainability at The George Washington University.
"Meghan's strong experience in higher education and her business and public policy fluency made her an excellent candidate to be the inaugural holder of this new executive role," says David Green, interim senior vice president and chief operating officer. "Georgetown has ambitious sustainability goals, and we look forward to partnering with Meghan to achieve them."
Green called the naming of a vice president "an important step," which builds upon Georgetown's commitment to divest from fossil fuels, launch of a power purchase agreement that ensures two-thirds of the university's electricity needs are sourced through solar power and establishment of an energy partnership that promotes sustainability and energy conservation. As a part of its existing Spirit of Georgetown values, the Office of Mission & Ministry recently added "Care for Our Common Home," a name inspired by Pope Francis' encyclical letter Laudato Si', which is subtitled "on care for our common home."
"Georgetown is kicking up its sustainability efforts by bringing on Meghan," says Peter P. Marra, director of the Georgetown Environment Initiative and the Laudato Si' Professor of Biology and the Environment. "With Meghan's hire, Georgetown is now quickly advancing as a leader in environment and sustainability among higher ed institutions."
Chapple, who began this position on August 23, took some time to share her thoughts as she starts her time at Georgetown.
Q&A With Meghan Chapple