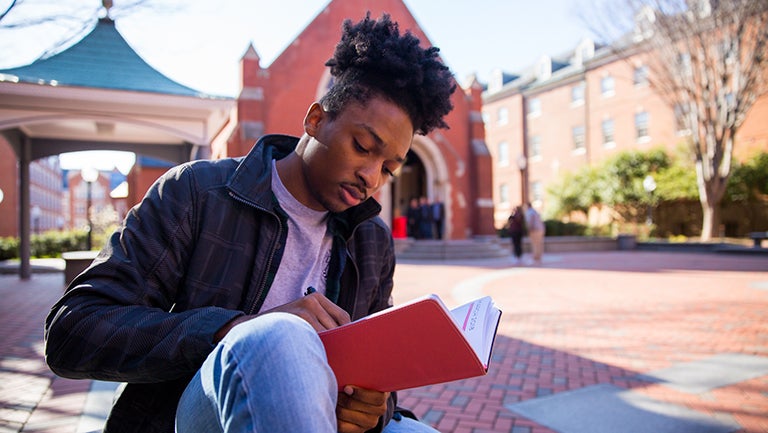 Category:

Student Experience
Title:

First-Generation Students Thrive in Program Celebrating 50 Years
Date Published:
March 28, 2018
Georgetown marks the 50th anniversary of the Community Scholars Program by celebrating its longtime commitment to affordability and access to higher education among first-generation and low-income college students.
Emmanuel Thomas (C'18), a first-generation college student, aspired to Georgetown in high school but thought, despite his excellent academic record, that attending the university would be unattainable.
"I grew up in Northeast DC, in a five-person, low income household," explains the psychology major, who will graduate in May. "When I started hearing back from universities, the one thing that stuck out about Georgetown was that they cover 100 percent of financial need, and my need was everything, and they met that need."
He had the grades, the well-rounded experience, the determination and – thanks to Georgetown's need-blind, meet full-need, admissions policies – the financial aid package to succeed at Georgetown.
But Thomas quickly learned he needed something more. And that something turned out to be the Community Scholars Program (CSP).
As one of the country's oldest and most documented pre-freshman academic enrichment programs linked to credit-bearing courses, Community Scholars provides academic support for a multicultural cohort of about 50 incoming Georgetown students each year.
Students, mostly from under resourced schools, are chosen based on their academic achievements, personal initiative and service.
Helping Students Adapt
Selected scholars begin their Georgetown experience with a rigorous five-week summer session before their first year, taking credit-bearing courses, attending orientation workshops and forming bonds with faculty, administrators and one another in order to build a successful academic career at Georgetown.
"It was in my summer English class that I realized how ill-prepared I was for college," Thomas recalls. "But I felt comfort in knowing there were other scholars similarly struggling and adapting to an environment they weren't used to – an environment that was also challenging and stressful at times."
Thomas says the rigor of the program's summer session, access to faculty, tutors and a ready-made community helped him thrive on campus academically. It also allowed him to enhance his Georgetown experience as a project manager in the Georgetown Culture and Emotions Lab.
After graduation, he hopes to continue his research in social psychology while also exploring clinical science in preparation for graduate school.
The graduating senior has spent his free time serving the DC community through the Collegiate 100 – a national mentorship and service organization with a chapter at Georgetown, and he also joined the boxing team and the Georgetown Gospel Choir.
Living Out Jesuit Values
Community Scholars marks its 50th anniversary this year, and will celebrate its longtime commitment to affordability and access to higher education among first-generation and underrepresented college students like Thomas throughout the year.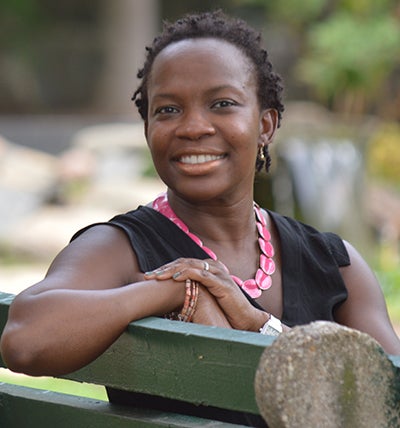 Charlene Brown-McKenzie
An official event marking the milestone will highlight the alumni, current students and faculty of the program on Oct. 5.
"We strive to make higher education accessible and achievable for many talented students across the country," says Charlene Brown-McKenzie, executive director of the university's Center for Multicultural Equity and Access (CMEA). "The Community Scholars Program is one the most visible ways Georgetown lives out its Jesuit values of a community in diversity, academic excellence and cura personalis (care of the whole person)."
Community Scholars, housed within CMEA, also supports its students with academic advising, mentoring and personal counseling, study groups, workshops and seminars throughout their time at Georgetown.
"We try really hard to make the Community Scholars, faculty and advisers feel like a supportive community for the students," says Brown-McKenzie, an alumna of the program.
"Once you're aScholar you're always a Scholar,"she says. "The community part of scholars stays with you. My peer group, my friends group, the godparents of my children are all from my Community Scholars experience."
Beating the Average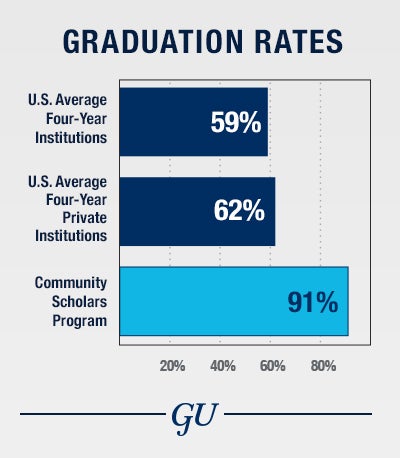 The national graduation rate for first-time, full-time bachelor's-degree-seeking students is only 59 percent, according to the National Center for Education Statistics.
Georgetown's four- to six-year overall graduation rate is 94 percent. The university is among the top three universities with the highest four-year graduation rates, according to U.S. News and World Report.
Community Scholars also graduate at a rate higher than the national average at about 91 percent.
Georgetown established the program in 1968 after the assassination of Rev. Martin Luther King Jr.
Uprisings in cities across the nation followed news of King's death – including Washington, D.C., where protests manifested over poor living conditions, unemployment and discrimination among African Americans.
The university had already selected its first cohort of six Community Scholars by the time Rev. Robert J. Henle, S.J. became president of Georgetown in 1969, but the university's commitment to improve access to higher education solidified under his leadership.
"No modern urban university can in conscience ignore the problems of the inner city and urbanization. Let's divide up the work and get on with it," Henle said in a message to the university community.
Combating Poverty
Brown-McKenzie says the university's commitment began to take shape after Henle's message.
"There was a sociocultural shift around higher education being the gateway to move families out of poverty," she explains.
Frank Glascon (C'72), another Washington, D.C., native, is one of the six original Community Scholars and the first to graduate from Georgetown. He recalled struggling to adjust to life at the university.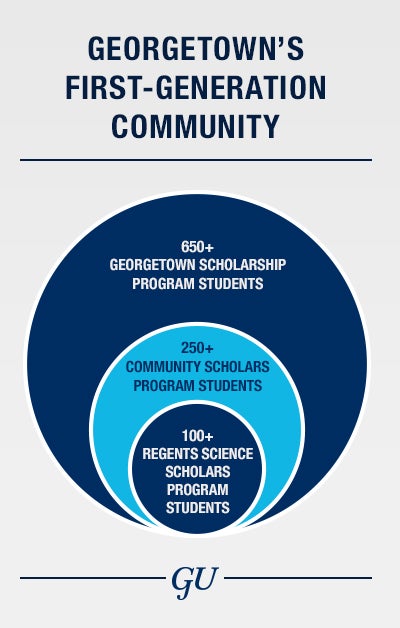 "In 1968, black students were a novelty at Georgetown," Glascon said in a 1973 interview with the alumni publication
"In 1968, black students were a novelty at Georgetown," Glascon said in a 1973 interview with the alumni publication Georgetown Today. "Some professors saw us with apprehension, but others were more optimistic that the change was finally coming."
Glascon worked as a staff coordinator for Community Scholars after graduation. Today, he is a local business owner and lives in Maryland.
Complementary Programs
Community Scholars has evolved over the past 50 years – from focusing on African American students from the local D.C. community to expanding to cover first-generation college students across the country from all cultures and ethnicities.
The Georgetown Scholarship Program (GSP) was established in 2004 to further the university's commitment to providing scholarships for first-generation and low-income students broadened.
GSP currently provides financial and programmatic support to more than 650 undergraduates on campus while Community Scholars continues to focus on the academic support of about 250 currently on campus within the GSP pool. The two programs complement one another, as all Community Scholars receive financial support under GSP.
In 2016, the Regents Science Scholars Program was established for incoming Community Scholars focusing on the sciences.
Last year, the university became a founding member of the American Talent Initiative as part of an ongoing effort to make education accessible to students of all socioeconomic backgrounds.
The initiative is a growing alliance of colleges and universities that are dedicated to substantially expanding opportunities and access for talented, low- and moderate-income students at institutions with the nation's highest graduation rates.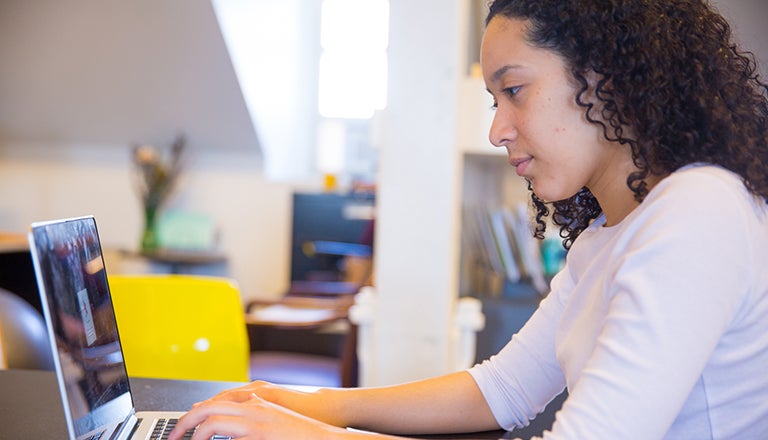 Leslie Telleria (C'21) says the preparation and network of support and extracurricular community that Community Scholars provides allowed her to be active on campus and in the D.C. community as a DC Schools Projects tutor and as a dancer in Ballet Folklórico Mexicano de Georgetown.
Making Georgetown Home
Thomas spent summer 2016 working as a resident assistant for another cohort of Community Scholars.
"It feels good to give back to an organization that helped shape and influence me," he says. "Community Scholars is dear to my heart because they were a starting point for me. I would not have felt like I could make a tremendous impact in this world without that experience."
First-year student Leslie Telleria (C'21) completed the five-week enrichment session this past summer and will work as a resident assistant this summer as well.
Telleria, whose family is from Nicaragua, grew up in nearby Leesburg, Virginia.
Growing up with a single mother who often struggled financially, she didn't think a four-year college was in her future.
"I basically grew up thinking at best I would wind up in community college," recalls the first year. "Even though I knew I was smart, I thought there was no way I could go anywhere else."
Like Thomas, Telleria says the preparation and network of support and extracurricular community that the program provided not only helped her academically, but allowed her to be active on campus and in the DC community.
She tutors two siblings in English literacy through the DC Schools Project, engages in immigration advocacy work in the community and is a dancer in Ballet Folklórico Mexicano de Georgetown.
She also serves as vice president for community engagement for GU Pride.