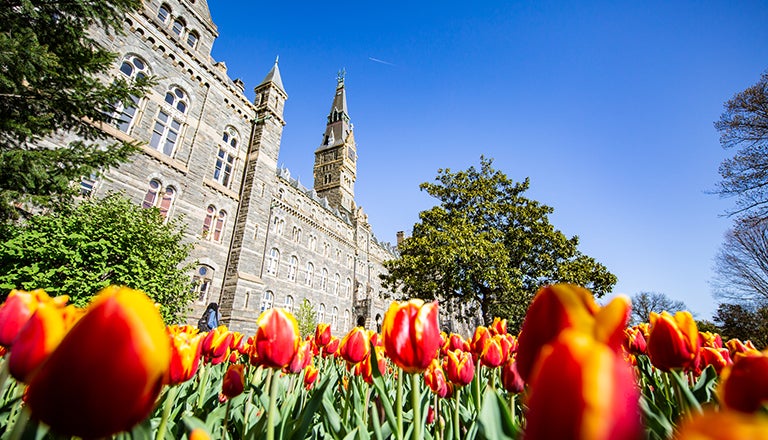 Category:

Discovery & Impact, University News
Title:

Agreement With Google Cloud to Bring Innovative Technology to Georgetown

Date Published:
April 4, 2019
Opportunities abound for collaborative work between Google Cloud and Georgetown in a wide variety of areas.
Georgetown and Google Cloud have signed a multiyear agreement to partner on a variety of research, teaching and learning initiatives and migrate the university's on-site data storage to the Google Cloud Platform (GCP) within one year.
The two entities will collaborate to transform the current technology infrastructure on campus that supports these initiatives.
An early adopter of cloud technology, Georgetown was one of the first institutions of higher education to move to G-Suite as well as to Workday HR.
Mutual Benefit
There are many opportunities for collaborative work between Google Cloud and Georgetown, particularly in the areas of enhancing research in medicine, in the climate, life, physical and social sciences, as well as in policy analytics, global development and security.
"This partnership will accelerate Georgetown's ability to provide advanced high-performance computing and sustainable storage resources to its research communities," says Billy Jack, Georgetown's vice provost for research. "It will also serve as a gateway to creating a university of the third millennium – a learning and research institution that embraces data and technological literacy and analytical proficiency as one of the foundations of modern scholarship and enquiry across all disciplines."
Sustainable Efforts
The agreement also will help Georgetown meet its commitment to sustainability on campus given that all of Google data centers are powered entirely by renewable energy.
"Our work with Google Cloud to accelerate Georgetown's continued transition to the cloud and away from its dependence on an on-premise data center aligns with our sustainability efforts to reduce the carbon footprint of our operations," says Judd Nicholson, Georgetown's vice president for information technology and chief information officer. "This is a key step in Georgetown's strategy to continuously modernize its information technology infrastructure to support the evolving needs of our students, faculty and researchers."
Kevin Kells, director of Google for Education, says Google is "committed to providing higher education institutions with the technology they need to prepare for the next generation of students, educators and researchers. We are proud to work with Georgetown to help them transform their infrastructure to meet the needs of an evolving community of users."
Future Directions
Georgetown and Google Cloud will also explore ways that technology can enhance how the university builds connections across its campuses, among its other Washington, D.C.-area and international locations and with the communities it engages.
"The technology revolution has led to educational institutions reexamining how community is built and how education is delivered," says Geoff Chatas, Georgetown's senior vice president and chief of operations officer. "Georgetown is excited to work closely with Google Cloud on this journey."