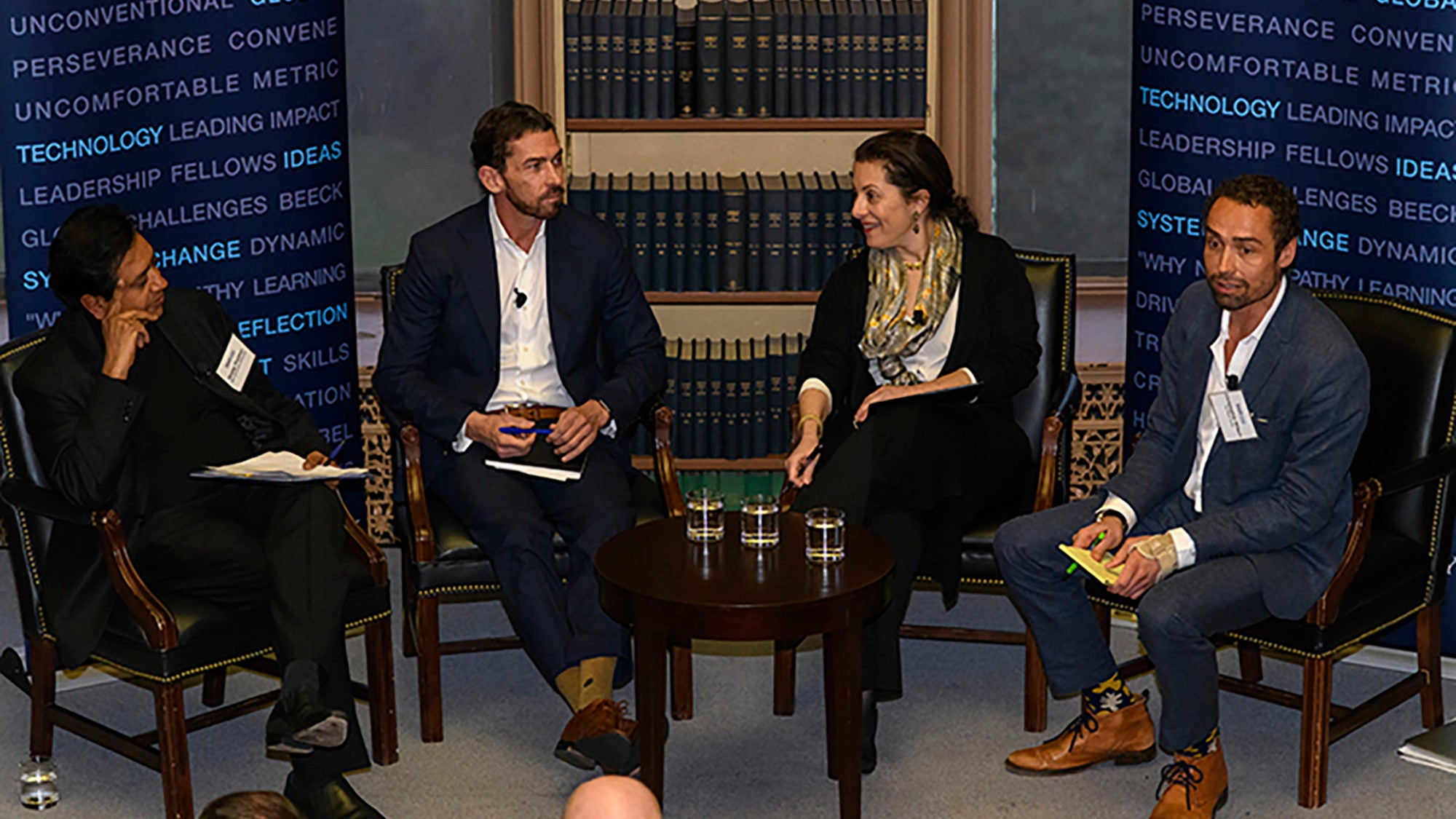 Category:

Discovery & Impact
Title:

New Tech and Society Initiative will Support Government Digital Transformation
Date Published:
April 29, 2019
The Beeck Center for Social Impact + Innovation has created a new collaborative to cultivate a community of practice for government practitioners.
A new Digital Service Collaborative launched last week at Georgetown's Beeck Center for Social Impact + Innovation to cultivate a community of practice for government practitioners to share and scale efforts to digitize and transform governments.
This collaborative continues to expand Georgetown's leadership in technology and society.
Supported by a $3 million grant from the Rockefeller Foundation, the Collaborative is designed to provide expert support for government people and teams who are working to deliver better services for society at scale and will:
build a body of research around government digital services
cultivate a community of practice for digital service leaders in government to share and scale efforts
create tangible resources for practitioners and
explore policy considerations such as ethics and privacy.
"In starting this effort, we have spoken to more than 100 leaders in city, state and national government to better understand the challenges to implementing digital services," says Sonal Shah, the Beeck Center's executive director. "These interviews will guide our strategy for the Collaborative. We want to support practitioners in government as they deliver digital services more effectively and increase public trust."
Connecting and Learning
The Beeck Center will share the analysis from its expert interviews as well as its plans for carrying out the work of the new Digital Service Collaborative.
This initiative will include working with other leaders across Georgetown who are leading complementary efforts on technology and society and with other organizations like Code for America and New America and government teams and people.
"There are many digital efforts that have shown measurable outcomes, cost savings and efficiencies," Shah says. "We want to help others to do the same and help scale the use of digital for service delivery."
Social Impact Leadership
The Beeck recently hired Cori Zarek, a leader on government digital transformation, ethics and technology policy, to lead the Collaborative.
Zarek was deputy U.S. chief technology officer under President Obama, where she led digital and open government efforts across the federal government. Zarek most recently served as senior fellow for technology policy at Mozilla and has supported digital transformation in state and local government with Code for America.
"In recent years, governments have been moving fast and making major progress in transforming the way they serve the public," Zarek said. "We hope to provide practical resources and materials to help them better do what they do, and capture that work to share and scale to other government teams."
The Digital Service Collaborative will build upon the Beeck Center's existing data for social good leadership – which includes Denice Ross, who is building and supporting data collaboratives for social impact, including Census 2020, opioids and natural disasters, and Natalie Evans Harris who is providing thought leadership and developing policy recommendations on new models of data ownership.
The Beeck Center's growing body of work on better government service delivery also includes The Blockchain Ethical Design Framework, Architecture of Innovation, Accelerating the Sharing of Data Across Sectors (with the McCourt School of Public Policy), Funding for Results, Smarter Government for Social Impact and a Chief Data Officer Playbook with Deloitte, led by Hollie Russon-Gilman.
Investing in Students
While the Collaborative is working with digital leaders from around the country, the Beeck Center will also be focusing on investing in the next generation of leaders with the skills and mindsets to lead digital transformation.
The Collaborative will prioritize student involvement through seminars, workshops and other programming, and bringing on student analysts and researchers to learn about and advance the work.
"Students are an important part of this work, contributing to research and community-building and learning about this emerging area of public service," Shah says.