Embodying a Georgetown Legend
After the war, Karski received his Ph.D. from Georgetown. He was a professor in the School of Foreign Service for 40 years, and his story of courage and resilience has been recognized by the likes of Presidents Barack Obama and Bill Clinton, U.S. Secretary of State Madeleine Albright and Nobel laureate and Holocaust survivor Elie Wiesel. The play has sponsored conversations with the creative team and House Speaker Nancy Pelosi, CNN's Wolf Blitzer, Congressman Jamie Raskin and other authors and thought leaders.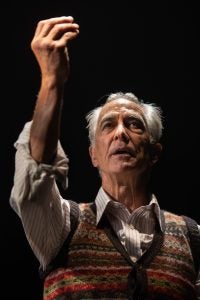 "It's been a real privilege to be with this man and inspired by this man, urged forward by what he did with his life," said Strathairn, who plays Karski, in an interview.
Students, alumni and other Georgetown community members have long been involved in the development of Remember This — originally conceived and workshopped as an ensemble performance titled My Report to the World in 2014. Remember This has also been adapted into a feature film, executive produced by Emmy Award-winning alumna Eva Anisko (C'94) and co-directed by Goldman, and an illustrated volume published by Georgetown University Press. The volume includes contributions from global leaders and thinkers, including Secretary Madeleine Albright, Ambassador Samantha Power, Georgetown Professors Deborah Tannen and Aminattta Forna and former Georgetown President Leo J. O'Donovan.
"I really didn't know anything about Jan Karski, and that quickly became an inspiration for how I approached the piece," says Young, who co-wrote the play with Goldman. "I've learned that Professor Karski's legacy is an opportunity for students and audiences to apply his story to ongoing crimes against humanity and all the cultural and governmental failures they are bearing witness to right now."
Karski in the Classroom
In coordination with the premiere of Remember This, Goldman, Young and the team behind the play launched the course "Bearing Witness: The Legacy of Jan Karski Today." The class and its graduate companion course in Georgetown's Program in Learning, Design, and Technology offer students cross-disciplinary opportunities to engage with Karski's legacy in today's local, national and global contexts.
"It has been repeatedly catalytic to introduce Professor Karski's story to students," says Ijeoma Njaka (G'19), The Lab's inclusive pedagogy specialist who co-teaches the class with Goldman and Young. "Because students are able to access Karski's story through the play and experience it with others, they can continually think about the different ways in which Karski's legacy resonates with them in the present."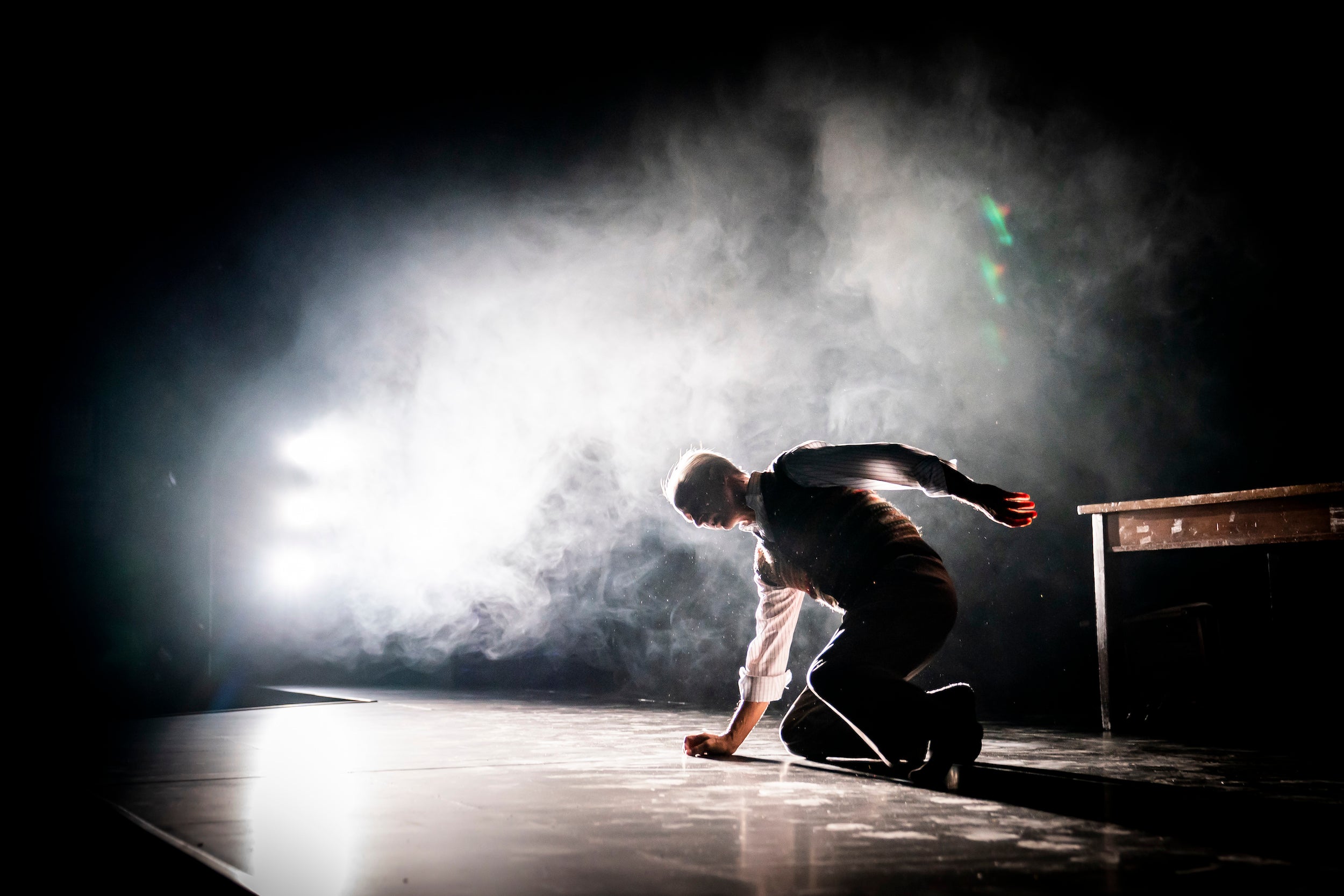 The Lab has also integrated performance techniques and exercises in empathy into its signature "In Your Shoes" course, offered in partnership with Georgetown's Democracy and Governance Program and Patrick Henry College.
"Our 'In Your Shoes' students are constantly having conversations with people who are different from them," says Njaka. "What I love about it is that students always take the exercise somewhere emergent and unexpected because they discover something new each time they do it."
Returning to Georgetown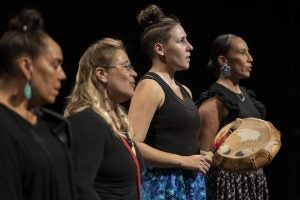 The return of Remember This to the Hilltop comes just as The Lab closed its signature event, The Gathering, which brought together hundreds of artists from over 40 countries online and on Georgetown's campus May 4-7. The four-day event included productions, readings, discussions and workshops on topics ranging from justice and climate change to immigration and indigeneity.
"I am truly moved by the response to The Gathering," says Ersian François, general manager and associate producer of The Lab. "We brought together artists and collaborators who have been longing to gather in the same physical space to share and experience art together, bridge misunderstandings and learn together."
As the Georgetown community prepares for on-campus commencement celebrations for the Class of 2022 and the Class of 2020, Remember This provides an opportunity for graduating students and their families to reflect on Karski's legacy.
"The example of Jan Karski speaks directly to our current moment, and his is an inspiring and timely account of the importance of individual responsibility and moral action in the face of hatred and injustice," says Goldman. "It feels especially meaningful to share this on campus now when students are graduating and looking ahead to how to make a difference in the world."