A world premiere of a play in which Oscar-nominated actor David Strathairn stars as Jan Karski, the Polish World War II hero and Georgetown professor, will kick off the School of Foreign Service's gala weekend celebrating its centennial.
Remember This: The Lesson of Jan Karski, produced by the university's Laboratory for Global Performance and Politics, takes place tonight in Georgetown's historic Gaston Hall at 8 pm.
Karski, who was part of the Polish resistance, brought back some of the first reports of Nazi concentration camps during World War II to the United States and England. He spent much of his life talking about his experience and taught at Georgetown for 40 years until his death in 2000.
'Inspiring and Timely'
"The example of Jan Karski is one that speaks directly to our current moment, and his is an inspiring and timely account of the importance of individual responsibility and moral action in the face of hatred and injustice," said Derek Goldman, co-founding director of the Laboratory. "There is no story that better represents the Lab's mission of humanizing global politics than that of Jan Karski, with his enduring message that 'great crimes start with little things.' "
Co-written by Goldman, also professor of theater and performance studies, and alumnus Clark Young (C'09), the play has been developed over several years.
Earlier versions received critical acclaim from audiences in Warsaw, at the POLIN Museum of the History of Polish Jews; in Washington, DC, at Georgetown; the Shakespeare Theatre Company and the Harman Center for the Arts; and in New York City at the Museum of Jewish Heritage and Theater Row.
'Relevant Insight'
"Every generation has their revolution," Strathairn-as-Karski told audience members following a special preview of the performance last night. "What will be yours?"
Strathairn has starred in the piece throughout its various iterations since 2014.
"I've always felt that one of the vital roles, even a responsibility of the artist-citizen, is to provide palpable, emotive and relevant insight into the most pressing issues concerning our common humanity," he said. "By dramatizing the legacy of Jan Karski, we are striving to do just that."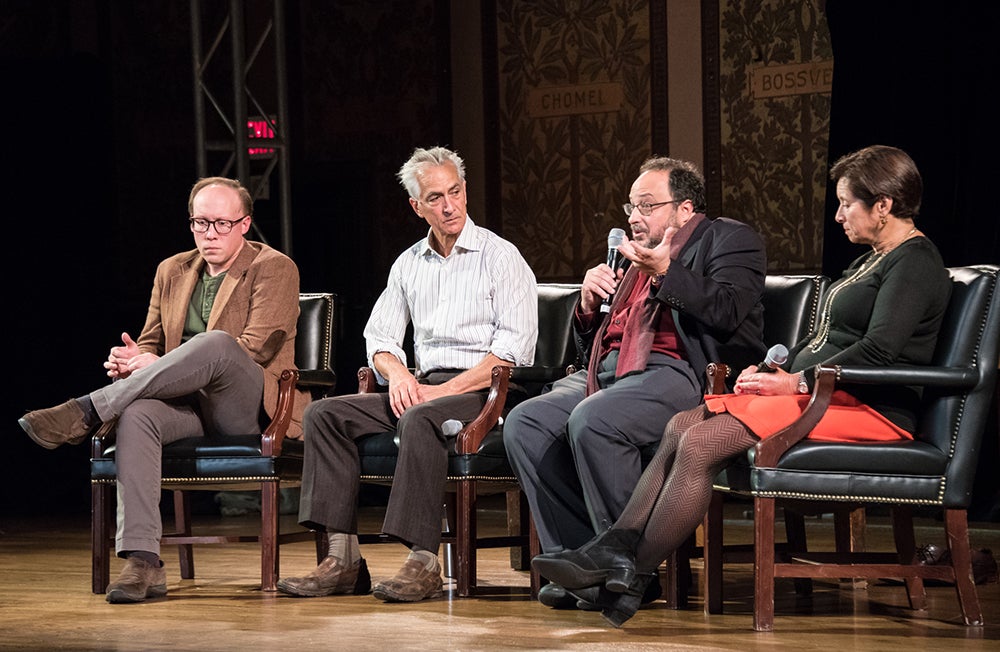 A discussion took place with Goldman, Young and Strathairn after the show, moderated by Laboratory co-director Cynthia Schneider, Distinguished Professor in the Practice of Diplomacy at the School of Foreign Service and former United States ambassador to the Netherlands.
Strathairn said during the discussion that Karski's story reminds us all of the urgent need to follow principles of justice, empathy and service in today's complex and polarized world.
Courageous Living
Audience members, including many of Karski's former students and colleagues, offered their own reflections of the show and the meaning of Karski's legacy in their own lives.
"From the moment the performance began, I felt from David's calm, sustained, humble-but-honest gaze that I was going to be asked questions directly from one who phenomenally and courageously lived into the question, 'Do you see what is happening and will you join in figuring out what to do about it? Or will you not?'" said Rabbi Rachel Gartner, Georgetown's director for Jewish Life.
Tonight's free, sold-out world premiere performance will ask these and other important questions of Georgetown alumni, students, faculty and friends, setting the tone for the historic SFS centennial celebration.
At the end of the performance, former Georgetown President Rev. Leo O'Donovan, S.J., will offer reflections on Karski in conversation with Strathairn, Goldman and Young. As in last night's panel, Schneider will moderate the discussion.
Related Content