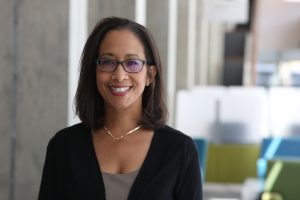 Interdisciplinary Academic Excellence
Ceballo's scholarship examines the strengths and resilience of families living in poverty, with a focus on adolescents who experience community violence and women of color who face reproductive difficulties, such as infertility. She has published extensively across clinical, community, developmental and feminist psychology journals, including Developmental Psychology, Psychology of Violence and Psychology of Women Quarterly.
"As Georgetown strives to live its mission of 'people for others,' it is increasingly clear that progress requires multiple fields working together," says Georgetown Provost Robert M. Groves. "Dr. Ceballo's career is an exemplar of such interdisciplinary collaboration."
At the University of Michigan, Ceballo led the establishment of interdisciplinary academic initiatives. She helped launch the Quantitative Methods in Social Sciences program, which encouraged students to solve socially pressing problems with large data sets and statistical tools. As chair of Women's and Gender Studies, Ceballo responded to student interest by developing a new Gender and Health undergraduate major.
"As someone who has been jointly appointed in the Departments of Psychology and Women's and Gender Studies, I have always approached my research from an interdisciplinary perspective, relying on both quantitative and qualitative methods," says Ceballo. "I believe we can best confront our greatest social problems from a range of diverse perspectives and areas of expertise, as is represented among the exceptional faculty and students at Georgetown."
Commitment to Diversity, Equity and Inclusion
As a scholar and administrator, Ceballo has demonstrated that diversity, equity and inclusion are central to her work.
While serving as associate dean, Ceballo led an initiative focused on helping first-generation and low-income students identify and utilize university resources. She also worked on a program to help hire, retain and support a more diverse faculty.
At Georgetown, Ceballo will build on College and university initiatives to advance racial justice.
"While we can all agree that diversity is part of our academic excellence and we know that excellence in research is not in tension with our commitments to diversity, we still have much to do to fully incorporate diversity, equity, and inclusion into higher education," Ceballo says.