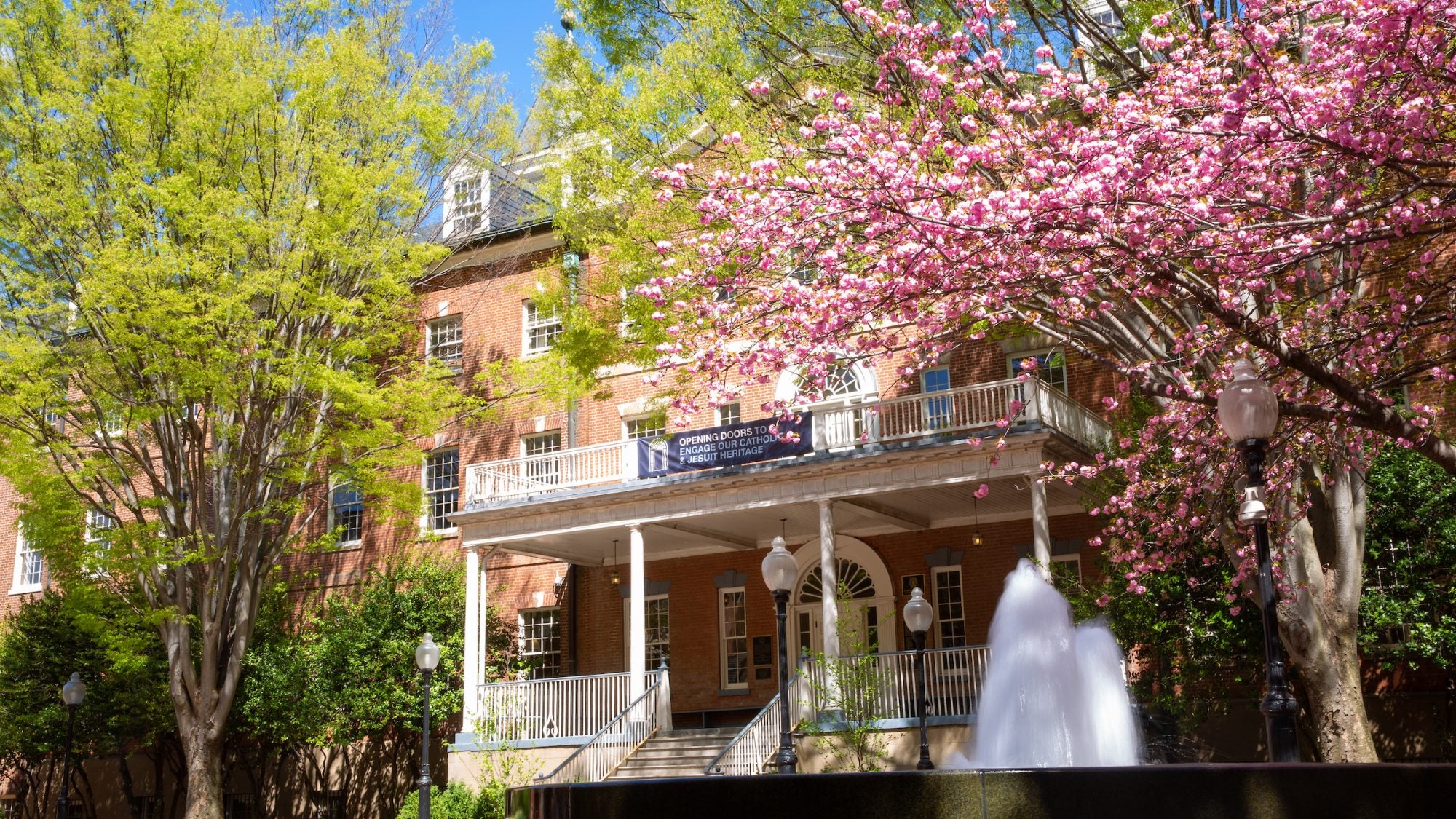 Title:

Distinguished Economist, Social Policy Scholar, Public Servant Named Dean of the McCourt School of Public Policy
Date Published:
June 28, 2018
Georgetown names Maria Cancian, a distinguished scholar of family and antipoverty policies and an experienced public servant, as the next dean of the McCourt School of Public Policy, effective Feb. 1.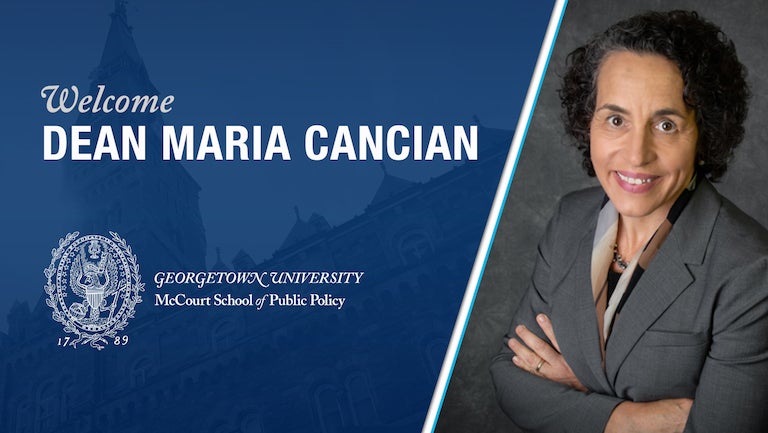 – Georgetown has named distinguished scholar of family and antipoverty policies and experienced public servant Maria Cancian as dean of the McCourt School of Public Policy, effective Feb. 1, 2019.
An economist by training, Cancian will offer the deanship of the McCourt School a sophisticated blend of experience in academic leadership and research and a strong track record of impactful public service.
"Dr. Cancian is an extraordinary scholar who has long been recognized for her visionary leadership and her dedication to serving others," says Georgetown President John J. DeGioia. "She possesses a deep understanding of the critical importance of public policy at this moment in our nation and an exceptional passion for bringing her very best work to the communities in which she serves."
Visionary Scholar, Leader
Currently a professor at the University of Wisconsin-Madison's Robert M. La Follette School of Public Affairs, Cancian served as associate dean for fiscal initiatives and social sciences for the College of Letters and Sciences at Wisconsin-Madison from 2011 to 2014. As a principal investigator of research projects she has generated more than $50 million in grants for the university.
In 2014, she was nominated to serve as assistant secretary for the Administration for Children and Families (ACF) within the U.S. Department of Health and Human Services (HHS). She later served as senior advisor to the secretary of HHS and deputy assistant secretary for policy for ACF, in 2015 and 2016.
"Over the last 25 years, I developed close working relationships with policymakers at the state and federal level, and I benefited from the opportunity to apply the tools of economics and policy analysis to urgent policy questions," Cancian says. "I look forward to applying these lessons and working with the faculty to educate the next generation of public policy leaders at the McCourt School."
Concern for the Most Vulnerable
An influential scholar of public policies and their impact on children and families, Cancian also is a faculty affiliate and former director of the Institute for Research on Poverty at Wisconsin-Madison, where she has served on the faculty and in administrative leadership positions since 1993.
Cancian's research considers the relationship between public policies and changes in employment and family well-being. Her ongoing research explores the implications of family complexity for family well-being and public policy, as well as the interactions of the incarceration, child welfare and child support systems.
"I am motivated to engage with policy because of the great promise that I think collective action has for improving circumstances for all of us," she says. "But I'm even further motivated by a very deep concern for the really devastating consequences for vulnerable children and families when our institutions don't live up to their promise. The opportunity to extend that focus and advance the public good as leader of the McCourt School is exciting."
Cancian's research has garnered prestigious awards and recognitions that include being named the American Academy of Political and Social Science's John Kenneth Galbraith Fellow and a fellow of the American Academy of Social Work. She served as a William T. Grant Foundation Distinguished Fellow in residence at the Wisconsin Department of Children and Families, a visiting scholar at the Russell Sage Foundation and a visiting fellow at the Public Policy Institute of California.
Prolific Practitioner
The scholar and leader received her doctoral and master's degrees in economics from the University of Michigan and her bachelor's degree in political science and sociology from Swarthmore College.
Cancian's appointment follows Edward Montgomery's departure to become president of Western Michigan University last fall. Political scientist Michael Bailey will continue serving as interim dean until Feb. 1.
"We are excited to welcome Dr. Cancian back to the nation's capital as dean of the McCourt School," says Georgetown Provost Robert Groves. "She is a prolific and influential social scientist, using diverse methods to study the positive and negative influences on American families and children. As an incoming dean she has demonstrated administrative success in supporting faculty innovation and success, to the benefit of students. She is the perfect candidate to lead the McCourt School as we realize our vision of a 21st century school of public policy."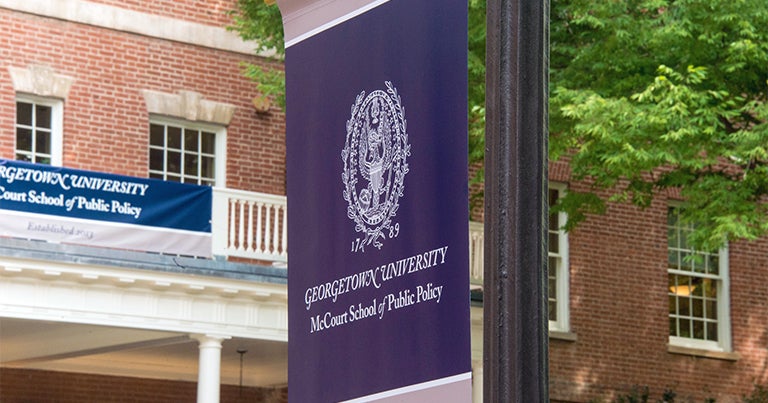 NEW APPROACH TO PUBLIC POLICY EDUCATION
As a top-ranked public policy school located in the nation's capital, McCourt offers a Master in Public Policy as well as a Master in International Development Policy, Master of Science in Data Science for Public Policy, Master in Policy Management, an Executive Master in Policy Leadership and other dual-degree and executive programs.
The school was founded and catalyzed by a transformational gift of $100 million from Georgetown alumnus Frank H. McCourt Jr. (C'75), allowing the university to forge a new and innovative approach to public policy education.
Last spring, the school opened the first Federal Statistical Research Data Centerin Washington a joint project of the U.S. Census Bureau and the school's Massive Data Institute (MDI), created in 2013 to study high-dimensional data to answer public policy questions.
Deepening the university's commitment to civil dialogue and civic discourse, the school opened the Institute of Politics and Public Service (GU Politics) in the fall of 2015, the first institute of its kind in Washington, D.C. McCourt's Baker Center for Leadership & Governance convenes and cultivates the leaders of today and tomorrow to incubate ideas and explore areas for action on social, political and policy challenges.
"The need for rigorous analysis and ethically-grounded professional training in public policy is acute," says Cancian. "The faculty and students of the McCourt School play an important role in advancing the public good across the private, public and nonprofit sectors. As part of the foremost university in the nation's capital, the McCourt School is well-positioned to be the leading voice in policy research and education."