The moment marked the culmination of years of collaboration and advocacy among interfaith student groups, alumni and the university's Campus Ministry to create a dedicated space on campus for students of all varieties of Dharmic spiritual traditions. The center will host weekly meditation services, small student groups, classes, reading groups and Dharmic observances open to all members of Georgetown's community.
"Elation is the only way to describe it," said Piyusha Mittal (SFS'18), an alumna who advocated for the center while at Georgetown. "This was a manifestation of cooperation and advocacy among four different, diverse faith groups. It's a dream realized for so many students and alumni to have a space to be spirituality engaged and authentic to who we are and to our faith traditions." 
During the center's November 4 unveiling, Georgetown President John J. DeGioia praised the student leaders who envisioned and established the space in his opening remarks.
"This opening adds an important dimension to the spiritual resources within our community and reflects our commitment to interfaith and interreligious engagement," he said. "I couldn't be more grateful for the tremendous work and dedication that made this all possible."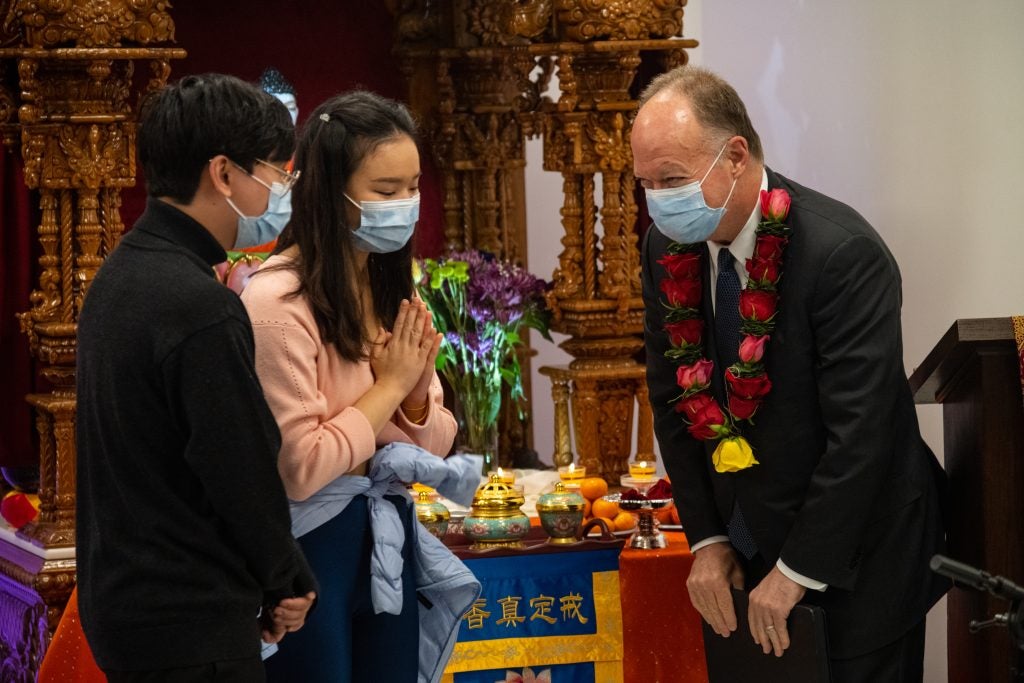 Brick by Brick: An Interfaith, Student-Driven Effort
The Dharmålaya offers space for members of Sikh, Jain, Buddhist, Hindu and other Dharmic traditions to gather in small groups, practice religious and spiritual traditions, and meditate. 
The room was built with teak shrines from Myanmar and marble icons from India to enable students' worship. It was also built from the interfaith effort of students from the Hindu Association, Sikh Student Association and Buddhist Student Association, who advocated for a sacred space in partnership with Campus Ministry and alumni, particularly as Georgetown's Dharmic community grew.
One such student, Anna Naiyapatana (SFS'21), now an alumna in Cornell University's graduate school, was the former president of the Buddhist Student Association. She was raised in a Buddhist household in Bangkok, and was eager to find a communal space to practice ritual-based meditation while at Georgetown. She heard a similar need from leaders in the Hindu Student Association and Sikh Association during their monthly meetings and annual interfaith retreats facilitated by Campus Ministry.