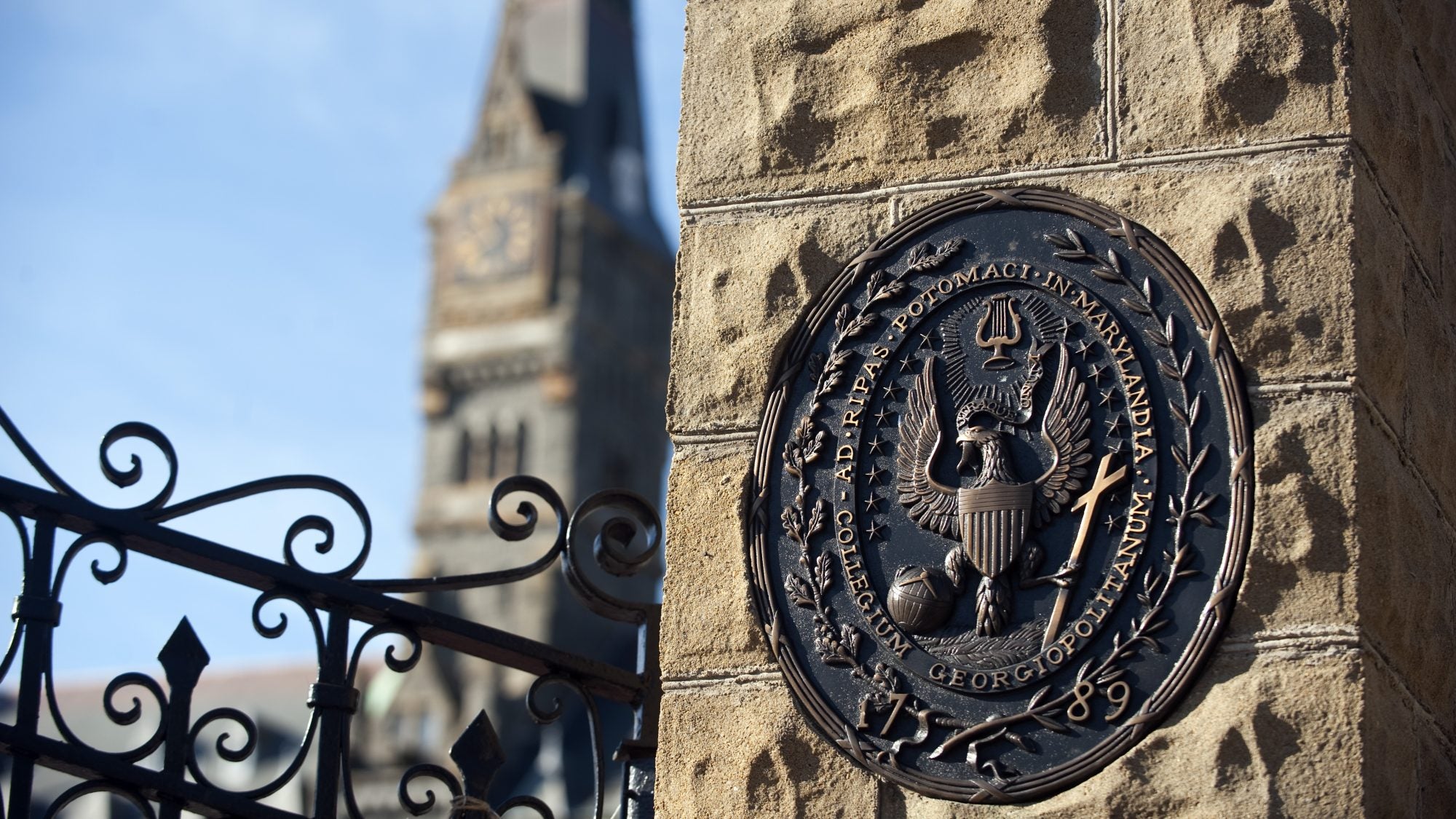 Category:

University News
Title:

Georgetown Applauds New Federal Regulation Protecting Undocumented Students
Date Published:
August 26, 2022
Editor's Note: Students' initials were used in this story to protect their privacy.
In a statement, Georgetown University President John J. DeGioia applauded the Biden Administration's steps to codify and continue the DACA program while reinforcing the need for permanent legislative solutions to fully protect and support young adults in the program.
"We welcome all efforts to protect the DACA program, including the Administration's action yesterday, and we will continue to advocate for permanent protections and for expanding the DACA eligibility criteria for these young people and adults who have contributed so much to our campus and to our nation," DeGioia said. 
The new federal regulation aims to protect the DACA program from ongoing legal challenges, most recently from a U.S. District Court judge, who ruled DACA "unlawful" in July 2021 and blocked new applicants to the program. The Biden-Harris Administration appealed the ruling to the U.S. Fifth Circuit Court of Appeals, which is expected to release its decision this year.
The DHS regulation, which will go into effect on Oct. 31, 2022, retains the existing DACA policy that the Obama Administration first outlined with minor changes. The freeze on new applications is still in place.
Georgetown's Advocacy for Undocumented Students
Georgetown's endorsement of the DACA program builds on its ongoing advocacy and support for undocumented students. 
In Nov. 2021, the university submitted a formal comment to DHS emphasizing its "strongest support" for DACA and the department's then-proposed rule to codify the program. Georgetown also urged DHS to expand the program's access to a broader group of young people and to create a pathway to citizenship for Dreamers.
"At Georgetown, we stand with undocumented students because in the midst of uncertainty, these young women and men demonstrate extraordinary skills and passion to make America a better place," DeGioia wrote in the formal comment. "They are vital to our communities, schools, companies and families. They deserve the ability to contribute their talents without fear."
In Dec. 2021, Georgetown joined 20 colleges and universities in urging the U.S. Fifth Circuit Court of Appeals to uphold the DACA program in an amicus brief, or legal document filed by individuals or groups with a strong interest in the subject matter.
Warning of the "direct harm" the program's end would cause students and alumni – including members of the Georgetown community – the amicus brief called on the Fifth Circuit Court to reverse the Texas federal judge's injunction of the program.   
Dreamers' Impact at Georgetown and Beyond
In his latest statement, released on Aug. 26, 2022, DeGioia stressed the ongoing and vital contributions DACA students, often referred to as Dreamers, make to Georgetown and to the broader community.
"The Deferred Action for Childhood Arrivals (DACA) program has provided important protections for many Georgetown students over the past decade," DeGioia says. "These young people are integral members of our community, and we remain deeply committed to ensuring they are supported as they pursue their education here at Georgetown and as members of our alumni community."
Georgetown's amicus brief and formal comment also highlighted the substantial impact DACA students make on campuses across the U.S. 
The amicus brief told the story of Georgetown alumna CV, who came to the U.S. with her mother when she was six years old. CV graduated from high school with the highest marks and a track record of community engagement but could not afford college. 
As a DACA recipient, she took a gap year to save money and enrolled in community college before transferring to Georgetown. On the Hilltop, CV spent summers working with high-achieving, low-income students and received awards for her public service and academic achievement. She was one of 240 DACA recipients who volunteered in Teach for America, teaching underserved youth in a DC public school. She recently received the highest rating teachers can receive in the District.
JMG, a graduate of the Walsh School of Foreign Service (SFS), shared in the amicus brief that the DACA program enabled him to work throughout his college years.
"Throughout my undergraduate education, DACA enabled me to hold steady on-campus jobs to cover costs associated with meals, books, travel and other necessities for college living," he said. "DACA gave me a sense of safety I otherwise wouldn't have had. This allowed me to thrive as a first-generation college student."
After graduating from SFS, JMG helped low-wage migrant workers file for paid sick leave and supported their claims relating to workplace safety. He continues to advocate for the continued protections of the DACA program that have benefited him and many others. 
In Georgetown's formal comment, the university detailed how DACA supported Georgetown medical students such as M.V., who achieved her childhood dream of attending medical school and making healthcare more accessible. She now volunteers with the HOYA Clinic, a student-run clinic in Washington, DC that offers free medical service for underserved communities.
Supporting – and Expanding – DACA
The amicus brief and formal comment both warn of the consequences of ending DACA – and how the program's uncertainty is jeopardizing students' future.
JF, a sophomore at Georgetown majoring in government, applied to DACA in 2020 as soon as she was eligible. Through the program, she hoped to feel safer in the U.S. and travel to see her family. However, since the Texas federal judge's ruling, her future has been "in limbo," the amicus brief shared. With her application stalled, she has been unable to visit her family, obtain a work permit or apply to internships in DC. Her dream of law school is on hold due to her inability to work and save money. 
To address issues like this, Georgetown, in its formal comment, urged the Department of Homeland Security to expand DACA in three ways: First, to broaden access to a broader, younger group of Dreamers. Currently, DACA applicants are only eligible if they arrived in the United States by June 15, 2007. 
The university also requested that DHS include additional provisions in its rule for application fee waivers for individuals with high financial need, and for work permits to be automatically renewed while requests for extensions are pending. Lastly, Georgetown urged the government to create a pathway for citizenship, freeing Dreamers from the fear of deportation and allowing them to more fully immerse themselves in their academic and professional goals alongside their peers.
"With the power to adjust their status and access permanent legal protections, undocumented students will continue to embrace the legacy of the many immigrants who have come before them as they shape the next generation of leaders, innovators and public servants," DeGioia wrote. "We have the capacity, and responsibility, as a nation to provide a permanent legislative solution to support our undocumented students."
Georgetown continues to press for permanent solutions to protect students and young adults in the program.
Jesuit Roots of Advocacy
Guided by its foundational Jesuit value of cura personalis, or care of the person, Georgetown provides comprehensive campus resources and support for undocumented students, including arranging for legal counsel and clinics, offering undergraduate need-based scholarships, and supporting undocumented students at Georgetown through a full-time Associate Director for Undocumented Student Services. 
The university has also submitted amicus briefs to protect the DACA program and engaged in ongoing advocacy efforts. 
"Our support throughout the years is rooted in our deep commitment to educational access, and our conviction that each student should learn in a context where they can succeed, free from constraint or limitation," DeGioia wrote in the formal comment.
"We are a proud home to Dreamers."

President John J. DeGioia