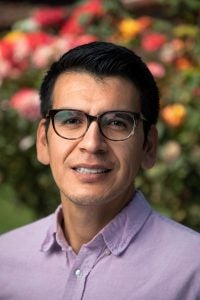 "I couldn't stop thinking about my family," says Cruz Flores. "My journey to the U.S. broke my nuclear family when I was only 15. My dad is no longer with us, and my mom couldn't fly to DC from Mexico. They were spiritually present in the beautiful Gaston Hall."
The moment represented more than a degree. Cruz Flores was among the first recipients of the Deferred Action for Childhood Arrivals (DACA) program in 2012, which protects certain undocumented young adults and students from deportation. Ever since, the program has fueled his educational path.
And on the 10th anniversary of DACA, Cruz Flores had just finished his journey toward a Ph.D.
Finding His Place
Cruz Flores did not start out intending to pursue academia.
He came to the U.S. with his uncle when he was 15. Though both his parents remained in Mexico, he joined his older sister and other family members in Parkdale, Oregon.
Cruz Flores didn't know any English, and he missed his parents. He found it difficult to adjust, especially to high school. He decided to drop out after two weeks.
"I told my sister, 'This is not for me. That's not my place. I don't know what to do there,'" he says. "So then I went to work in the fields to make a living."
A year later, Cruz Flores picked his academic pursuits back up when a particularly harsh Oregon winter meant work would be unavailable for months. Between school and work, he felt a responsibility to support his family back in Mexico, and college, especially with its price tag, was not on his radar: "I never visited colleges because I just knew I wasn't going to make it," he says.
His senior year of high school, a sponsor willing to fund his college courses encouraged Cruz Flores to enroll in a local community college. He excelled there, and his professors encouraged him to apply to a four-year institution. Cruz Flores transferred to Portland State University, where he discovered his passion for linguistics. And at the end of his senior year of college, the DACA program was implemented, giving him a path to continue his education.
"I wasn't really thinking about the future because I didn't know what was going to happen to me after finishing my undergraduate degree," says Cruz Flores. "So when DACA was implemented, I was like, now I can think of more options. I wanted to continue in the educational system, because that's where I felt safe. That's where I felt protected."
Researching the Bilingual Mind
Cruz Flores went on to receive a master's degree from the University of Arizona, where he was exposed to bilingual communities and bilingual research. He was eager to continue studying the field, and began his Ph.D. in Spanish Linguistics at Georgetown in 2015. He took classes, taught and conducted research until he finished his dissertation in the summer of 2021.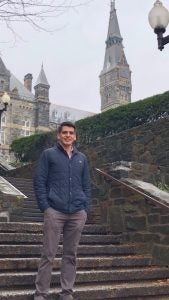 His research focuses on bilingual grammars from a theoretical and experimental perspective. His dissertation examined how bilingual speakers might apply Spanish gender to English nouns. He found most speakers gravitate toward using the Spanish masculine article "el" in front of English words. For instance, speakers, bilinguals or not, overwhelmingly prefer the masculine form "el COVID" as opposed to its feminine counterpart "la COVID."
"We at least have some documentation of this linguistic behavior from both spontaneous and experimental data and say, 'This is actually what bilinguals do,'" he says. "And now the more intriguing question is why do they do that? Why do they have the tendency for the masculine form?"
Though his hooding ceremony took place just this weekend, Cruz Flores already has a year under his belt as an assistant professor in the Department of Modern Languages & Literatures at Santa Clara University.
"I haven't really had the time to really think about it, but it's definitely a milestone that I have this dream job," he says. "It will allow me to continue with my research, teaching, which I love, and also to reach out to students to share my story at some point in my career."
'It's Worth It'
Cruz Flores' journey from working in the pear orchards in Parkdale, Oregon, to tenure-track professor was not without its challenges. Beyond the usual difficulty faced by any Ph.D. candidate — compounded by the disruption of a once-in-a-generation pandemic — Cruz Flores could not ignore the anti-immigrant rhetoric of the 2016 presidential election.
"It was impossible for me to just cover my ears and let the world run its course," he says.
Worse, Cruz Flores could not ignore that the Trump Administration sought to end the DACA program, or the ensuing legal challenges that would ultimately save the program.
"In Spanish, one says 'estoy noqueado' — when you are literally knocked down — because the motivation that kept me going, it's not there anymore," says Cruz Flores of the Trump Administration's move. "Even though I personally knew that I was doing the right thing and that my education at Georgetown could take me anywhere, that little piece of document is very meaningful for me and for many other people."
Cruz Flores says he protested the decision, and is grateful that DACA has remained for the opportunities it gives him and other undocumented students.
"There are going to be many sacrifices. There are going to be many challenges along the way, but the fact that you are given the opportunity just overcomes everything," he says.