The university presents the award annually to an inspirational emerging local leader at the free Let Freedom Ring! celebration on Martin Luther King Jr. Day, this year featuring award-winning artists Audra McDonald and Brian Stokes Mitchell.
Since 2000, One Common Unity has collaborated with thousands of educators, artists, health practitioners, youth and families in Washington, DC to break cycles of violence and build compassionate communities through music, art and peace education.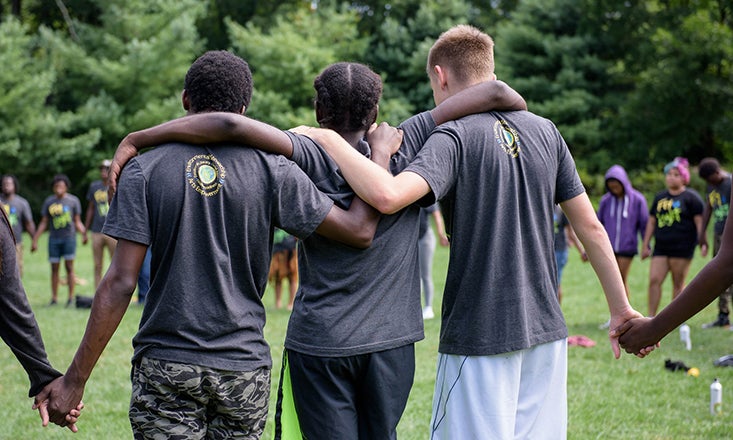 Teaching Peace
"I believe empathy, compassion, cooperation and kindness can be taught," says Kasat, whose organization focuses on middle and high school students. "We start with modeling nonviolent behavior and then create safe spaces for dialogue and healing through restorative justice circles."
"By fostering the social-emotional literacy of youth, teachers and parents, we are creating real pathways for academic achievement and reducing violence in our communities," he adds.
The award, part of Georgetown's commitment to helping solve key issues in the city, provides a year of sustained partnership and broader recognition for the organization.
With a 45 percent rise in homicides in the District this year over 2017, including the murder of teenagers, the work of OCU takes on a renewed urgency and importance.
"One Common Unity focuses on social justice through peace education, arts and music," says Kasat, who plans to begin the Nonprofit Executive Management Certificate program at the university's McCourt School of Public Policy in February 2019."Georgetown's longstanding commitment to the economic and social health of the people of Washington, DC closely aligns with the mission of OCU, and we are grateful for the university's recognition."
Collaborative Efforts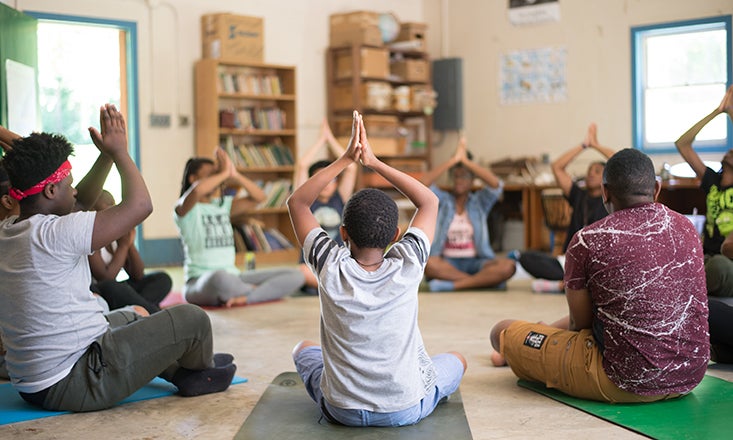 Georgetown chose to honor Kasat with the award because of his commitment to service and transformational change, which exemplifies King's spirit and enduring legacy. OCU provides 15 District middle and high schools with peace education and its
Georgetown chose to honor Kasat with the award because of his commitment to service and transformational change, which exemplifies King's spirit and enduring legacy. OCU provides 15 District middle and high schools with peace education and its Fly By Light program.
Its workshops, training, retreats and curriculum, which immerse youth and adults in the principles of peace-building through art and media, are designed for schools, organizations and private institutions. OCU is also partnering with Georgetown on an ongoing research project.
Jennifer Rosales, director of research and evaluation at Georgetown's Center for Social Justice Research, Teaching and Service, a graduate student and 10 undergraduates are participating in a community-based research and evaluation project with OCU in DC Public Schools around arts, mindfulness and violence prevention in the school environment.
'Passion Project'
After graduating from American University, Kasat became director of the Peaceable Schools program at Wilson Senior High School. He co-founded One Common Unity in 2000 as a "passion project" on a shoestring budget after a string of school shootings in DC.
That project became a full-time job in 2008, and now the organization has seven full-time and 13 part-time employees and about 20 volunteers.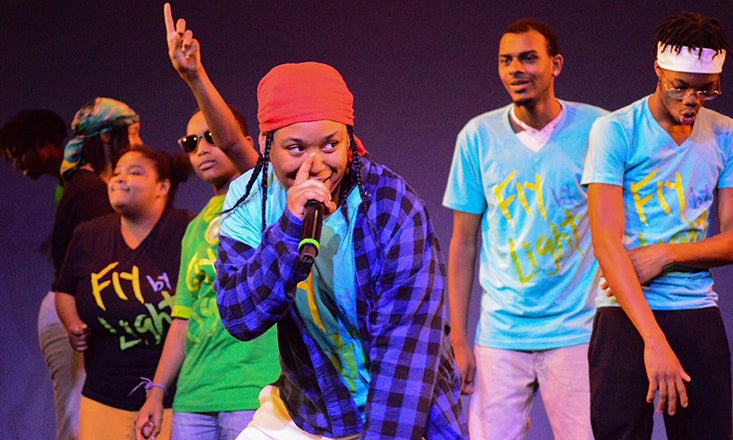 Zhy, now a 19-year-old facilitator at One Common Unity, met Kasat at the Columbia Heights Educational Campus when she was 15.
Kasat was facilitating an after-school Fly By Light program for high school students, the same program she now facilitates at three DC middle schools.
"I use my own art forms to support young people in their personal journeys, social justice movements and self-expression," says Zhy, who plays electric, acoustic and bass guitar as well as piano. Making Better Choices Zhy says her home life growing up in the Edgewood neighborhood of Northeast DC was difficult.
"When I met Hawah, honestly, he is one of the most magical people you could ever meet," she says. "He walks into the room and you immediately feel his energy. And I really resonated with a lot of things he was saying to us about making better choices, really being yourself and trying to make a positive impact on your community."
"Nothing feels more rewarding," she says of her work with OCU. "Nothing feels more impactful to me than working with these children and letting them see the light was already within themselves."
Deepening Opportunities
Kasat has traveled to more than 42 countries to facilitate interactive workshops, host dialogues, perform poetry, teach yoga and speak with those interested in creating a caring, sustainable, and equitable world.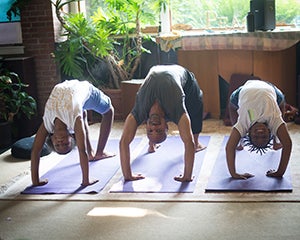 The author of four books, including The
The author of four books, including The Poetry of Yoga, an anthology containing more than 300 yogi poets from 19 countries, also has released two music albums and produced three documentary films, including the award-winning documentary Fly By Light.
"Through the terrific work of the One Common Unity organization, Hawah Kasat has deepened opportunities for young people in Washington to thrive through peace education and engagement in music and the arts," says Georgetown President John J. DeGioia. "We are very grateful to have this opportunity to recognize his important work and dedicated service to our DC community with this award."
Shaping Values
Born in New Jersey, Kasat says he faced issues of conflict firsthand while growing up in a suburban town. Because of the limited diversity there, Kasat had to daily overcome the obstacle of racism from peers and even teachers who were insensitive and sometimes even violent toward people who did not resemble them.
"I think these experiences shaped my values in terms of how I wanted to use my time and to make sure I didn't waste the opportunity to ensure children would never have to deal with what I had to growing up," he says. "I wanted to spend my time in a way that could support bridging and healing the divide I saw and experienced as a kid."