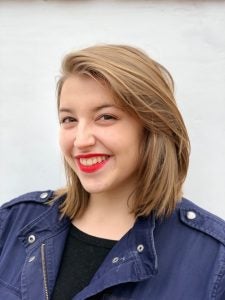 Research on Campus
On the Hilltop, Turilli studied science, technology, and international affairs with a concentration in biotechnology and global health. Eager to explore outside the classroom, Turilli took on several research positions to immerse herself in health sciences. She discovered its critical intersection with policy along the way.
In 2020, Turilli started working at the Bansal Lab — led by Provost's Distinguished Associate Professor Shweta Bansal — where she investigated and co-authored a report on the relationships between climate change, natural disasters and wildlife disease.
"Isabella is a gifted student whose ambition and passion demonstrate her potential as a leader of tomorrow," says Bansal.
At Georgetown's Center for Global Health Science and Security, Turilli spent a year working with center director Rebecca Katz coding pandemic preparedness documents for the Health Security Net.
"She excelled and became a very welcome member of the team," says Katz. "I have no doubt she will contribute greatly to the field over the course of her career."
On the Frontlines
Turelli's interest in health also led her to Georgetown Emergency Response Medical Service (GERMS), a student-run medical emergency service. Here, she helped over 200 patients and volunteered over 1,200 hours, serving as both crew chief and quality assurance officer.
When the COVID-19 pandemic began in 2020, Turilli took on work at the frontline.
"During the pandemic, she was one of the only crew chiefs on [the GERMS] roster," says Lauren Tuckley, director of the Center for Research and Fellowships. "This means that Isabella, while supporting a full class load, and working part-time, shouldered the responsibility for making sure that Georgetown students and Georgetown community members had access to the MedStar Georgetown University Hospital in emergency situations."