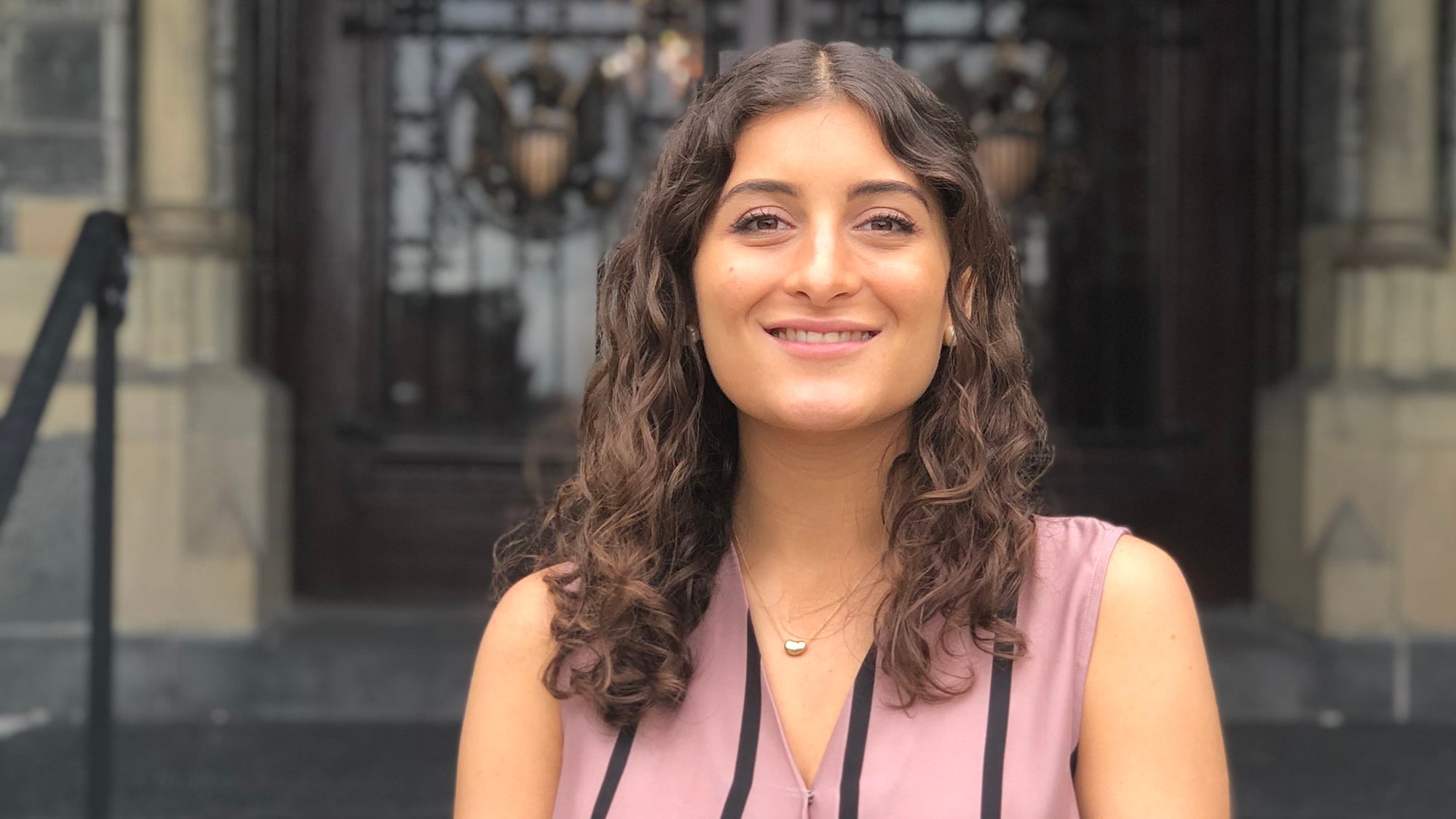 Category:

Student Experience
Title:

Human Rights: Grad Student Hopes to Help Indigenous Women, Girls in Mexico
Date Published:
January 21, 2020
Yamel Sarquis (G'20), born in Mexico to a Lebanese family, wants to create communication strategies to alert indigenous women and girls in Mexico to their human rights to prevent them from being subjected to domestic and sexual violence.
Hometown: Mexico City
Degree Pursuing: Master's degree from the Communication, Culture and Technology (CCT) program.
Undergraduate degree: Bachelor's degree in international relations, Universidad Iberoamericana, 2014
Work and Internships:
In Mexico, she has worked at Edelman, a global communications firm, designing stakeholder engagement and reputational risk strategies at a local and international level. But she says her heart is set on women's rights.
Prior to working at the Mexican Agency for International Development Cooperation, she interned with UNESCO in Mexico on a project she hopes to continue at Georgetown – educating indigenous girls and women in a country where one in six are subject to gender-based violence.
"If you have a society that's a principally indigenous society that has its own communalistic norms, they're kind of autonomous," she notes. "They don't have the same enrollment in school or set of laws. They don't necessarily speak Spanish. So their girls tend to be a bit isolated and unaware of their rights and potential."
"I want to equip these girls with the tools to protect and empower themselves and their peers," Sarqius adds. "Building strong and equal communities is key to promoting peace and prosperity around the world."
Inspiration:
Sarquis found her motivation through the work of her mother, who co-founded an NGO called Comedor Santa Maria that feeds children in extreme poverty on the outskirts of Mexico City.
"My mother is the definition of an agent of positive change," the graduate students says. "As a newlywed, she and her friends started feeding hungry kids outside of the church. Who would have known that those efforts would turn into a sizeable NGO that nourishes nearly 10,000 Mexican vulnerable kids a day? It's just breathtaking"
Sarquis volunteers with the organization when she goes home for Christmas every year. She also has provided the organization with communications help from DC.
Research:
The CCT student has conducted research on the plight of women and girls in Mexico and hopes to partner with the Georgetown Institute for Women, Peace and Security (GIWPS) and UN Women to educate Mexican aboriginal girls and women and create measures to avoid future violence. She is also taking a course offered by the GIWPS on Gender, International Security and Development.
Campus and community activities:
Co-chair, Georgetown University Graduate Association of Mexican Students
Panelist at a Women Empowerment Event hosted at the Organization of American States.
Member of the Latin American Policy Association (LAPA) at Georgetown University
Why Georgetown?
"During my graduate research process, the thing that really distinguished Georgetown was this Jesuit and humanistic approach," Sarquis notes. "I found an amazing opportunity here to keep developing my interest in empowering women and girls from an academic perspective."
Most influential course:
The student says she was most influenced by CCT professor Leticia Bode's Political Socialization, which focuses on the processes through which people acquire politically relevant values, beliefs and attitudes.
"She's amazing," Sarquis notes. "This course enabled me to understand how people shape their orientations and provided me with the tools to then develop my own plan to promote gender equality with community-based solutions."
A Professor's View:
"Yamel is strongly passionate about helping to protect indigenous women and girls in Mexico from violence," Bode says. "This is a group that is extremely vulnerable, and she has keyed in on a specific problem they face and is now working on different ways to solve it."
Related Content