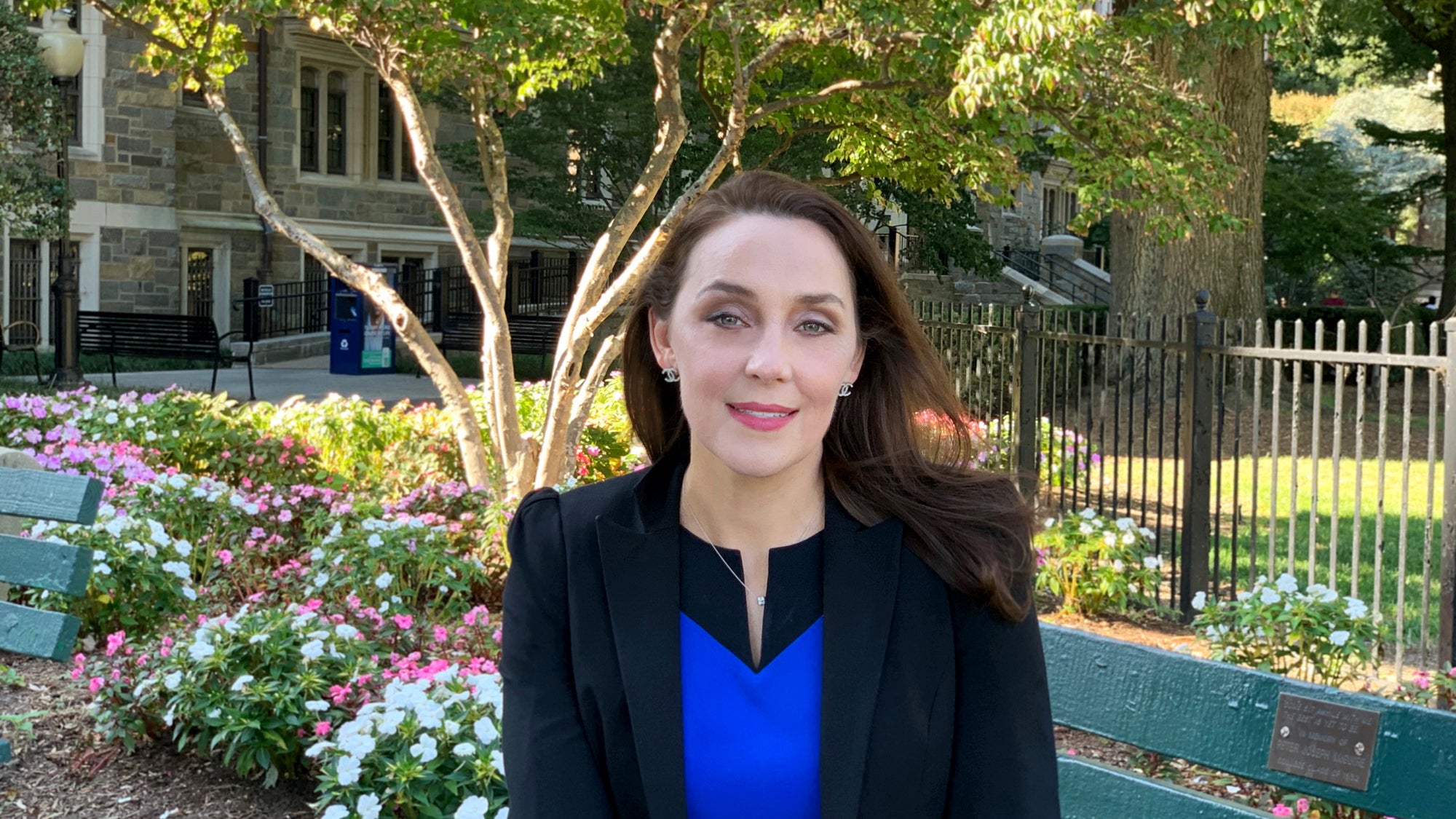 Category:

Student Experience, Veteran & Military-Connected Community
Title:

Graduate Student Awarded 2019 Tillman Foundation Scholarship
Date Published:
November 5, 2019
Prior to starting the university's Communication, Culture and Technology (CCT) program, Kristi Pelzel (G'20), spent over eight years as an independent contractor – doing everything from working in video and strategic creative design, to project management.
She is also Georgetown's most recent Tillman Scholar.
Founded in 2008, the Pat Tillman Foundation program for U.S. service members, veterans and military spouses helps with educational expenses and offers networking and professional development opportunities. The program is named after Patrick Tillman, who was killed in action in Afghanistan in 2004.
"One of the Tillman mottos is that you were not chosen because of what you've done – you were chosen because of what we think you can do," notes Pelzel, who is involved in countless public service activities. "That's pretty empowering."
Focus on Storytelling
At Georgetown, Pelzel focuses on data storytelling, interactive digital media, intercultural communication and media ecology studies.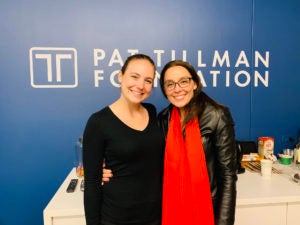 "One of my favorite courses was in Global Human Development, working on data visualization," she explains. "I was exposed to trending tools and a different way of storytelling that's in demand."
CCT alumnus Samhir Vasdev (C'11, G'13), an adjunct professor at the School of Foreign Service, taught the course.
Opportunities, Future Goals
As a contractor, she has worked at the U.S. Department of State, the White House, the U.S. Supreme Court, the FBI, the United Nations Foundation and other entities.
This past summer, she traveled to Turkey, Ukraine, Thailand and Georgia for the U.S. Biological Threat Reduction Program to work on a video project that highlighted the agency's work abroad.
"I'm interested in public service and diplomacy," explains Pelzel, originally from Texas. "I plan to work in international spaces and creatively design ways to bridge communication gaps to maintain strong partners and successful projects."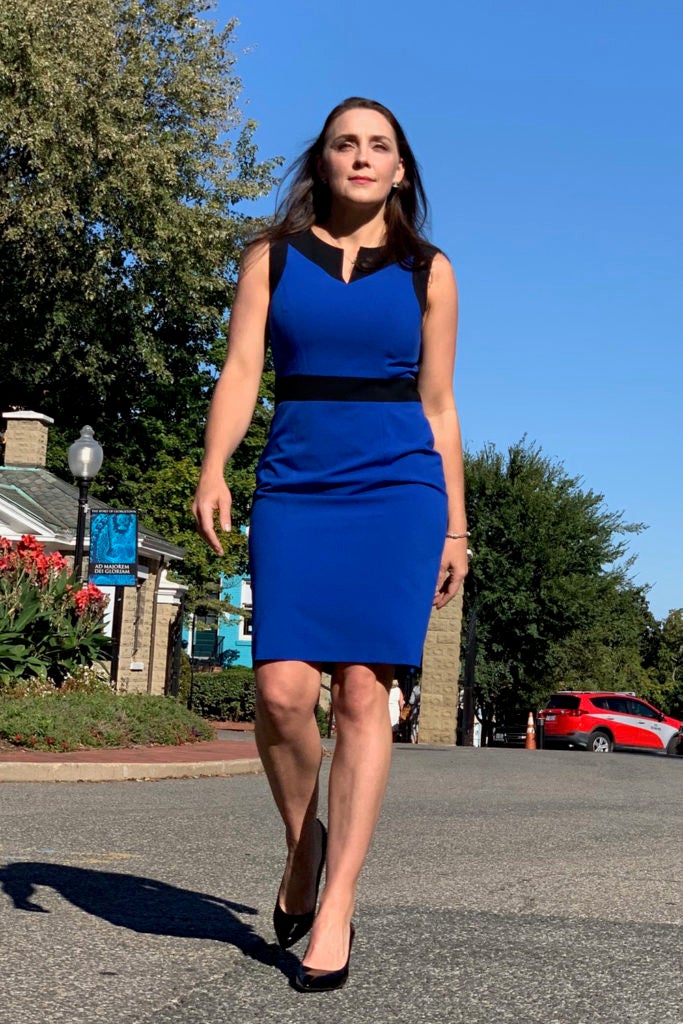 "My dream job would be working as an international chief communication officer, or a similar position for either a private or government organization," she adds.
This spring, she'll join the DC office of Bower Group Asia as a graduate intern working at the intersection of international policy and digital design. She also has applied for the Presidential Management Fellowship program.
'Amazing Ability'
Pelzel has taken courses with Jeanine Turner, a CCT associate professor, and is helping her launch a technology lab for students in Georgetown's Pivot Program, a new, non-credit-bearing business and entrepreneurship program for formerly incarcerated individuals.
"Kristi has an amazing ability to engage our community and get graduate students involved with important initiatives," says Turner, also an affiliate faculty member at the university's McDonough School of Business, which designed Pivot in partnership with DC Department of Employment Services. "Her ability to solve complex problems and think through opportunities has contributed to CCT and the graduate school in thoughtful and critical ways."
Pelzel, a student and mother, volunteers every year at the Carrie Simon House, a DC halfway house for young mothers, and brings along some of her Georgetown classmates.
She also has previously won an award for raising money for the Make-A-Wish Foundation, volunteered with the Special Olympics, received a Commander's Award for Public Service from the U.S. Army and worked on many other service projects.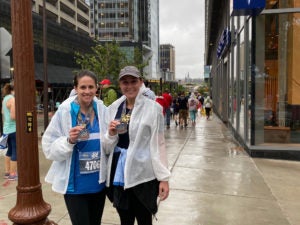 To stay fit, which she says is "in the spirit of the Tillman Foundation values," she ran in the Marine Corps Marathon last month with fellow CCT student Brittany Panetta (G'20), a Coast Guard lieutenant, and plans to participate in the Tillman Foundation's "Pat's Run" in April.
Home Life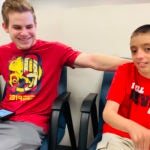 Pelzel has two sons, Stephen, a computer engineering major at George Mason University, and Sean, a 12-year-old with a deteriorating brain disease called Aicardi-Goutieres syndrome.
"It was during a 15-month deployment that we discovered Sean was more than just delayed," she explains. "It couldn't have been worse timing – I had to deal with a lot at home and Sean's father had to compartmentalize his feelings to get through his days in Iraq. The experience changed us."
"I don't always talk about Sean because it's often uncomfortable for others to hear the nuances of his disease," Pelzel adds. "We live in and out of the hospital and don't always tell people where we've been sleeping. There are nurses at home all the time. You learn to live openly in PJs and have someone listen to your arguments. It's all on display, but the trade-off is that I can go to school or work because someone is at the house."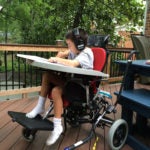 Social Worker at Heart
She pauses after being asked how she has so much energy for so many things.
"I have a hard time saying no, and if it's a subject matter that I'm passionate about, I find a way to do it," she explains. "I want to be there for people. I always say I'm a social worker at heart, but it doesn't pay the bills. Honestly, if I won the lottery, I would probably just volunteer full time all over town."
Related Content