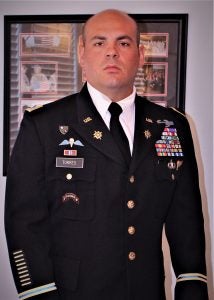 'Building Versus Destruction'
Torres enlisted in the Army in 2005 shortly after graduating from high school. After serving the 75th Ranger Regiment as an Airborne Ranger for more than a decade, he transitioned from special operations to diplomatic roles within the Army.
"After years of fighting and serving in multiple warzones, I realized the positive impact of building versus destruction," says Torres.
Now a Chief Warrant Officer 2, Torres has returned to the same warzones where he fought as a Ranger to help end and prevent armed conflict – including negotiating with the Taliban in support of the Afghan peace process.
After Torres graduates from the IBP program in December, he will be posted as a defense attache in East Africa before ultimately moving west to leverage his military, diplomatic and educational experiences to help prevent conflict through economic development.
"I'd like to use commerce and my military background, the credibility from the amount of combat I have, mashed with the education and diplomatic experience I will have to help develop economies in West Africa," says Torres.