Led by Chair Thomas A. Reynolds III (B'74), the board discussed upcoming renovations and new design projects across Georgetown.
On Georgetown Law's campus downtown, the board approved funding for the renovation of the McDonough Hall Hart Auditorium, where the majority of Georgetown Law's programs are held. Built in 1971, the Hart Auditorium's renovation will include updating the upper and lower lobbies and the auditorium's technology as well as reconfiguring seats. 
The board also approved funding for an architecture design firm to transform its newly acquired office building on 111 Massachusetts Ave. NW into a multi-use educational facility. The building, located near Georgetown Law, allows the university to establish new learning hubs and interdisciplinary programming across the main, medical and law campuses.  
The School of Nursing's Constitution

During its February meeting, the board also reviewed the School of Nursing's new constitution. 
As part of the process to launch the new School of Nursing, the board approved the school's new constitution, which goes into effect July 1. 
In 2020, President DeGioia announced the launch of the School of Nursing and School of Health to be built from the foundation of the existing School of Nursing & Health Studies. The faculty-led process to develop a constitution for the School of Health is underway. The School of Nursing will be led by Dr. Roberta Waite, a transformative nurse leader who joins Georgetown on May 1 as professor of nursing; she assumes the dean role July 1.
Addressing Urgent Environmental Challenges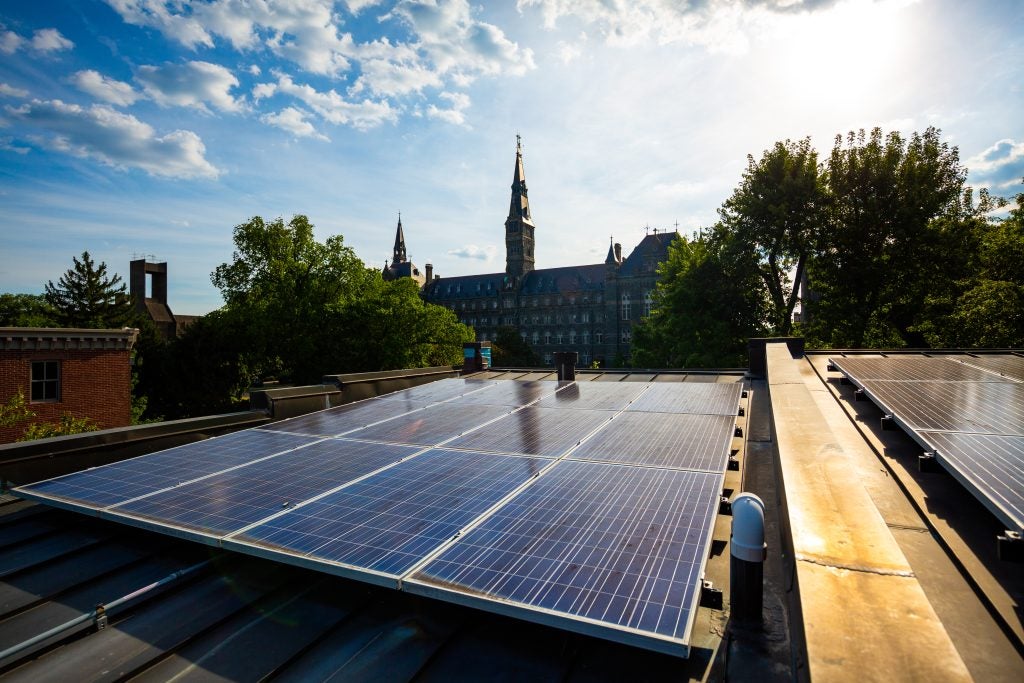 Prior to a major university launch, the board received an update on the environment and sustainability at Georgetown presented by Peter P. Marra, founding director of Earth Commons, Georgetown's new Institute for Environment & Sustainability; Meghan Chapple, the university's vice president of sustainability; and Fr. Gael Giraud, S.J., founding director of the Georgetown Environmental Justice Program. Georgetown Provost Robert M. Groves moderated the discussion. 
On February 15, Georgetown launched the Earth Commons to accelerate action, research and education on the most pressing environmental and sustainability challenges both locally and globally. The institute is building new educational programming for undergraduate and graduate students, expanding research opportunities for faculty members and students and developing scalable solutions for a greener campus and planet. 
"We are pleased to have the Board of Directors' support in launching the Earth Commons so that we can provide critical educational offerings, research and solutions to tackle environmental and sustainability challenges like never before," says Marra, Georgetown's Laudato Si' Professor of Biology and the Environment. 
The Earth Commons will also include a focal area of sustainability, collaborating with the Office of Sustainability to use Georgetown's campus as a living laboratory, providing students with hands-on, experiential learning opportunities with faculty and staff to green Georgetown's built environment and operations. 
In tandem with the launch of Earth Commons, Georgetown's Office of Sustainability is launching a strategic plan for sustainability that incorporates input from the Georgetown community, beginning with a Town Hall on February 22. 
Mental Well-Being at Georgetown
During the board meeting, Georgetown's mental health and well-being leaders presented on mental health updates on campus. Moderated by Georgetown President John J. DeGioia, the team included Jeanne Lord, interim vice president for student affairs and dean of students; Kathryn Castle, assistant vice president for student health; Jennifer Woolard, professor and chair of the Psychology Department and chair of Cura Georgetown, the university's new working group focused on well-being; and Durriya Meer, director of Counseling and Psychiatric Services (CAPS). 
Meer joined Georgetown in January after nearly 20 years in higher education counseling and psychology, most recently at Johns Hopkins University. As part of her vision, she seeks to increase education and awareness outside of CAPS to extend the university's mental health impact. Through outreach programming, gatekeeper training and other readily available resources, students can partner and engage actively in their own mental health and wellbeing.
"Building education and awareness about mental health and resources on campus are critical," says Meer. "This meeting was an excellent opportunity to engage and collaborate with the board to strengthen our well-being and mental health impact across the university."
The group also presented on Cura Georgetown, a working group led by Woolard, which is exploring how to continue to strengthen Georgetown's community of care for students, faculty and staff.  
For more information about Georgetown's mental well-being resources, visit Every Hoya Cares.