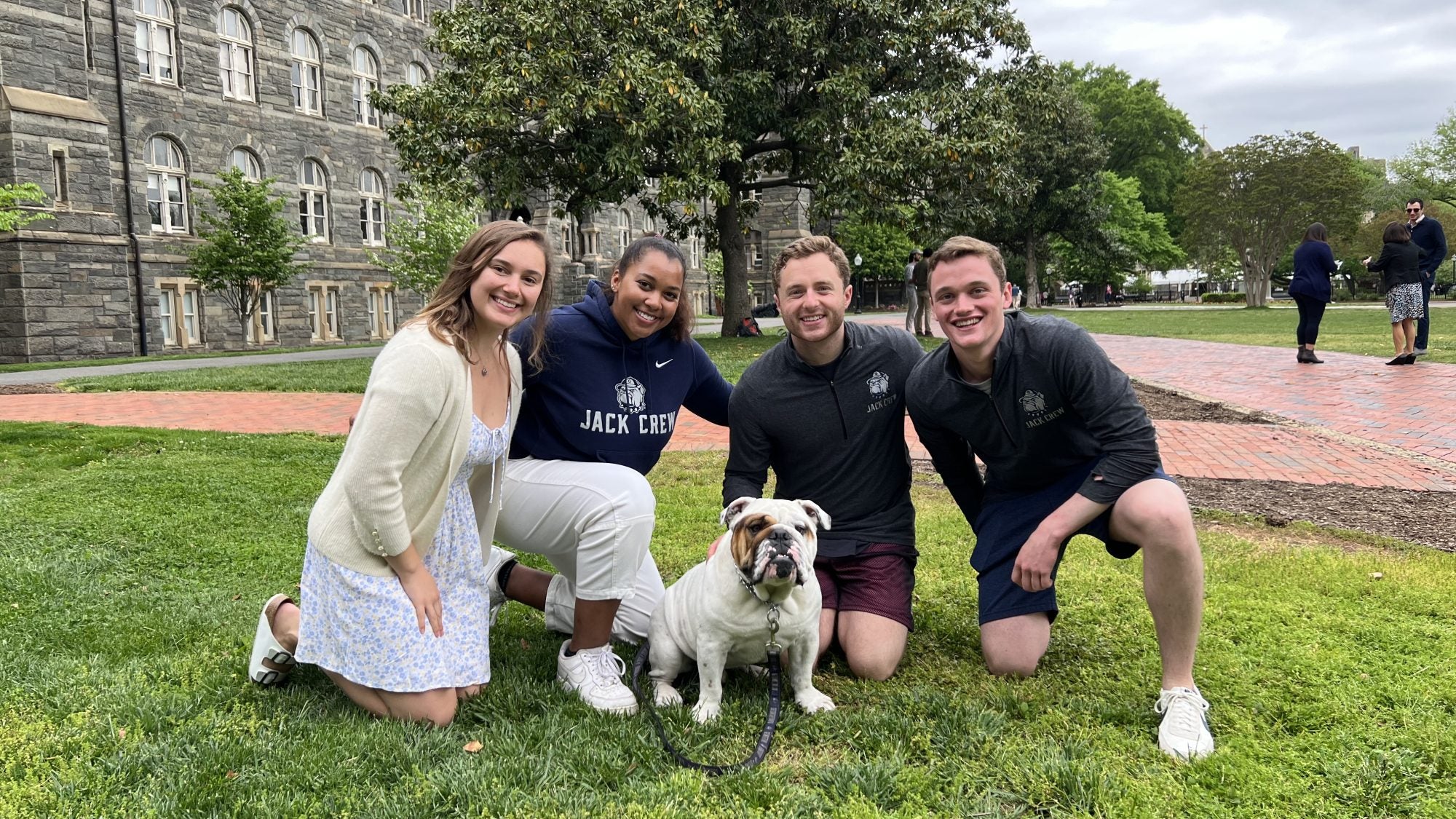 Category:

Campus Life, Student Experience
Title:

Georgetown Through Jack's Eyes: 4 Seniors' Favorite Memories of Walking Jack the Bulldog
Date Published:
May 11, 2022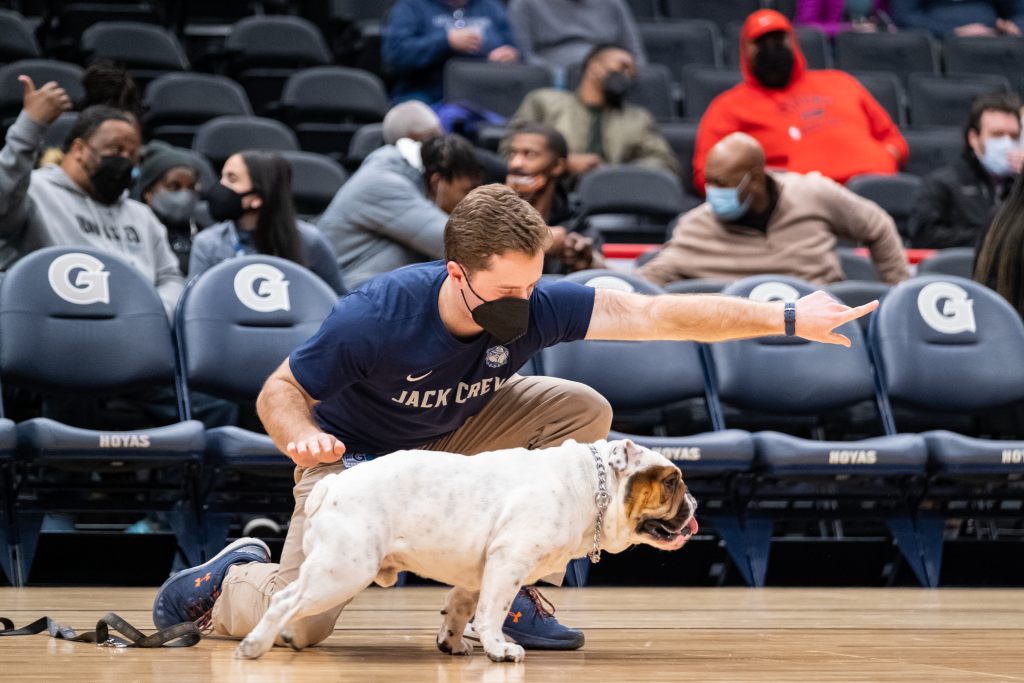 Maya Hambrick (C'22)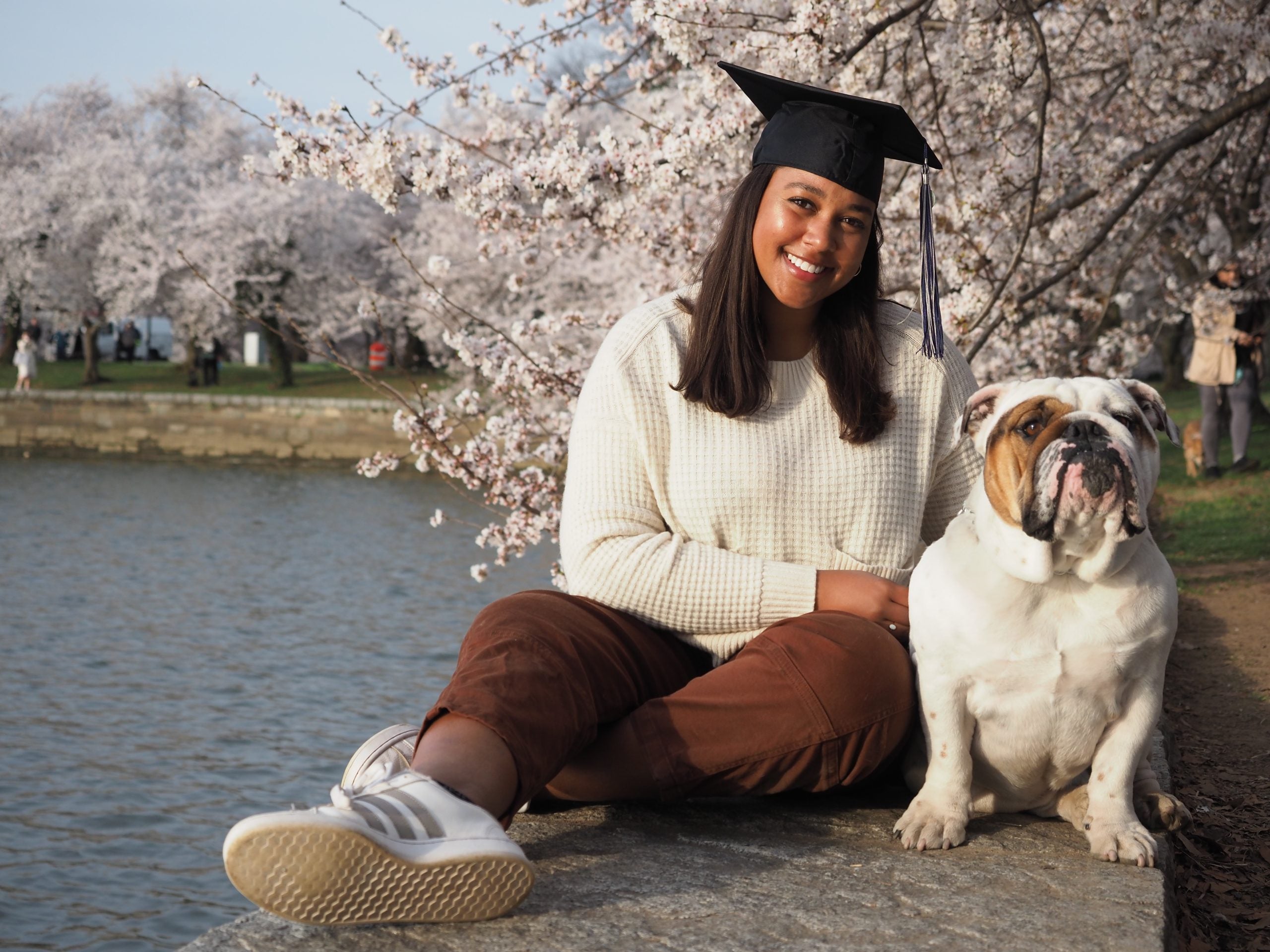 Major
Psychology, minor in Women's and Gender Studies
Maya's favorite Jack Crew memory
My favorite Jack Crew memory was attending the first men's basketball game at Capital One Arena after our return to campus from the pandemic. I felt immediate excitement and gratitude to be able to take Jack to such an amazing venue. The lights, cheering fans and overall excitement in the arena brought me great joy that I had missed over the previous year. I will never forget stepping onto the court with Jack and my fellow Jack Crew members by my side.
Why Maya joined Jack Crew
I joined Jack Crew for a number of reasons. My favorite one is the fact that when I toured Georgetown as a high schooler, we saw Jack on our tour. My mom quickly pointed out that it looked like students were walking him. Once we found out that students can join Jack Crew, she said, "Maya, I just know you are going to get into Georgetown and walk Jack The Bulldog" (talk about manifesting!) Not only do I love dogs, but also I found the tradition of having a live mascot fascinating. From the moment we saw Jack on campus while touring, I knew I wanted to be on Jack Crew.
What Jack Crew has been like
Jack Crew has been an experience like no other. I never knew I needed to see a 65-pound bulldog every day, but I have come to find that I most certainly do. Jack brings such happiness and joy to everyone who witnesses him, and it's incredible to experience. Jack Crew has allowed me to meet and work with so many amazing individuals, as well as attend events I would have never even imagined being at. I am so grateful that I got to be a part of Jack Crew — I will never forget the memories made with him and the crew.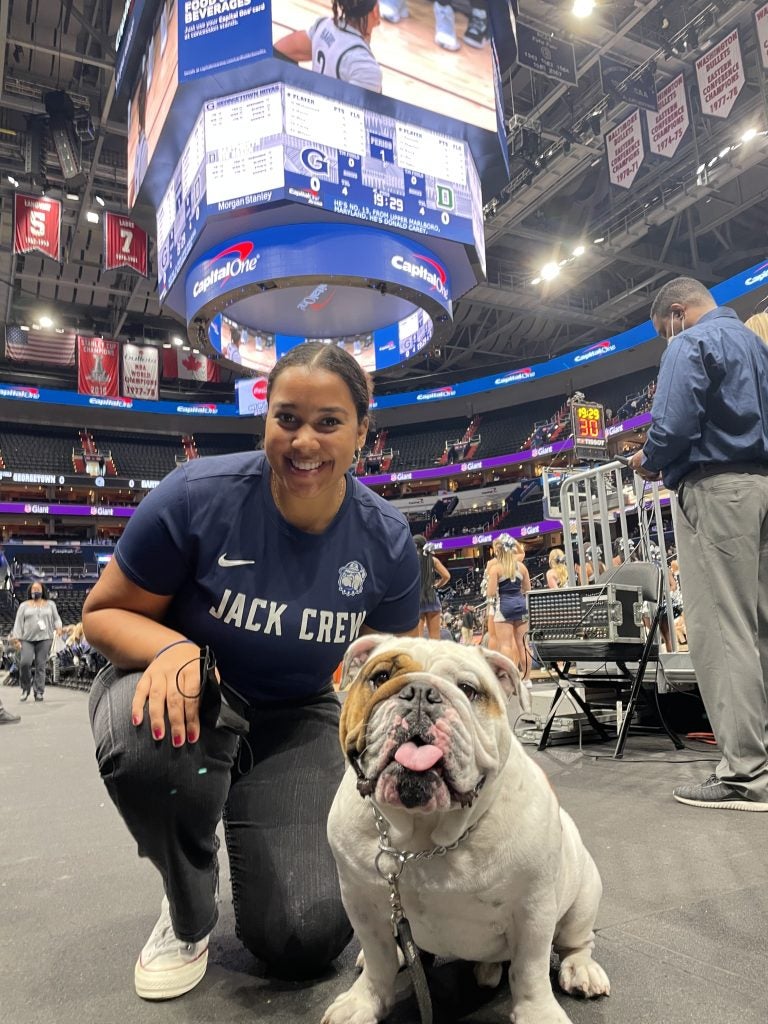 Amelia Smith (C'22)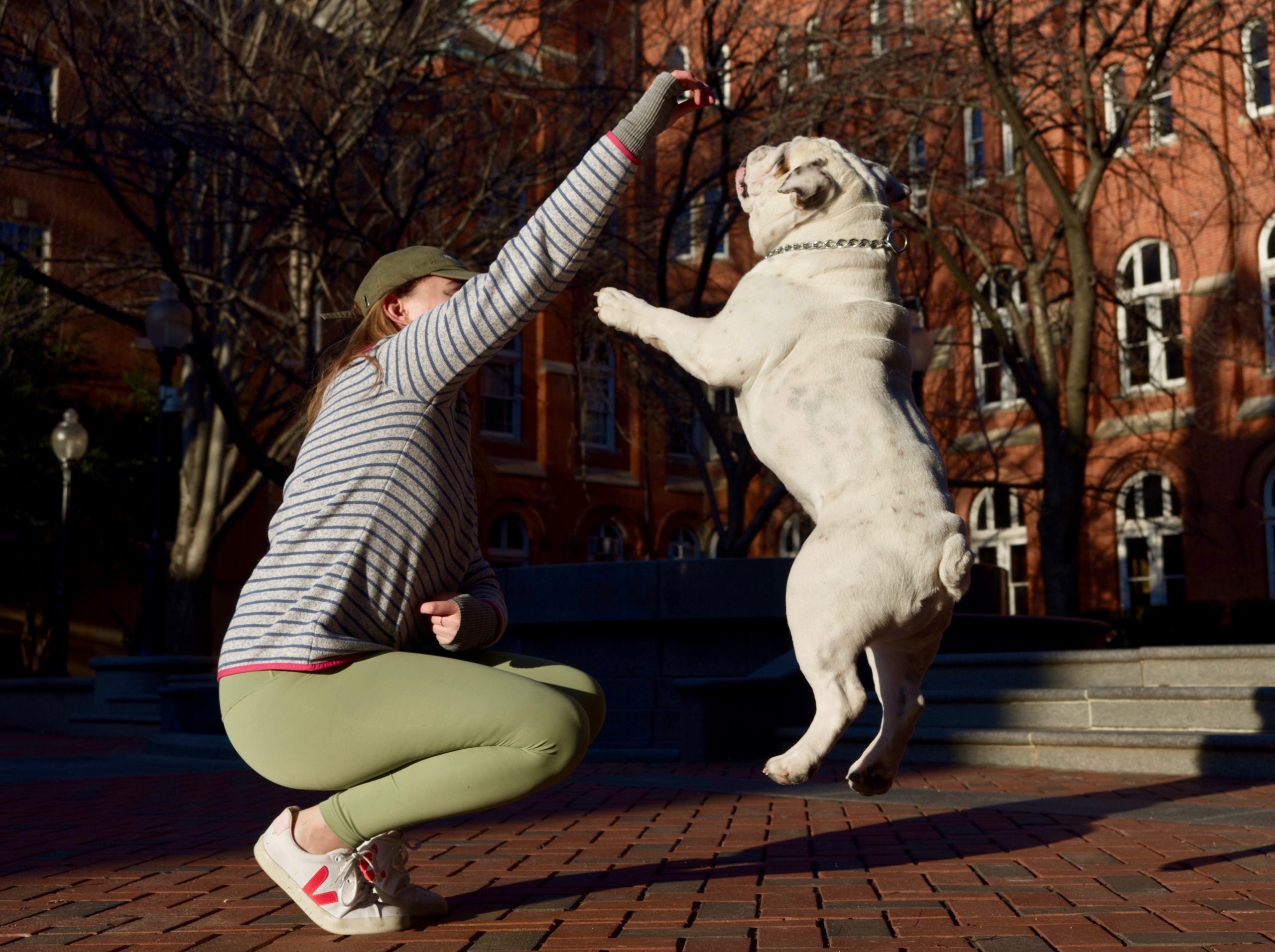 Major
Neurobiology
Amelia's favorite Jack Crew memory
My list of favorite Jack Crew memories is a bit like a CVS receipt in that it's literally never-ending, but if I had to choose just one it would probably be going to the monuments in late March last year during the pandemic for a sunrise and cherry blossom photoshoot for Jack with one of the other Crew members, Kirk. Running up the steps to the Lincoln Memorial with Jack without more than a few other people in sight and watching the warm, peachy light wash over Jack's face as the sun rose will forever be a core memory for me. I remember thinking, "wow, how lucky am I that this is my life in our nation's capital, and I have the honor to be a part of this incredible dog's life."
Why Amelia joined Jack Crew
Having shown dogs in the American Kennel Club for over 10 years and bred, owned and handled purebred dogs for the better part of my life, I was immediately drawn to Jack Crew when I learned about it before applying to Georgetown, and it became my dream to become a part of the Crew once I was accepted to Georgetown. The main reason I joined Jack Crew was to offer my background in dog handling in hopes of looking out for Jack's best interests and helping to provide him with the best care possible while also being an advocate for the Bulldog breed. However, I also wanted the opportunity to connect with the student body and athletics in a way that I'd never previously had the chance to through basketball games, on-campus events and daily walks, and that aspect of being a part of the Crew has been equally as rewarding as my interaction with Jack.
What Jack Crew has been like
To me, Jack Crew is like a family. I feel such a deep sense of pride both within myself and for my fellow Crew members, and I look forward to every day we have together with Jack. It's been an absolute honor and privilege to be a part of Jack Crew during my time at Georgetown, and it's gifted me my most cherished memories, my strongest friendships and the most precious bond with the best Bulldog on the planet. There are countless memories and anecdotes I could list here, but what sticks out most for me is the feeling I have every day when Jack sees me through the window at the Office of Neighborhood Life before our walk, runs to the door and greets me with his repertoire of joyful Bulldog noises that simultaneously make me laugh hysterically and feel an overwhelming sense of love for him: our amazing, goofy, fun-loving mascot who truly embodies the spirit of Georgetown.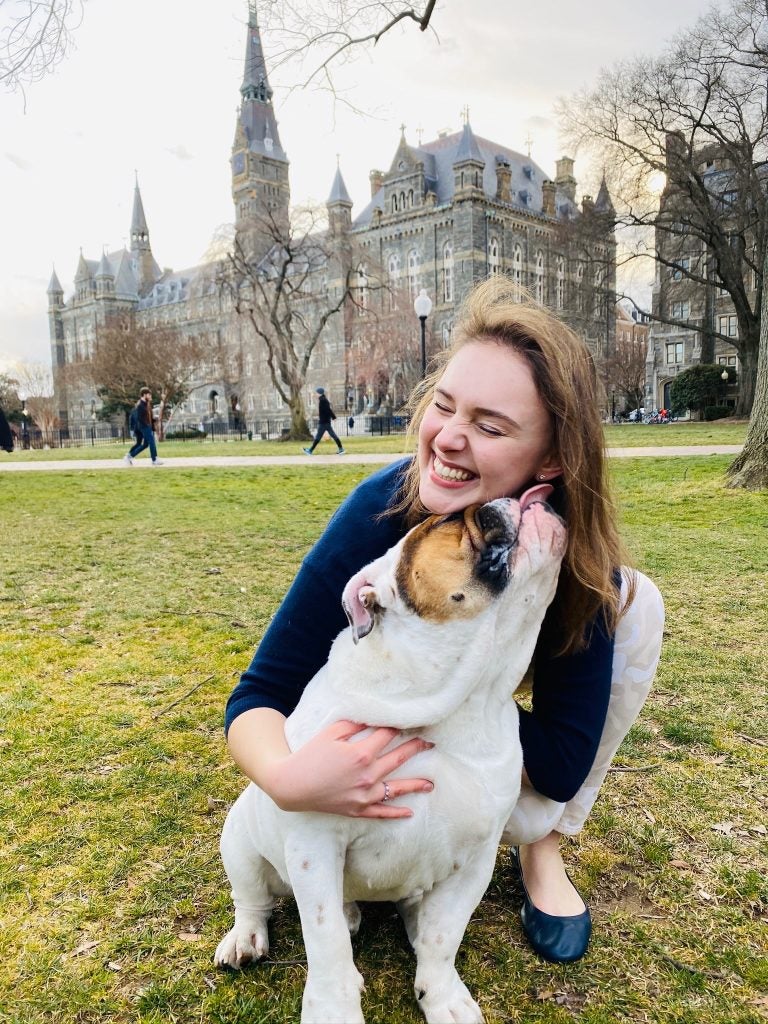 Jake Menz (C'22)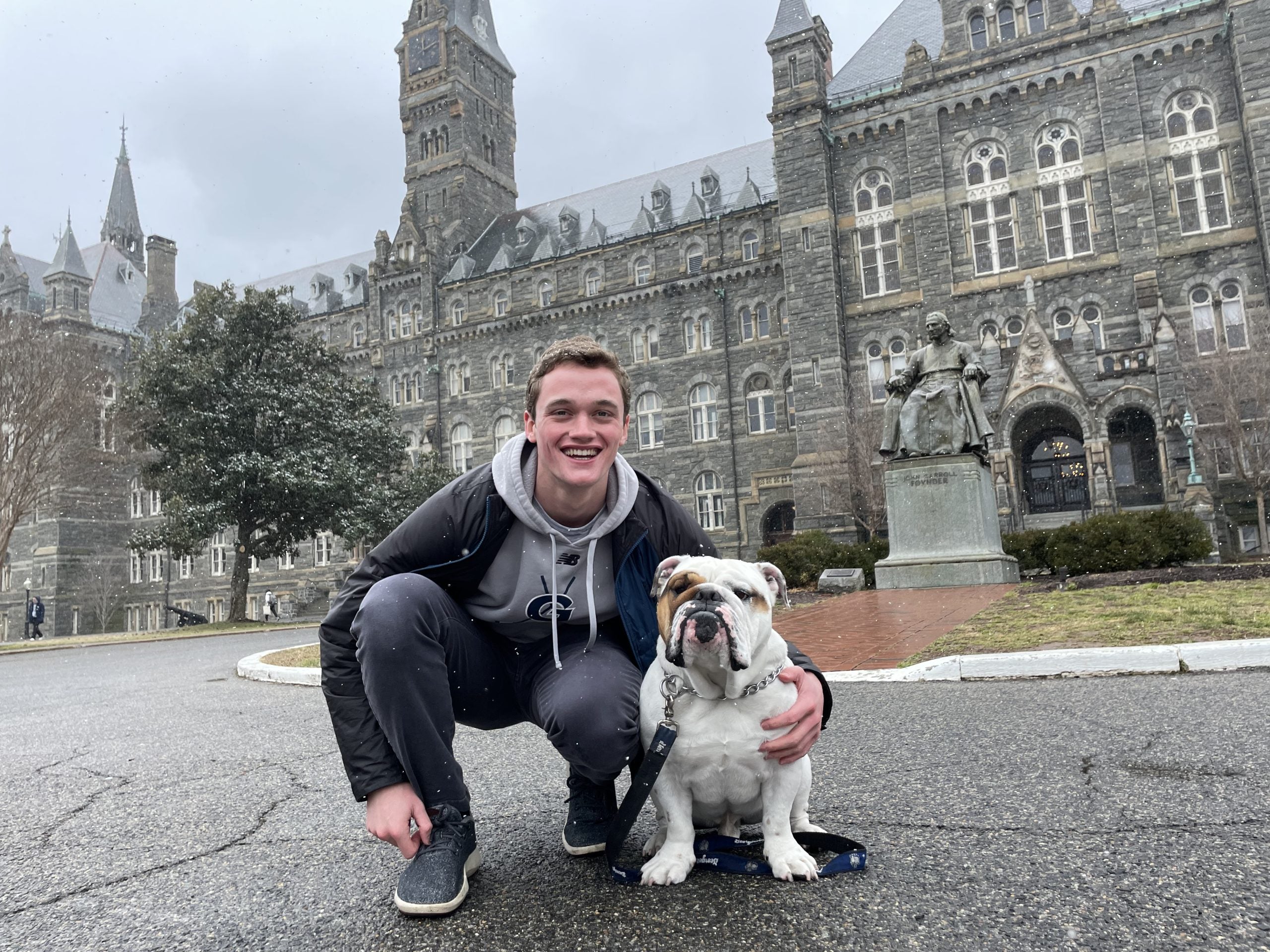 Major
Government and Philosophy, minor in History
Jake's favorite Jack Crew memory
Seeing Jack for the first time after a few months away from campus during the pandemic. It may be hard to get his attention when there's a treat in sight, but Jack is a really lovable pup. When he wiggles with excitement after not seeing you for a little while, it makes you feel pretty special.
Why Jake joined Jack Crew
Spending more time with a dog was a major incentive, but in applying for and taking the job, I also wanted to become more involved in the Georgetown community. I looked forward to meeting new people on walks and at events, cheering on our sports teams at their games and being part of an incredible Georgetown tradition.
What Jack Crew has been like
Going on walks and playing with Jack on the front lawns has always been fun, but I've been especially lucky to find great friends in the Crew. You get to know people pretty well when you work together to walk a celebrity around campus every day (getting Jack to look at the camera for pictures when there are some interesting shadows on the ground is truly a team effort). I'll always be thankful to have walked alongside some amazing people (and an amazing dog).