A Pre-School Business Immersion
At the start of my Georgetown journey, I was in the Business Undergraduates Invested in Leadership Development (BUILD) pre-orientation program. I came to school a week and a half early and went to faculty and dean lectures for all the business majors.
I experienced the great mentorship network within the McDonough School of Business, and I went on numerous corporate visits. It showed me what studying business entails and the opportunities that lie beyond Georgetown. It affirmed that this was exactly where I needed to be.
The Ins and Outs of Her First Year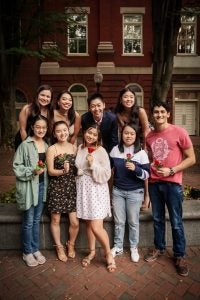 There were so many things to soak up on campus — and I excitedly joined way too many clubs my first year. Notably, I was in the Georgetown Gracenotes A Capella group and the Asian American Student Association. I'm half Chinese and I don't come from a town with a lot of diversity, so getting to go to these events and speak Mandarin and eat Chinese food with people was really refreshing.
Being on the cast of Georgetown Stories all four years is my proudest achievement at Georgetown. Watching Georgetown Stories helped me during my college decision process — I looked up to all the storytellers who were so authentically themselves and let prospective students in on their daily lives in college, so I wanted to do that for students to come.
I was also in the Georgetown Marketing Association, Mask & Bauble, Georgetown Women in Leadership — I dipped my toes into a lot of different communities to see what would be the best fit.
When I joined the Compass Fellowship (Georgetown's chapter of Social Impact 360), which is a social entrepreneurship club, it got me interested in social impact.
An Internship in the Philippines