"John Thompson was so much more than just a basketball coach and his name enshrined on our court is a testament to his ability to transcend the game," says Lee Reed, the Francis X. Rienzo Director of Intercollegiate Athletics. "When we step on that floor, our players will know his name is both a symbol of greatness on the court and a constant reminder of his, as well as our, commitment to social and racial justice.
Thompson, affectionately known as "Big John," died this past August after coaching from 1972-1999 and remaining part of the Georgetown community for a total of 48 years.
Impact on Court
He was one of the first Black coaches to head a major collegiate basketball program and the first to win an NCAA basketball championship. Even today, the number of Black coaches makes up less than 20% of the 75 programs in college basketball's six major conferences.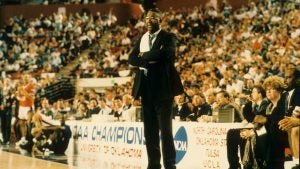 Thompson may be most noted for his actions when the NCAA's Proposition 42 eliminated educational funds for low-income students. He spoke out and took action, bringing the issue to national attention by walking off the court in 1989 before a game against Boston College in protest. The proposition was subsequently dropped.
In addition to leading Georgetown to its first NCAA basketball championship, Thompson coached NBA All-Stars Patrick Ewing (C'85), Dikembe Mutombo (C'91), Alonzo Mourning (C'92) and Allen Iverson – all of whom later joined Thompson as a Naismith Hall of Famer.
"What he stood for will be remembered for long as we play the game of basketball on the Hilltop," Reed says.
Due to the COVID-19 pandemic, the basketball team currently plays on campus in McDonough Arena, but there will be an official celebration of the court's new name once Hoya games resume in Capital One Arena.
Iconic White Towel
Georgetown coaches stood on the sidelines with a single white towel draped over their shoulders to replicate the look Thompson made famous.
"Coach Thompson was an icon. He was like a father figure to me and a role model – if it wasn't for him, I wouldn't be back here at Georgetown coaching," says Ewing, who returned to the university to lead the Hoyas men's basketball program in 2017. "He did an outstanding job in terms of putting Georgetown on the map. His impact was felt far beyond Georgetown and even the basketball community – it extended to the world."
Coaches Remember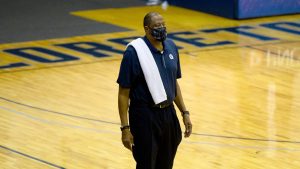 Basketball coaches across the country pledged to open their seasons with the iconic white towel over their shoulders earlier this week in homage to the three-time Olympian and champion for racial justice.
The National Association of Basketball Coaches (NABC) also planned during its Hall of Fame Classic tournament this weekend to honor Thompson. The coach served as a longtime member of the NABC board of directors and a past president, 1986.
"Given the number of players, coaches and people that Coach Thompson has influenced and inspired –  including me," says NABC executive director Craig Robinson, "we feel honored to pay tribute to him in this small way."