Title:

Georgetown Hoya Student-Athletes Mark Banner Season for New Records, Milestones
Date Published:
December 14, 2018
Georgetown's nearly 700 student-athletes, who play a total of 29 sports, have the best fall season in recent history with each sport hitting significant milestones and setting new records.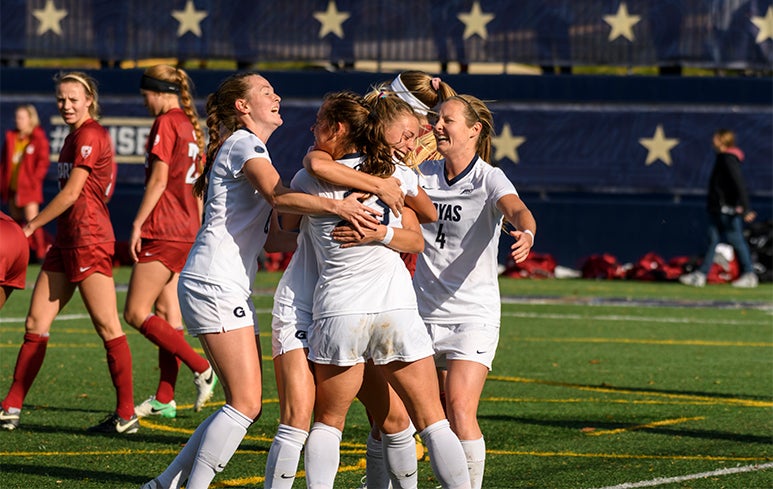 – Georgetown's nearly 700 student-athletes, who play a total of 29 sports, had the best fall season in recent history, with each sport hitting significant milestones and setting new records.
"It was an outstanding semester, particularly for our women's soccer program," says Lee Reed, director of intercollegiate athletics. "I am extremely proud to be part of a community of scholar-athletes, coaches, staff, faculty, alums and university leadership that help to foster an environment that allows each of us to achieve our very best academically, competitively and spiritually.
Inspired by the university's Jesuit identity and educational mission, Georgetown's athletics program seeks to develop the talents, character and leadership qualities of all student-athletes.
"The success this year is a continuation of the momentum that has been building in our department the last few years," Reed says. "Our core values guide all that we do and is attributable to much of the success we are having."
Academically Grounded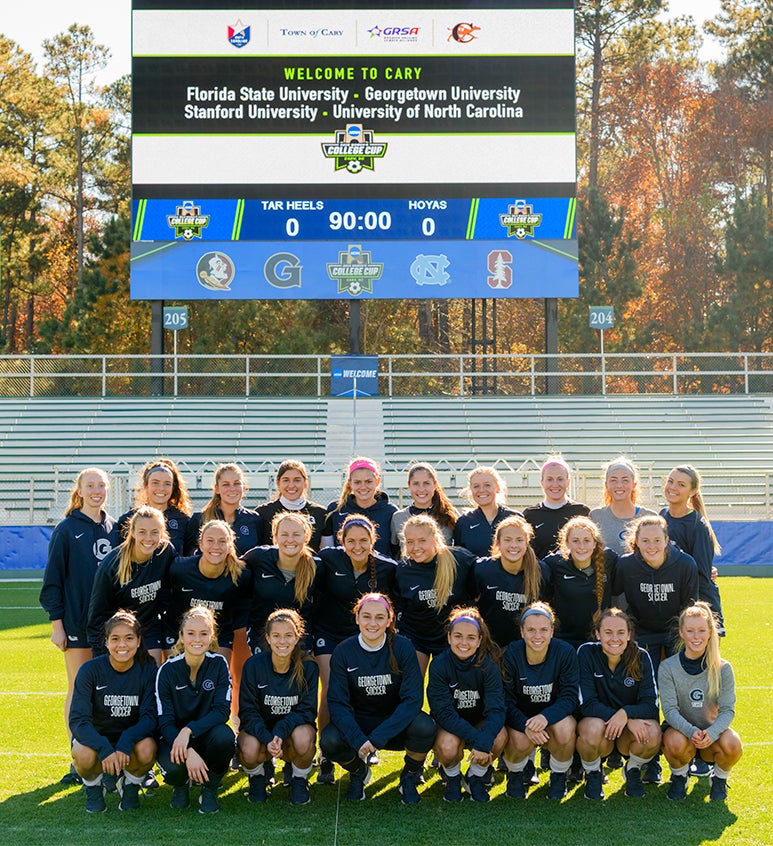 The university's Cooper Athletics Leadership Program, for example, is a transdisciplinary, academically-grounded approach to the study and practice of leadership dynamics in an intercollegiate athletics environment.
The women's soccer team was a key part of this year's success story. It ended its best season in program history, advancing as one of the final four in the NCAA College Cup for the second time in three years.
"The team showed determination through an undefeated streak and overcame every obstacle set in front of them to prove they were one of the best teams in the nation," says Reed. "This group has set the standard, and their accomplishments are something we can all be proud of."
Women's Soccer Success
The women's soccer team entered the NCAA Tournament last month as an undefeated No. 1 seed before falling to North Carolina in double overtime in the semifinals. This year marked Georgetown's seventh-straight NCAA Tournament appearance and the eighth in the last nine years.
Caitlin Farrell (B'19), a forward majoring in government, said she "simply couldn't have asked for a better senior season."
"I owe so much to this program and this school as they have given me a truly incredible four years," she said.
Farrell recently was named to the United Soccer Coaches First Team Scholar All-American with teammates Arielle Schechtman (B'18) and Meaghan Nally (B'20).
The three earned their spots among the scholar-athletes by maintaining a 3.3 cumulative grade-point average or higher while serving as a significant contributor to the team.
They also claimed more major national and BigEasthonors and awards.
Leadership Qualities
The men's soccer and cross country teams also made significant gains this year.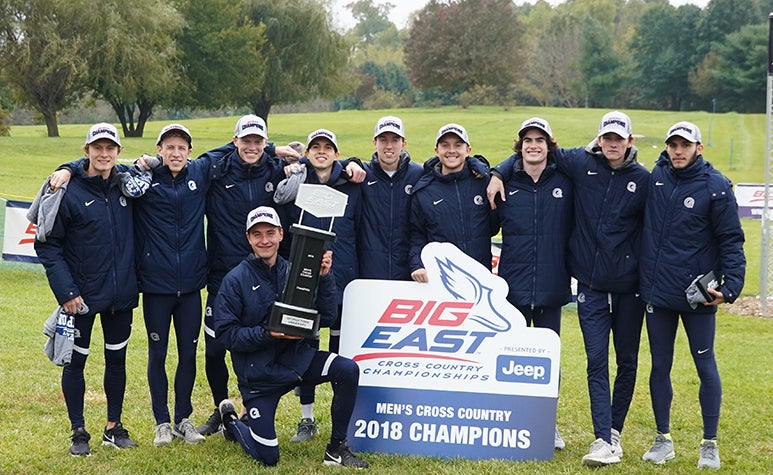 Men's soccer also made it to the NCAA tournament; the cross country team captured its fourth-consecutive Big Easttitle; and the football team finished the season with the most wins in program history since 2012.
"Every day, our student-athletes grow because they accept that high academic achievement and elite-level athletics are not mutually exclusive," Reed says. "We are motivated by their brilliance and even more committed to providing them with the support necessary to meet their full promise and potential while here on the Hilltop and in the many years after."
Georgetown ranks No. 18 in the country in the 2018-2019 Learfield Sports Directors' Cup Division I fall standings and has consistently been among the top 25 for the past five years. The ranking, based on each institution's finish in NCAA Championships, led the Big East Conference.