Perez is the press assistant for the White House, a role she was promoted to after working for the Biden presidential campaign in the months following her graduation from Georgetown. By the time Perez graduated, she had 10 internships under her belt — experiences, she says, that prepared her for her current job. 
"Being at Georgetown and having high standards and expectations of its students has been very helpful," she says. "The job can still be overwhelming, but I know that if it weren't for my past experiences, it would've been a lot harder for me to keep up."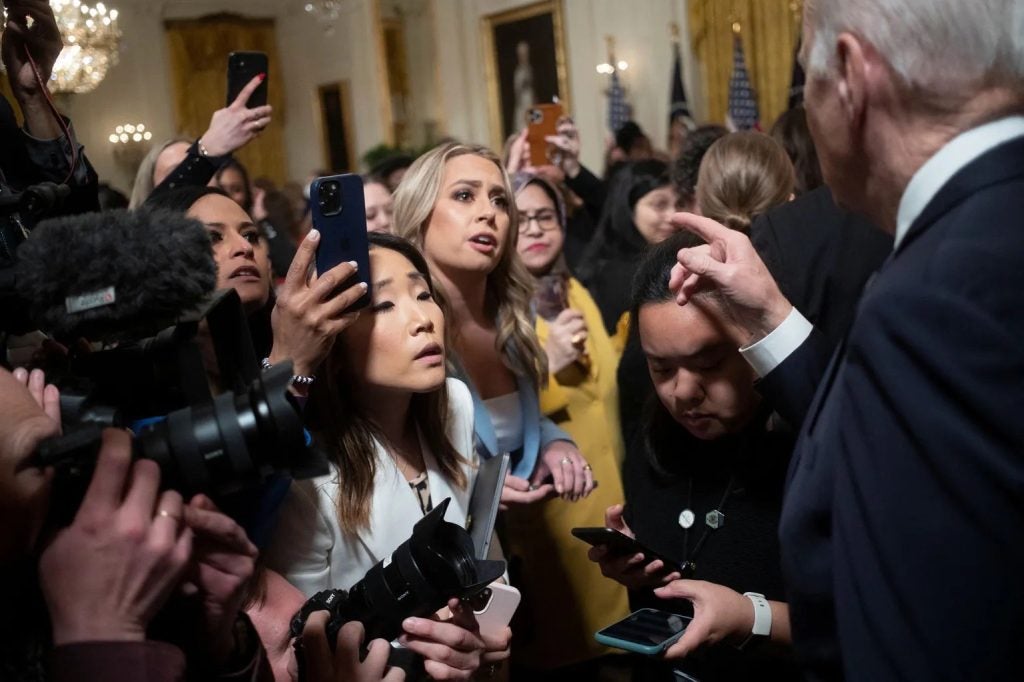 Finding Her Niche at Georgetown
Perez was drawn to Georgetown for its access to political opportunities and DC location. She had grown up interested in politics — she remembers her mom ironing her school uniform in Queens, New York, with CNN on in the background, following presidential races and tracking the names of local government officials — but she didn't realize she could major in the field until her sophomore year.
Uncertain of her academic path, Perez had reached out to her advising dean in Georgetown College, who recommended she try taking courses that she was interested in that fall semester. After enrolling in journalism and government courses, Perez knew she was on the right path. 
She spent the remainder of her college career pursuing internships in public service and communications in New York City, DC and at Georgetown. 
"I was like, how many can I gobble up while balancing the course load?" she says.
9 Internships in 4 Years
During her sophomore year, Perez interned for two public servants who represented her hometown's region: U.S. Rep. Grace Meng and soon-to-be Rep. Alexandria Ocasio-Cortez. The internships peeled back the curtain on politics and unknowingly prepped her for future campaign work, she says. 
Perez wrote feature articles for The Hoya, interned at DC-based communications companies and start-ups and served as an intern for Georgetown's Office of Strategic Communications, gaining experience in writing, staffing events and monitoring media coverage that also informed her future work on the Biden presidential campaign.
For the entirety of her senior year, Perez interned for CBS News' political unit, helping to cover the 2020 presidential election and often working late nights after class.
"I loved it," she says. "I loved how everything was a quick turn. I loved how you had to be exacting but really quick. I was fully all in at that point."
A Pandemic Pivot
Perez was all in on becoming a political journalist. But she graduated in 2020, at the beginning of the COVID-19 pandemic and during industry layoffs. After applying for an internship on the Biden presidential campaign, Perez would spend the next seven months working for the campaign, where she was quickly promoted to national communications assistant and then to press assistant for the Biden-Harris transition team.
In December of 2020, Perez's name was listed on the news release announcing President Biden's communications team. Since January 2021, she's traveled to Europe on Air Force One with the president and worked closely with his communications team on events, press briefings and policy and initiative rollouts.