The fellowship program supports diverse, highly qualified graduate students who otherwise may be unable to attain their doctoral degree. The Healy Fellowship provides resources, a built-in community of fellows and financial support for up to five years of a fellow's Ph.D. track.
The fellowship is named in honor of Georgetown's 28th president Patrick Healy, the first African American to earn a doctoral degree and the first African American president of Georgetown University. Healy transformed the university from a small liberal arts college into a modern university, and the fellowship is intended to carry on his legacy of training diverse future faculty, researchers and leaders who will advance knowledge across disciplines.
"The Healy Fellows are selected by a multidisciplinary faculty review committee through a rigorous review process," says Alexander Sens, dean of the Graduate School of Arts & Sciences. "We are deeply proud of our Healy Fellows and of their many contributions to our community, and we are excited about following their careers as transformative scholars and leaders in the years to come."
Among this year's talented Healy Fellows are students who represent a diversity of experiences, careers, backgrounds and identities: a Baptist minister and prison reform advocate, a political science changemaker, a biologist-turned-Spanish-linguist, a philosopher and a Catholic historian. 
Learn more about their path to the Ph.D., their individual research and how the Patrick Healy Graduate Fellowship is helping to advance their personal and professional goals.
Formerly Incarcerated Ph.D. Student Expands Higher Education in Prison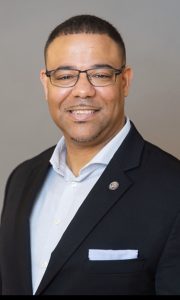 George Chochos (G'25) is a Baptist preacher who is pursuing a Ph.D. in theological and religious studies at Georgetown. He is also the first formerly incarcerated student to participate in the Healy Fellowship.
While in prison, Chochos earned an associate's and bachelor's degree as well as a master's in urban ministry. After he was released early from his sentence, he felt called to help incarcerated men and women pursue higher education opportunities, too.
"I found the will to dream in a nightmare," he says. "Engaging with all those academic texts gave me a whole new world. I hope I can make a positive difference for others now through education."
After his release, Chochos became licensed as a Baptist minister; received two master's degrees from the Yale Divinity School; served as the program manager for Georgetown's Pivot Program, which provides formerly incarcerated individuals with leadership and professional development opportunities; taught a Christian theology course in a DC jail through Georgetown; and successfully lobbied and gained bipartisan support for Federal Pell Grants for incarcerated students.