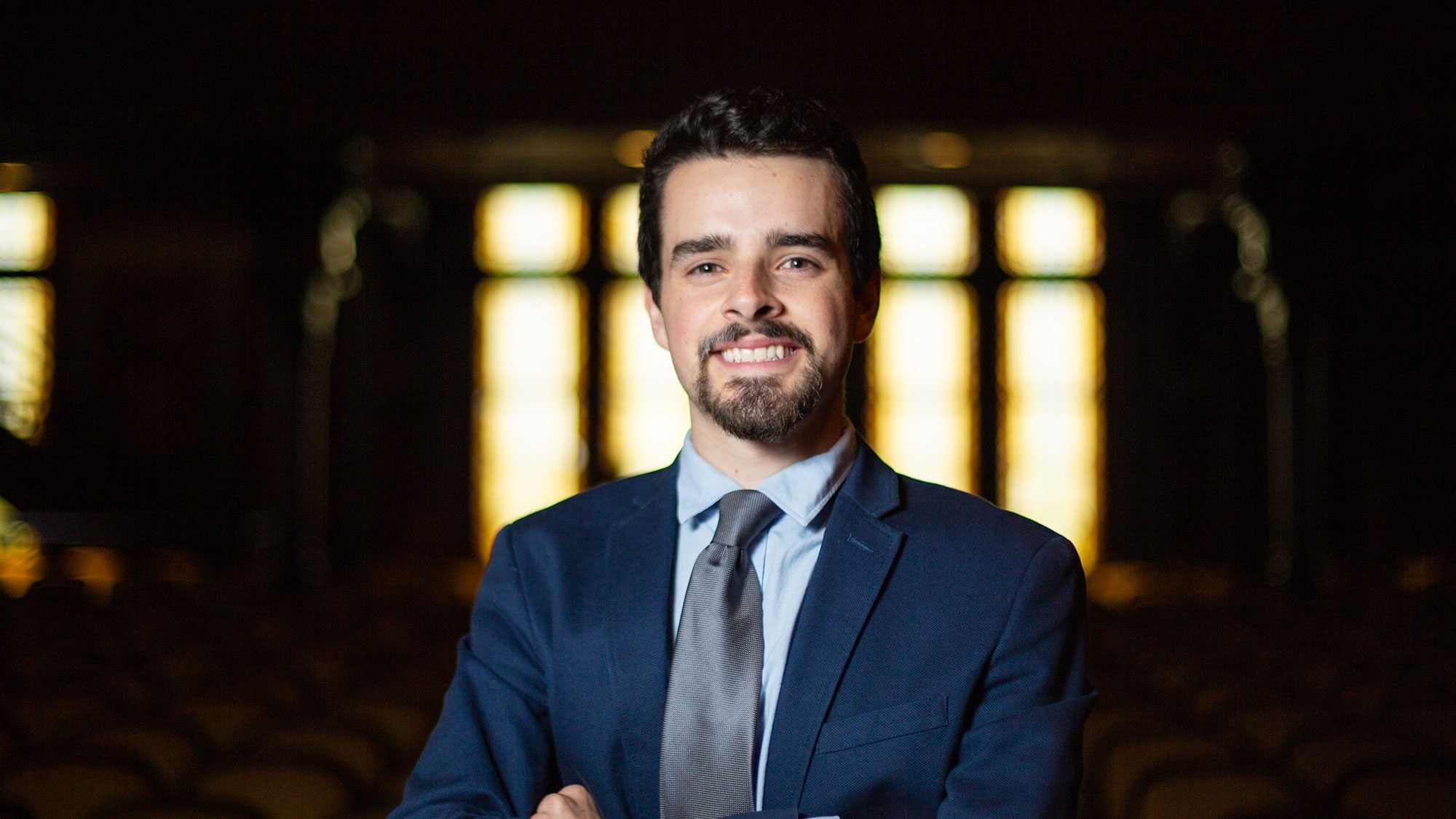 Category:

Student Experience
Title:

Brain Stimulation Research Conducted by Graduate Student, Fellowship Winner
Date Published:
October 20, 2020
Robert Cortes (C'18, G'23) is using a type of brain stimulation to see if it can improve creativity and reasoning. A National Science Foundation Graduate Research Fellow, he is also one of eight Patrick Healy Graduate Fellows at Georgetown. The Healy fellowship, designed to recruit and retain students underrepresented in doctoral programs, is awarded to outstanding students who want to pursue careers in academia.
Hometown: Salado, Texas
Degree Pursuing: Ph.D. in Psychology (Lifespan Cognitive Neuroscience)
Undergraduate School: Georgetown University
Undergraduate Majors: Philosophy and Psychology
Research: Cortes wants to understand and enhance human cognition through his research, which primarily focuses on using transcranial alternating current stimulation (tACS) to enhance creativity and reasoning.
The tACS method, considered safe for use in adults, employs a device that applies a low-intensity electrical current to the brain through electrodes on the scalp and can be used to synchronize cortical oscillations across large-scale brain networks
The doctoral candidate wants ultimately to reveal the core functional brain networks that support higher-order cognitive abilities.
One of his studies applies tACS to key regions of the brain's executive control network to enhance analogical reasoning, a pattern of thought in which an individual maps abstract concepts from one situation to another. If effective, the stimulation could even be used to enhance human intelligence.
Another one of Cortes' studies applies tACS to the brain's default mode network in order to enhance creative thinking ability.
Cortes is also working with two National Science Foundation-funded longitudinal studies that use functional MRI to study how real-world geospatial education changes students' brains and improves their reasoning ability.
Geospatial education is the ability to use simple to complex technologies that organize information spatially and allow users to analyze patterns and/or make geographic conclusions.
Since spatial ability predicts achievement in science, technology, engineering and mathematics fields, he hopes to use his research findings to help design and implement new curriculum initiatives in schools in DC and Virginia.
"I want to understand how real-world education impacts the brains of students and facilitates the process of learning," Cortes explains.
The scholar believes that one day brain stimulation could be implemented in the classroom to improve learning, after extensive evidence and clinical trials have verified its long-term safety and efficacy in children and young adults.
"Our education system is in need of dire repair," Cortes explains, "and these brain stimulation studies could lead to methods of improving classroom education, particularly by helping students focus their attention during class "
Receiving the Patrick Healy Graduate Fellowship: Cortes says his selection as a Healy Graduate Fellow made him feel that Georgetown valued him as both a person and scientist.
"I knew I would have a great support system during graduate school," says the doctoral student, speaking from his experience as an undergraduate at Georgetown. "I am so grateful for the Healy fellowship. It has introduced me to a network of diverse and talented students and faculty from across campus."
Awards and Recognition: In addition to the Healy fellowship, Cortes was among four Georgetown graduate students to receive the National Science Foundation's Graduate Research Fellowship in 2018.
He has since co-authored four scholarly articles in prestigious journals including the Journal of Experimental Psychology, Current Opinions in Behavioral Sciences, NeuroImage and Creativity Research Journal.
Why This Field?:
"My passion for cognitive neuroscience stems from my deep desire to answer fundamental philosophical questions about the mind, how it operates and whether its abilities can be enhanced," Cortes says. "I fell in love with cognitive neuroscience and its ability to help humans understand our own minds."
A Professor's View: Cortes spent his junior and senior year in psychology professor Adam Green's Lab for Relational Cognition. Green is Cortes' dissertation advisor.
"Rob's passion for research is continuous and contagious," the professor says. "Having taught him as an undergraduate in an advanced seminar on neurophilosophy, I've had the opportunity to see him excel in depth of consideration, not only of research theory and methods, but also of societal and philosophical implications of research in the neurosciences."
Why Georgetown?: Cortes says he chose Georgetown for his undergraduate studies because of its location in Washington, DC and access to the political world. He later developed interests in philosophy and psychology.
"I decided to stay at Georgetown because I was most excited about the research Dr. Green and I were working on compared to what I would study at the other schools I was accepted into," Cortes says. "The Ph.D. program has been challenging and exciting, and it has really forced me to grow as a person and a scientist."