Honoring Juneteenth
Juneteenth – "June" plus "nineteenth" – is a day of celebration to commemorate emancipation and the end of slavery in the United States. As we honor this day and celebrate independence, we also recognize the struggle – historically and in our current moment – to achieve true freedom and justice for all. On this first, now annual, holiday for our University, this space is offered to promote historical memory, and support personal and community reflection.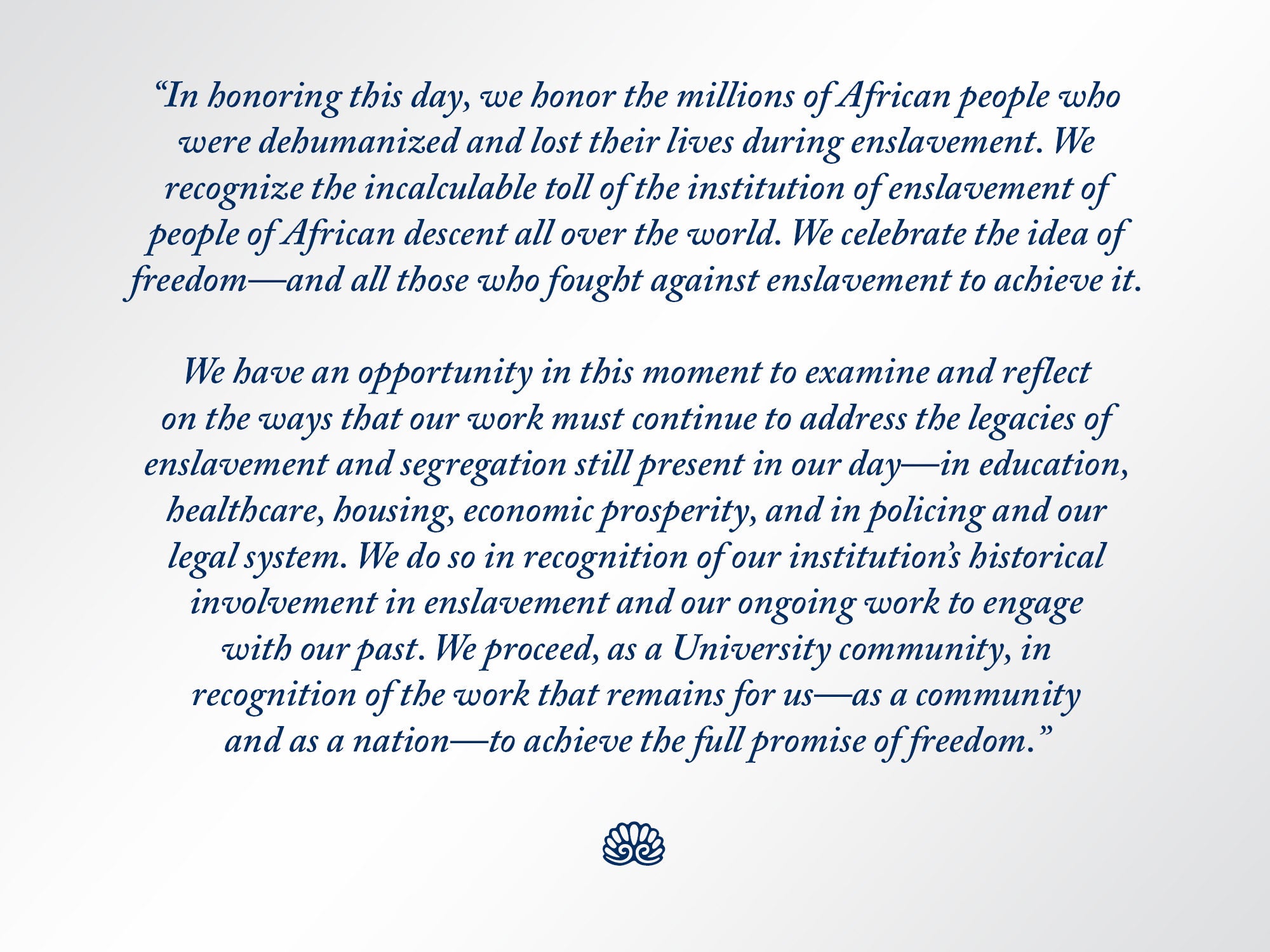 Georgetown Recognizes Juneteenth with University Holiday
President DeGioia announces annual Juneteenth University Holiday.
Recorded at the Dedication of Isaac Hawkins Hall and Anne Marie Becraft Hall (April 18, 2017)
Adanna Johnson
Associate Vice President for Student Equity and Inclusion
Lynn Nehemiah
Descendant, Mahoney Family Line
Jeremy Scott Alexander
Office of Technology Commercialization
Descendant, Mahoney Family Line
Haniyyah Bashir
Community Director, Arrupe Hall
Office of Residential Living
Erica Blake
Community Director, Darnall
Office of Residential Living
Whitney Maddox
Assistant Director, Student Leadership & Racial Justice Initiatives
Center for Social Justice Research, Teaching & Service (CSJ)
Rosemary Kilkenny
Vice President for Institutional Diversity and Equity
and Chief Diversity Officer
Obella Obbo
Program Coordinator
Center for Multicultural Equity & Access
Renée DeVigne
Associate Dean for Student Academic Development
and Professorial Lecturer in Law
George Washington University Law School
Guilford Queen SFS'78
Descendant, Queen Family Line