Recent graduate Kenlontaé Turner (G'19), a visual artist and gallery coordinator, wants museums to give underrepresented voices – particularly those of Native Americans and African Americans – a platform where their history and creativity can be fully realized and appreciated.
Hometown: Newport News, Virginia
Degree Pursued: Master of Arts in Art and Museum Studies
Undergraduate School: Christopher Newport University, Newport News, Virginia, 2017
Undergraduate Major: Studio Art; art history and museum studies minors
Research: The Georgetown alumnus, who now works at the Freer Gallery of Art and the Arthur M. Sackler Gallery, says museums historically have perpetuated harmful stereotypes and practices against Native American and African American people. But he also sees museums as the "intersection of education and inspiration."
"I aim to analyze the ways modern institutions are attempting to establish a healthy and honest relationship with these communities," Turner says. "I believe this work is vital to creating spaces for productive and transformative conversations that could lead to a greater level of understanding among us all."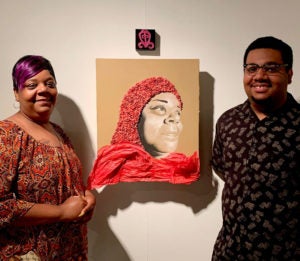 Internship Opportunities: Turner interned this past summer at the National Museum of the American Indian and the Hampton University Museum. He gained hands-on experience through education, curatorial work and collections at both institutions.
"I examined how museums educate audiences through media and other approaches when information may seem difficult or unpalatable for some to digest," he explains."
At the American Indian museum, he helped create a high school lesson plan, "Power of the People! The Intersectionality of the American Indian Movement and the Black Panther Party," that was inspired and supplemented by the museum's collection and educational resources.
Turner worked with curators, educators and the director at Hampton's museum to develop strategic plans and design a new, interactive website for the museum.
Professor's View: The recent graduate also conducted research with Georgetown history professor Adam Rothman, who helped create the Georgetown Slavery Archive and now serves as its curator.
Turner's research also included collecting the thoughts left behind by visitors of the Whitney Plantation Museum. Visitors of the Wallace, Louisiana, plantation-turned-museum are asked to leave reflections on note cards about their  experience there.
"Kenlontaé transcribed literally thousands of handwritten messages left on Post-It notes by visitors to the Whitney Plantation,"  Rothman explains. "These messages are an incredible window into the experience of visiting this extraordinary historical site, and his work will help the Whitney Plantation staff and other researchers to understand the emotions that visitors feel as they absorb what they have seen."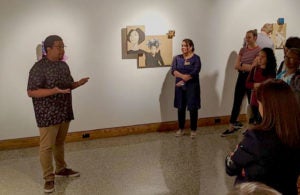 Why Museum Studies?: 
"The decision to follow this path was an easy one to take when considering how greatly the arts have had an impact on my life," says Turner, who also is a visual artist and presented his first solo exhibition this past September at the Falk Gallery.
His exhibition, To Be Free: Women of the Afrofuture, was inspired by Georgetown professor Soyica Colbert's class, Baldwin, Hansberry and Simone.
"James Baldwin, Lorraine Hansberry, Nina Simone and Toni Morrison all really planted the seeds for Afrofuturism, and my exhibition provided a glimpse into the manifestations of black women and girls having realized their own validity," he says
Turner says the exhibition was an homage to the influential women in his life.
"I was primarily driven by the most important women in my life, my mom, grandmother, little sister and my Aunt Nina," he explains. "To me, they are the definition of black girl magic, creativity, strength and spirit." 
Why Georgetown?: Turner chose Georgetown because of the school's tremendous focus on service and research along with its location within a cultural hub.
"Working in art history and museum studies, research is a vital element to gain a greater understanding of the art world and the role it has played in our society. Washington, DC is a phenomenal area for artistic minds to gather and become each others' muses," Turner says. "The community is special in that it lives and breathes creativity."
Related Content