Theater and performing arts professor Soyica Colbert explores how artists from Beyoncé to Spike Lee reimagine blackness in the face of violence and oppression in her new book, Black Movements: Performance and Cultural Politics (Rutgers University Press, 2017).
"I wanted to show how art and artists transform our relationship to death and tragedy from despair to possibility," says  Colbert, also an associate professor of African American studies at Georgetown. "These artists acknowledge the persistence of racial domination but nonetheless imagine possibilities for black life, love and joy within current political and social contexts. "
SONGS, FICTION AND FILM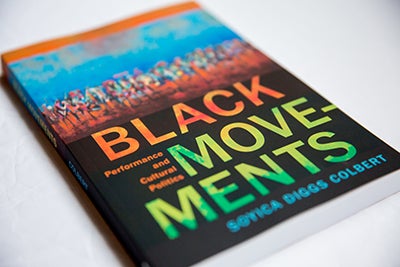 Exploring songs, fiction and film, the book shows how artists also cope by creating "fantastic reworkings of the past" or recreating "the past as a site of instruction for the present."
As examples, Colbert notes Beyoncé's 2006 performance at a Fashion Rocks event, in which the superstar pays tribute to the famous image of entertainer Josephine Baker in a banana skirt, as well as the work of playwright Suzan Lori-Parks.
Lori-Parks' Venus humanizes the life of Saartje Bartman, a South African woman nicknamed "Hottentot Venus," who was paraded around the 19th-century London freak-show scene because of the voluptuous shape of her body.
"Parks and Knowles take historically objectified black female bodies and harness audiences' desire to frame blackness to render it legible, recognizable, predictable, uniform and consistent so that they may turn the tables on the viewers," Colbert explains.
'FLYING AFRICANS'
Colbert also explores works that reference the "Flying Africans" narrative, which she says began as an escape story that enslaved and formerly enslaved Africans told.
The oral tradition is comprised of four main elements – exhausting labor, a brutal figure, a declaration made by an African gifted with supernatural powers and a vision of an African or a mass of Africans flying away.
"This interrupts the feeling of powerlessness that tragedy produces and reminds artists and activists that if you live under the shadow of death, you have nothing to lose, so you might as well be brave," Colbert says.
LESSONS OF KATRINA
Her book also examines Spike Lee's film, When the Levees Broke: A Requiem in Four Acts. The film mingles classic images of New Orleans celebration, music and Mardi Gras alongside devastating images of the deaths that came as a result of broken levees that followed Hurricane Katrina.
In the film, a staged jazz funeral procession features a hearse with a sign reading "Katrina" pulled by two horses and accompanied by a brass band and mourners.
The jazz funeral tradition, distinct to the culture of New Orleans, transforms from a sad processional to an upbeat celebration of life with improvisational dancing and revelry.
"The act of mourning, particularly in a black diasporic context, does not mean the end of relationships with the dead but an intimacy with death that enables black people to embrace freedom," Colbert writes. "To live so closely with death redefines living."
SOBERING QUESTIONS
Colbert is also the author of The African American Theatrical Body: Reception, Performance and the Stage (Cambridge University, 2011) and co-editor of The Psychic Hold of Slavery: Legacies in American Expressive Culture (Rutgers University Press, 2016) with Robert Patterson, chair of Georgetown's African American studies department.
She says the current social and political situation in America does not reflect the environment into which she originally thought her new book would be published.
"I thought we would be in a different place right now," Colbert says. "It's sobering that we're in a more deeply divided place as a country and therefore even more urgent that we think through these questions."