History professor Adam Rothman is teaching an undergraduate course designed to examine the university's historical connections to slavery, that connection's legacy and efforts toward reconciliation.
Students in the course have been reading scholarly articles and exploring archives, including the Georgetown Slavery Archive (GSA) that Rothman helped create, as well as the Archives of the Maryland Province of the Society of Jesus at Georgetown.
Since 2015, Georgetown has been engaged in efforts to explore its historical tie to slavery and meet with descendants of the Maryland Jesuits' 1838 sale of more than 270 enslaved individuals to slaveholders in Louisiana to benefit Georgetown and other Jesuit activities.
Grappling With History
"The aim of this course is to allow students, through written reflections, course readings and conversation, to grapple with the history and contemporary legacies of slavery and racism in American society," explains Rothman, GSA's principal curator.
The undergraduates also engage in conversations with members of the Descendant community and reflect on Georgetown's identity and commitment to justice now and in the future.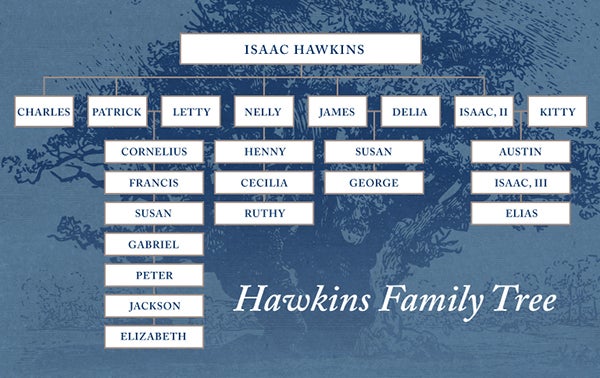 Carlos Scott is a direct descendant of Isaac Hawkins, for whom a building at Georgetown is dedicated.
He says he talked to the class about the "fortitude" his ancestors "put on exhibit day in and day out as they created a different reality in their minds."
'Healing is Critical'
"They persevered in order to build a platform that I'm now privileged to stand on," he says. "I highlight their courage and resilience and so much more. Also I speak to the importance of racial healing and reconciliation that we as a people are responsible for."
Scott said a young man in the class expressed that sharing his experience with the class "helped him to believe in God again."
"He said that he was losing his faith and that he was able to see God through pain from what I shared," the Louisiana native explained. "Apparently whatever he had encountered in his life was causing him to lose faith. We embraced and that moment helped me to see that healing is critical."
Conversations and Reflections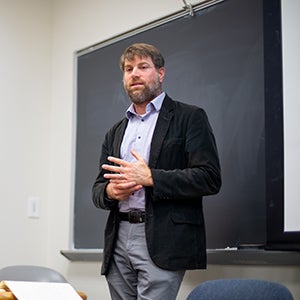 Rothman designed the new course, which includes 10 modules comprising five "conversations" between the professor and a guest, and five "reflections" consisting of class discussion and other activities, with the help of Georgetown's Designing the Future(s) of the University initiative.
The initiative is designed to spur educational innovation in ways that allow the university to more effectively and equitably benefit society.
"Professor Rothman has set up Zoom meetings with people close to the issue, from people who served on the working group to direct descendants themselves," says Miles Aceves-Lewis (C'22) of Houston. "I appreciate how the class encourages us to dig through Georgetown's slavery archives. Through it, I've been inspired by the past efforts of Georgetown students who were first learning about this history and formulating opinions on what ought to be done in light of this history."
Georgetown Slavery Archive
The university established the Georgetown Slavery Archive in 2016 to document and digitize materials relating to the Maryland Jesuits, the university and slavery. It was created using the Archives of the Maryland Province of the Society of Jesus collection on deposit at the university's Lauinger Library as well as other sources.
While most other archives of the Society of Jesus in North America were relocated to St. Louis in 2018, the Maryland Province decided to keep its large archive at Georgetown.
Ongoing archival research with the collection is taking place as part of the Slavery, Memory, and Reconciliation initiative at Georgetown, in collaboration with the Maryland Jesuits and in consultation with descendants of the community enslaved by the Maryland Jesuits.