When Arthur Milhomens (B'24) and his family immigrated to the U.S. from Brazil in 2007 when he was 10 years old, he knew his family was depending on the success of him and his sister. 
Georgetown was always Milhomens' goal after his sister graduated from the Hilltop in 2015. But the cost of college made attending a prestigious university out of reach at the time, so Milhomens joined the U.S. Army as an intelligence analyst to earn an income, military tuition benefits and develop the professional skills that would set him up for success. 
"The military accelerated the need to grow up. I moved out when I was 19 years old. I was paying my own bills, had my own place and basically had a career," he said.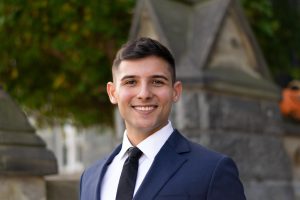 After three and a half years of service in the Army, Milhomens still had Georgetown and the McDonough School of Business at the top of his mind, drawn to the school's strong alumni network and caliber of the business program and faculty.
This time, however, Georgetown was more accessible because of the Yellow Ribbon Program (YRP). An agreement between higher education institutions and the U.S. Department of Veterans Affairs, the YRP funds portions of tuition and fees not covered by the Post-9/11 GI Bill®. 
In January, Georgetown announced an increase in its undergraduate YRP benefits from $8,000 to $20,000 at the College of Arts & Sciences, Walsh School of Foreign Service, School of Nursing, School of Health and the McDonough School of Business. The Graduate School also recently increased its YRP tuition benefit from $10,300 to 20,000, the school's largest, single increase to the program to date. The School of Continuing Studies currently offers undergraduates $20,678 in YRP benefits.
"We're honored to have many veterans, active duty and military-connected community members in our University community," Georgetown President John J. DeGioia said. "We appreciate all they have done and continue to do in service to our nation. We are always seeking to provide a context in which they can share their talents, deepen their knowledge and uphold the values that have distinguished their service."
Georgetown students who qualify for the Post-9/11 GI Bill® and the YRP will have their entire full-time tuition for all of Georgetown's undergraduate programs covered. The expanded benefits will enable even more veterans and members of the military-connected community to attend Georgetown who otherwise could not, Milhomens said.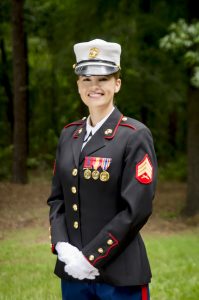 The YRP also allows the military-connected community to access Georgetown's graduate programs. 
Raquel Burgett (G'25) promised herself that she would take full advantage of the GI Bill® after serving in the Marine Corps out of high school. After earning her undergraduate degree and working for a few years as a property tax analyst, she enrolled in the Graduate School of Arts & Sciences to study the humanities. 
"The fact that the YRP is so openly available spoke volumes before I even set foot on campus as to how supportive Georgetown is of the veteran community," said Burgett, who served as a Spanish language intelligence analyst countering drug cartels in Latin America. "I can't say it enough. If not for the financial support, I would not be here. I don't just feel accepted at Georgetown. I feel invested in."
Burgett chose Georgetown's Engaged & Public Humanities program for her graduate studies because of its interdisciplinary approach to learning.
"I am a woman. I am a veteran. I was in intelligence. I really like theater. There are a lot of pieces of me that intersect in places where I often feel like I'm the only one," Burgett said. "Georgetown provided an incredible intersection to satisfy all of those different pieces of me."
A Support Network for the Military-Connected Community
Milhomens started school in the early days of the COVID-19 pandemic in fall 2020. Learning remotely and away from Washington, DC, made finding community hard, especially for veterans like Milhomens who have a less traditional college experience.
But a chance encounter on Zoom changed the trajectory of Milhomen's Georgetown experience.  A fellow Hoya noticed a tattoo on his right arm of the Statue of Liberty, a homage to his home near New York City.
"He noticed my tattoos, and he's like, 'Oh, you've got to be a veteran,'" Milhomens joked. "Maybe it was the tattoos. Maybe it was the buzz cut. Plus, I had my vet beard going on."
It turned out that Milhomens had just met the former president of the Georgetown University Student Veteran Association (GUSVA). Milhomens was eager to dive into the veteran community after that conversation and become involved with GUSVA, which he said became a lifeline for him. 
"As you can imagine, it's difficult as a 27-year-old to connect with 19-year-olds, just different stages in life," he said. "But GUSVA put me in touch with folks who were around my age and had this very unique background experience that can be difficult to connect with elsewhere. They're my conduit through which I can do better for Georgetown and leave it better than I found it."
Knowing how much he gained from GUSVA, Milhomens decided to take on the mantle of leadership, serving as president of the organization for this school year. This year, Milhomens introduced Last Thursdays, a monthly event for members to socialize and brainstorm new ideas for how GUSVA can better serve the military community.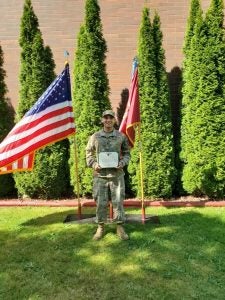 In addition to leading GUSVA, Milhomens also works as the events coordinator at the Military and Veterans' Resource Center (MAVRC), a university support center that serves military-connected community members by removing barriers to entry at Georgetown and providing resources to help them thrive. Milhomens said working at the MAVRC while serving as president of GUSVA has allowed him to foster closer collaboration between the two organizations by mobilizing the grassroots, student-based strength of GUSVA while leveraging the institutional support of MAVRC to better support the military community at Georgetown.
Burgett found a similar community of support at MAVRC. When she received her acceptance to Georgetown, one of the first things she did was to reach out to the center. MAVRC immediately connected her with resources and guided her through the process of applying her tuition benefits from the GI Bill® and the YRP. She said MAVRC has been an invaluable central resource for military-connected members to get vital information.
"Being a grad student, if you're not purposefully interested, you can easily allow yourself to be disconnected from the rest of the campus," said Burgett, who does part-time administrative work at MAVRC. "The MAVRC does a good job of making sure that grad students and everyone from all the different pockets around campus are incorporated." 
As an undergraduate student, Burgett explained how she had sometimes struggled to connect with other students as a veteran. But at Georgetown, Burgett noted how accepted and valued she feels as a student and veteran. 
"It's normal to do cool stuff [at Georgetown], and because of that, I don't feel like I'm constantly [having to explain how I served in the Marines]," Burgett said. "Georgetown feels like a place where you can be safely vulnerable. I am what I am. I am a Marine, and sometimes I come off like it, and that doesn't seem to offend nearly as easily on this campus."
A Future After Georgetown
Milhomens is looking ahead to his career after Georgetown, which he says has prepared him for a thriving career in finance.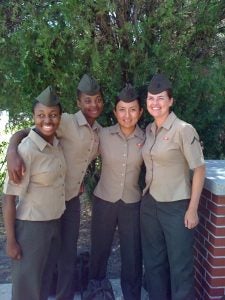 After completing his summer internship, Milhomens accepted an offer to return and work at Citigroup as a financial analyst. He said the McDonough School of Business gave him a strong foundation in technical skills while Georgetown allowed him to hone his communication skills and ability to approach any situation from multiple perspectives.
As for the Marine, Burgett said the future is less daunting because of Georgetown's preparation. Burgett appreciates how one of her classes regularly hosts guest speakers and workshops that cover topics ranging from how to network to securing jobs and creating a strong elevator pitch.
Burgett hopes to use her graduate degree in the humanities to pursue her passion of advocating for more equity in the nation's national monuments. She emphasized that none of this would have been possible without Georgetown giving her the resources to become a Hoya.
"It makes me feel appreciated as somebody who served because there's definitely moments when you're tired and dirty and wondering why the heck you did this," Burgett said. "It's nice now being on campus and able to show my grandparents — my papa served in the Navy — where I am now because of his service and because of my service. It gives me a sense of belonging that I have struggled to find for most of my adult life."
GI Bill® is a registered trademark of the U.S. Department of Veterans Affairs (VA). Explore more information provided by the U.S. government about education benefits offered through the VA.