The university will expand its benefits in the Yellow Ribbon Program (YRP), an agreement between higher education institutions and the U.S. Department of Veterans Affairs that funds portions of tuition and fees that aren't covered by the Post-9/11 GI Bill. The Post-9/11 GI Bill offers educational benefits for military members who served after Sept. 10, 2001.
The new changes will increase Georgetown's undergraduate YRP benefits from $8,000 to $20,000 at the Georgetown University College of Arts & Sciences, Walsh School of Foreign Service, School of Nursing, School of Health and the McDonough School of Business. The School of Continuing Studies currently offers $20,678 in undergraduate YRP benefits. 
For students who qualify for the Post-9/11 GI Bill and YRP, the scholarship will fund annual full-time tuition for all of Georgetown's undergraduate programs — the university's largest undergraduate YRP increase to date. 
"Our commitment to the military community dates back to the founder of the Jesuit order, St. Ignatius of Loyola, who was a student veteran before the term existed," says Wesley Wilson, director of the university's Military and Veterans' Resource Center. "I am proud that Georgetown will be more financially accessible to those who have served, and I know Georgetown will benefit immensely from having more military-connected students as members of our campus community."
The expansion builds on the university's recent increase in YRP funding in July. According to a recent assessment of Georgetown's military-connected community, roughly 63% of military-connected students say that Georgetown's membership in the YRP was a critical factor in choosing to attend the university.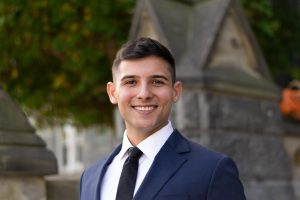 Arthur Milhomens (B'24), a veteran who served in the Army for three and a half years, decided to enroll in Georgetown's McDonough School of Business in part due to this partnership.  
Milhomens said he was drawn to the School of Business for its network of business leaders, veterans and non-veterans alike. He was determined to graduate with as little debt as possible, and worried he would be unable to do so at Georgetown. When he learned his tuition costs would be supplemented by the YRP, he felt comfortable enrolling.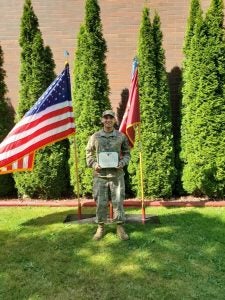 "I am ecstatic about the expansion of funding for the program," Milhomens said. "Veteran and military-connected students understand the impact this increase in funding can have on our time at Georgetown. I believe this increase will support even more students in deciding that Georgetown is accessible for their continued education.".
Oswaldo Pazmino (C'22), a first-generation college student, said the YRP also influenced his decision to attend Georgetown. Pazmino served in the U.S Marine Corps for six years before enrolling.
"I come from a low-income family so the YRP was a major component in my path of becoming a first-generation Latino college graduate from a private university," he said. "I was able to attend with zero out-of-pocket cost which allowed me to graduate debt-free. This is an example of how veteran-friendly Georgetown University is and will continue to be."
All military-connected students who are deemed eligible for the Yellow Ribbon Program can participate. 
The program will take effect once an eligible participant has met the Post-9/11 GI Bill private tuition maximum of $26,381 for an academic year. After they meet the maximum, their Georgetown school will contribute YRP funding up to the dollar amount specified by its Yellow Ribbon agreement. The Department of Veterans Affairs will then match the school's YRP contributions to reduce or eliminate a student's out-of-pocket expenses. 
For more information, students are encouraged to contact the Military and Veterans' Resource Center (MAVRC), which supports Georgetown's military-connected community through tailored advising, connection to student resources, student programming, alumni engagement and research and assessment.