Rachel Linton (SFS'19) was thrilled this year to see her play Fandom for Robots appear in the John F. Kennedy Center for the Performing Arts Page-to-Stage New Play Festival with four characters played by Georgetown undergraduates.
Her fascination with fan fiction and Japanese anime led her to craft a play based on a popular short story of the same name about an isolated robot and teen who form a bond online through a shared love of anime fan fiction.
"It was amazing to see the play come to life at a place like the Kennedy Center," says Linton, a recent alumna who developed the play for Georgetown professor Christine Evans' Writing Stage Adaptations course. "I was lucky enough to see a lot of wonderful theater there during my time at Georgetown, so being in that building with a piece of my own work was almost surreal."
Imaginative and Poignant
The Kennedy Center's annual festival, which ran earlier this semester, offers a series of free readings and open rehearsals of plays and musicals in development by local, regional and national playwrights, lyricists and composers.
Linton, who studied international economics at Georgetown, presented her adapted play at the Kennedy Center on Sept. 2 in close collaboration with faculty, staff and students from Georgetown's Theater and Performance Studies Program.
"Rachel's play is an imaginative, poignant and very 21st-century tale," says Evans, associate professor of theater and performance studies. "The negatives of the internet are well-known, but Fandom for Robots highlights the opportunities online connections can give to imagine other worlds, find friends and invent community."
Standing-Room-Only
Now a business analyst at McKinsey & Company in Los Angeles, Linton continued work on the play after graduating and returned for the reading during the Kennedy Center festival.
"It was a joy to see Rachel polish her highly theatrical adaptation through multiple drafts in dialogue with her gifted playwriting classmates and to a standing-room-only reading at the Kennedy Center," Evans says.
Linton reached out to Fandom for Robots author Vina Jie-Min Prasad with the idea of adapting the original story into a dramatic script for class, and received the green light to proceed.
"I connected immediately with Prasad's short story and its message of universal humanity," Linton says. "The dramatic irony of a robot making friends with people who don't know he's a robot is a really fun aspect of the short story and drives a lot of the play.
"There are also beautiful parallels between the 'real world' of the short story and the anime world," she adds. "This story really celebrates fandom, and I wanted to do the same with the play."
A Georgetown Cast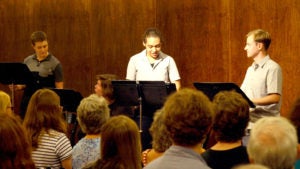 Vanessa Gilbert, community engagement and development manager for theater and  performance studies, directed the staged reading, with a mix of students and faculty comprising the cast:
Chris Warren (C'20)
Jonathan Compo (C'20)
Kate Oelkers (C'21)
Al Castillo (C'22)
Kate Yust Al-Shamma, assistant teaching professor of public speaking.
"We're very glad to be able to share outstanding student work with the wider community through partnering with Kennedy Center's Page-to-Stage Festival each year," says Evans, who led the project. "For our students, it's a vital opportunity to showcase their work for a wider audience and experience the response."
Linton says the support she received from Georgetown's theater community is a testament to the collaboration and community felt on campus.
"I'm really grateful to the university and the Theater and Performance Studies Program for the opportunity to showcase my work in such a memorable way," she says.